Evive Smoothie Review December 2018
Evive Smoothie is a monthly Canadian subscription for complete smoothies. Receive organic frozen smoothies cubes, made from complete fruits, veggies, superfood and vegan protein.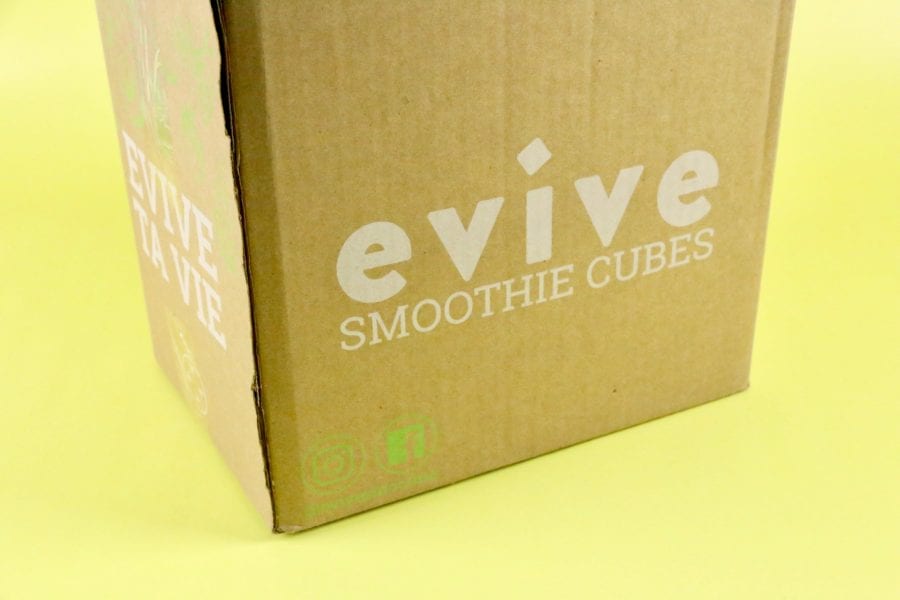 Coupon Code: Use code AYOB5 to get $5 OFF your first box! – CLICK HERE
It has been a few months since I first discovered Evive Smoothie and it has officially become one of my favorite boxes to receive. I'm coming in to a certain phase of my life and nutrition is more important than it has ever been, so my Evive Smoothie deliveries are very much appreciated. Over the last month I have been making a smoothie every other day, and let me tell you, I am LOVING how convenient Evive Smoothies are. I am also really loving the fact that they include a plant-based protein mixture as well as veggies. I can tell you with 100% certainty that, just like Chef's Plate, this will be a permanent subscription for our household.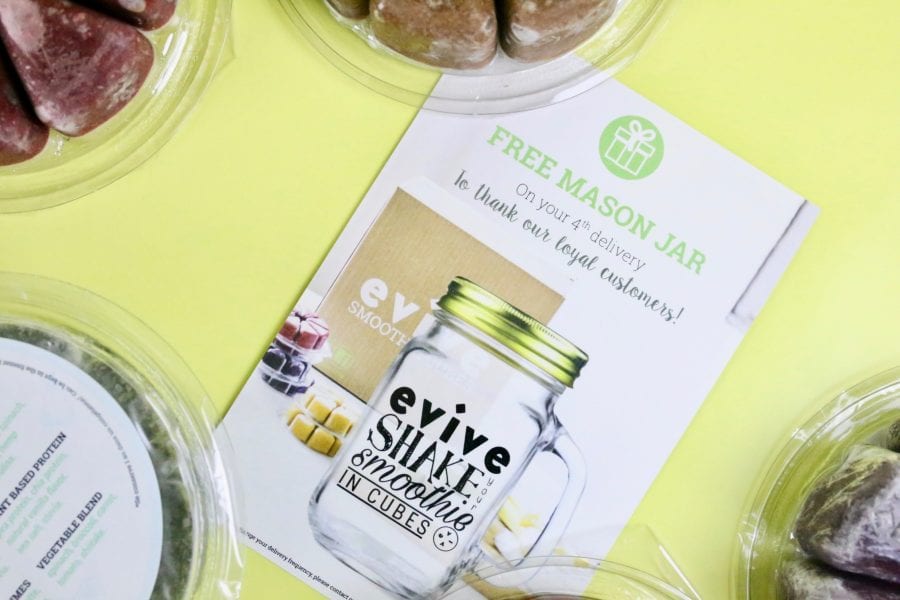 Subscription Details
When you sign up for an Evive Smoothie subscription you can subscribe in 3 easy steps…..
Choose Your Delivery Frequency – Receive your order weekly or every 2,3,4 weeks. Change, skip or cancel anytime .
Customize Your Order – By selecting 12 smoothies among 7 delicious flavors.
Receive Your Smoothies Delivered to Your Door – Free shipping anywhere in Canada. Delivery on Tuesday, Wednesday or Thursday.
Coupon Code: Use code AYOB5 to get $5 OFF your first box! – CLICK HERE
Here's a closer look at the flavours we received in our December box….
Asana
This highly nutritious smoothie is the perfect combination of comfort from our local ingredients and the exotic touch of South America. Composed mainly of wild blueberries from local fields and acai berries, this smoothie will support you throughout the day. Let yourself be surprised by the exquisite taste of this natural blend!
Blueberry
Banana
Cherry
Acai berry
Grape
Pumpkin seeds
Hemp seeds
Black carrot juiceand/or beetroot juice
Baobab
Orange
Moringa
Chlorella
Azteque
A brown smoothie that tastes like heaven, it's possible? Give it a try and you won't be disapointed by our raw cacao Aztèque flavor! It's creamy texture and sweet taste will definitely surprise you.
Pear
Cacao
Strawberry
Goji berries
Banana
Organic dates
Lime juice
Baobab
Organic chlorella
Moringa

Pure
A green smoothie like no others. We have succeeded in integrating a generous dose of greens while keeping a fresh and fruity taste with mango and lime. The texture is unctuous thank to the avocado and the coconut cream.
Mango
Spinach
Avocado
Matcha tea
Ginger
Date
Orange
Coconut cream
Mint
Lime
Baobab
Chlorella
Moringa
Samourai
Like a Samurai, this smoothie gives power to your organism to protect against free radicals with its excellent source of anti-oxidants. Enjoy it as a breakfast or snack… for an instant well-being!
Raspberry
Strawberry
Beet
Chia seeds
Date
Orange
Lemon
Mint
Yogi
For breakfast, lunch or after a workout, there is nothing like this rich green smoothie to restore your energy. A good source of protein, this blend is perfect to satisfy your athletic needs.
Banana
Pear
Kale
Spinach
Parsley
Lemon
Hemp seeds
Spirulina
Viva
See "La vie en Rose" with VIVA! Delicate and sweet, this smoothie will carry in your most beautiful childhood memories through its strawberry and banana flavor. Add to that a touch of cauliflower to soften your mornings and pitaya for its excellent source of antioxidants.
Pitaya
Strawberry
Banana
Cauliflower
Hemp seeds
Lemon
Evive Smoothie Review December 2018 – Final Thoughts
Over the last month I've had a chance to test out all of the Evive Smoothie flavours and I am happy to report that they all taste great. I definitely have a couple favourites, and there's one that I don't love as much as the others (Touk Touk) but for the most part, I love them all. I usually mix mine with unsweetened vanilla cashew milk and a little water. The cashew milk gives the smoothies a creamy flavour, which I really love. I've also spent some time really getting to know Evive Smoothie and the ingredients of each smoothie. I truly appreciate the fact that ALL of their smoothies include a plant-based protein mixture, and a great protein mixture at that.
And……here's a personal note…..my appetite has been all over the map as of late. Some days I am starving and some days I don't want to eat at all. It's some weird phase I am going through. But, no matter what kind of mood I am in, or how my appetite is on any given day, I am always in the mood for a smoothie. My Evive Smoothies have been my comfort food over the past month and for that I am extremely grateful. If you appreciate healthy food as much as I do, then you definitely need to consider an Evive Smoothie subscription. As I mentioned above, it's a must-have subscription in our house.
XOXO