Extraordinary Man Box Review Summer 2020
From the editors of BCLiving, Extraordinary Man Box is a seasonal subscription box filled with on-trend products & accessories that redefine extraordinary style. Combining their experience and knowledge of the hottest trends, they have put together an uncompromising package that arrives in your mailbox each season. They kindly sent us this box for review.
Extraordinary Man Box has secured a place on my list of favorite men's subscription boxes. each season they create an amazing selection of products and they work with some of my favorite brands. We get a little bit of everything – accessories, skincare, grooming products, snacks and lifestyle products. It's a men's box I would definitely recommend.
Subscription Details
When you sign up for an Extraordinary Man Box subscription you can choose to pay every month or every 3 months. You will receive a new box each season and every box will include:
Extraordinary attire – From socks to lapel pins, they are selected to make a statement
Extraordinary personal care – Part of what elevates you is the care you give to not only your clothes but to yourself. Using only high-quality ingredients, these products will keep you feeling fresh.
Extraordinary decor and accessories – Whether they are for your home or you, these will add that subtle bit of class that you know that's what it's all about.
Here's a closer look at what we received in the Summer Extraordinary Man Box……
Extraordinary Man Insulated Bottle ($42)
This durable, stainless steel container will make hydration easy this season. Designed exclusively for the Extraordinary Man Box, it's both sophisticated and understated, with a sleek matte finish. It's BPA-free and keeps beverages hot for up to 12 hours and cold for up to an entire day! Hand wash only.
How great is this! It's the first item I saw when I opened the box. My eyes immediately gravitated toward it because I love receiving products like this in my lifestyle boxes. It was designed exclusively for Extraordinary Man Box which is something I love….but what I love even more is that they kept it simple and didn't include their logo. I also really love the slate blue color.
Gentleman of the North Pocket Square ($20)
Toronto's Gentleman of the North have provided a few highlights in previous collections and this pocket square from their Soft Landing line-up certainly falls in line. The classic, simple design means it's incredibly versatile, while the 100 percent cotton material is soft to the touch. Add it to any sports coat this season for instant style without fuss.
Gentleman of the North is a brand we see often in Extraordinary Man Box and it is a brand I have come to love. This season we received a trendy blue and light grey pocket square. How great will this look with a dark grey suit?!
Scentuals Hand Repair Cream ($11.50)
If you're like us, your hands were scrubbed clean this Spring…..over and over again. Like last season's scent-free hand repair option from Vancouver favorite Scentuals, this luxurious lotion both repairs and restores, thanks to aloe, almond oil and more. A light coconut scent will bring back memories of sunny, scenic escapes, while providing instant hydration.
Oh my goodness! So excited to see this repair cream from Scentuals in the Summer Box. This is one of my all-time favorite Scentuals products. We received a similar one in the Fall Simply Beautiful Box and I use it almost daily. It is one of my must-have skincare products!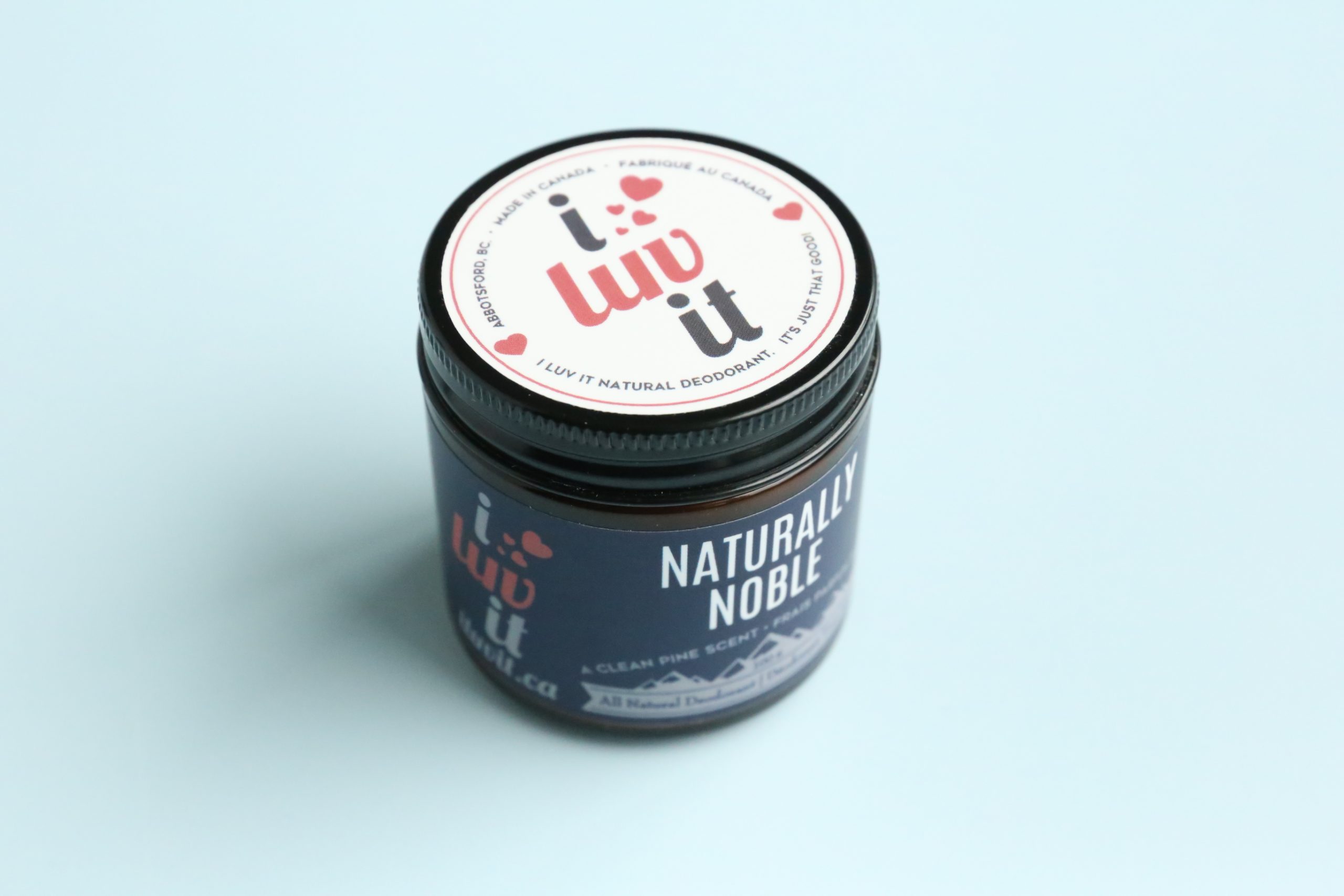 I Luv It Naturally Noble Deodorant ($16.50)
A clean pine scent is the first thing you'll notice, but the best part of this offering from Vancouver's I Luv It is the fact that it works! Unlike other naturally derived products, Naturally Noble is impressively effective and long-lasting. Coconut oil, beeswax and arrowroot powder are just three of the tools used to combat summer's……umm, odours. And you can forget aluminum and chemicals. This formula is 100 percent natural.
I'm trying to remember if we have received this brand before and I don't think we have. I looked them up on Instagram and instantly fell in love. Great branding, great marketing and great smelling products….well this one is at least. They appear to have a few different options for women and a couple for men. I have my eye on the Spiced Vanilla deodorant but if the Hubby doesn't want to use this one I am more than happy to give it a try because even though it's a men's scent I would definitely wear it myself.
Wolf Clothing Co. Seville Socks ($14)
A Wolf man is always on the hunt for more……and we can't get enough of the sophisticated styles of Vancouver's Wolf Clothing Co. A 176-needle thread count ensures these socks are not too thick and not too thin – but it's bright orange color of the Seville design that we like for the season – a statement piece to complement just about any summer look.
We receive a pair of socks in almost every box…..I would consider it to be an Extraordinary Man Box staple, similar to snacks, skincare and grooming products. I like the predictability of it and I love the Wolf brand. Maybe not my favourite style/pattern for a sock but they are fun and bright….perfect for Summer!
Scentuals Facial Toner ($29)
Our friends at Scentuals also recommend a facial mist that hydrates and repairs skin. Whether you've been indoors all spring and your mug could use a bit of help, or you plan on getting out in the sun, this soothing blend will balance PH levels, without stripping the skin off its natural moisture. Simply cleanse and spray on this 100 percent natural, vegan-friendly and cruelty-free growing aid.
Another products from Scentuals! How great is that?! I don't think I knew that they had men's products, or maybe I did? Either way….I know now. I just might need to check out their website and see what other products they have for the Hubby.
Brockmann's Chocolates Crunchetti ($6)
After the spring we've all experienced, we could use a moment of escape-especially one that tastes this good! Inspired by European heritage and family recipes, the team of internationally trained chocolatiers at Brockman's Chocolates have been creating confections in British Columbia for more than 40 years. Their white chocolate crunchetti is terrific, and complete with almonds and rice-crisp clusters, makes the perfect snack to share with guests or devour on your own.
This is a snack that has been featured in the Extraordinary Man Box sister box – Simply Beautiful Box and I would be totally ok if we received it every season! If you haven't tried Crunchetti……you must! It's a glorious mixture of white chocolate, cranberries and roasted almonds. Typically I try to stay away from sweets but since having baby Steven I like to enjoy a little treat each night after he goes to bed…..a little something to look forward to at the end of each day:)
Extraordinary Man Box Review Summer 2020 – Final Thoughts
I think this just might be my favorite Extraordinary Man Box to date! I also really loved the Winter 2019 box but I think I like this one just a tad more. It features three products that I am beyond excited about….I say that like this box is for me when it is supposed to be for the Hubby. But I am so excited about the bottle, hand cream and chocolate treats that I just might have to keep those items for myself. Now do you see my this is one of my favorite men's subscription boxes? They curate a wonderful selection of items each month…..I'm already looking forward to the next box…..fingers crossed they decide to include more Crunchetti:)
-AYOB Sarah