Extraordinary Man Box Review Summer 2022
From the editors of BCLiving, Extraordinary Man Box is a seasonal subscription box filled with on-trend products & accessories that redefine extraordinary style. Combining their experience and knowledge of the hottest trends, they have put together an uncompromising package that arrives in your mailbox each season. They kindly sent us this box for review.
Extraordinary Man Box is a subscription by the same company that does Simply Beautiful Box. I like to refer to it as the men's version of Simply Beautiful Box because they often feature the same brands and sometimes even the same products.
Subscription Details
When you sign up for an Extraordinary Man Box subscription you can choose to pay every month or every 3 months. You will receive a new box each season and every box will include:
Extraordinary attire – From socks to lapel pins, they are selected to make a statement
Extraordinary personal care – Part of what elevates you is the care you give to not only your clothes but to yourself. Using only high-quality ingredients, these products will keep you feeling fresh.
Extraordinary decor and accessories – Whether they are for your home or you, these will add that subtle bit of class that you know that's what it's all about.
Here's a closer look at what we received in the Summer Extraordinary Man Box……
Huna – Clarify Face Serum, $90: Our colleagues at sister-subscription box Simply Beautiful are big fans of facial serums. Of all the self-care success stories of the past few years, serums have been among the biggest… and so we gave this one a shot. It's a winner! British Columbia's own Huna has concocted an effective, hydrating blend that is mild, gentle and well-suited to all skin types. Fast-absorbing and non-greasy, it balances out oily and acnegenic skin, while protecting from environmental damage. It's also 100 percent natural, vegan, cruelty-free and biodegradable.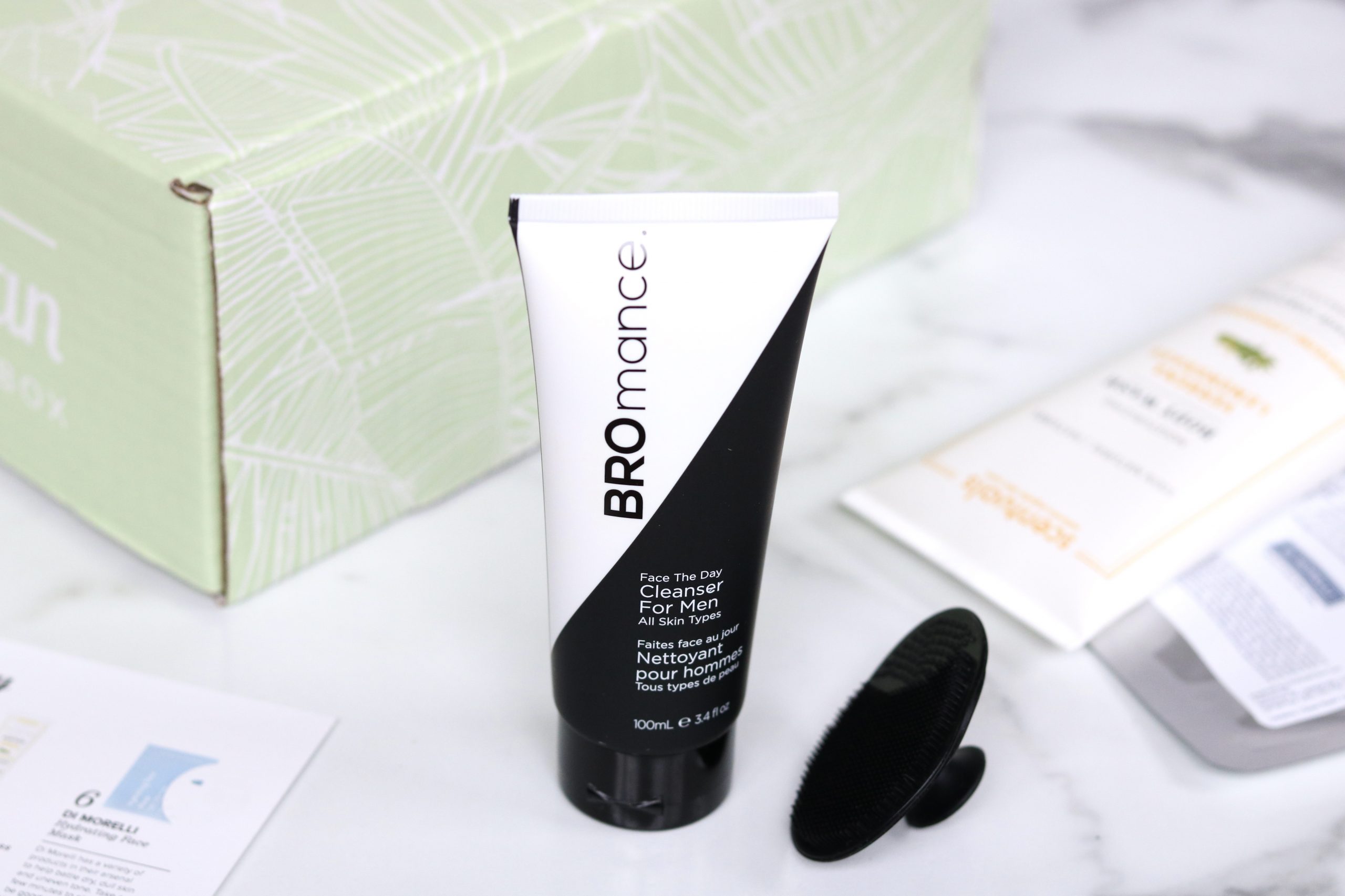 Bromance – Face the Day Cleanser, $28: Face the day with confidence, thanks to this twice-daily facial cleanser from Toronto's Bromance. With ingredients including extracts of chamomile, cucumber and green tea, as well as aloe vera leaf juice, it "removes all of the bad, leaving you at your best". Suitable for all skin types, it should be applied to wet skin and rinsed with warm water. Within four to six weeks of continuous use, you'll notice skin that is smoother, more hydrated and firm, with reduced redness and roughness. 
Bromance – Face Scrubber, $10: Created with 100 percent silicone bristles, this latest addition to Bromance's grooming product offering is a simple, effective exfoliating tool that—paired with their Face the Day cleanser—will leave your mug feeling fresh, hydrated and revived. Use a couple of times each week to remove dead skin cells, especially around the nose. Replace every six months. 
Canvas Candle Co. – Luna Travel Gold Tin, $18: B.C.'s Canvas Candle Co. invites you to celebrate gratitude this season by kicking back—wherever your adventure takes you—and enjoying a simple luxury. The Luna candle is part of the company's Ritual Collection, founded on the belief that intention, self- reflection and connection can achieve overall balance in life. Scented with teakwood, leather and tonka bean, it boasts a strong, earthy nose and burns for 40 hours.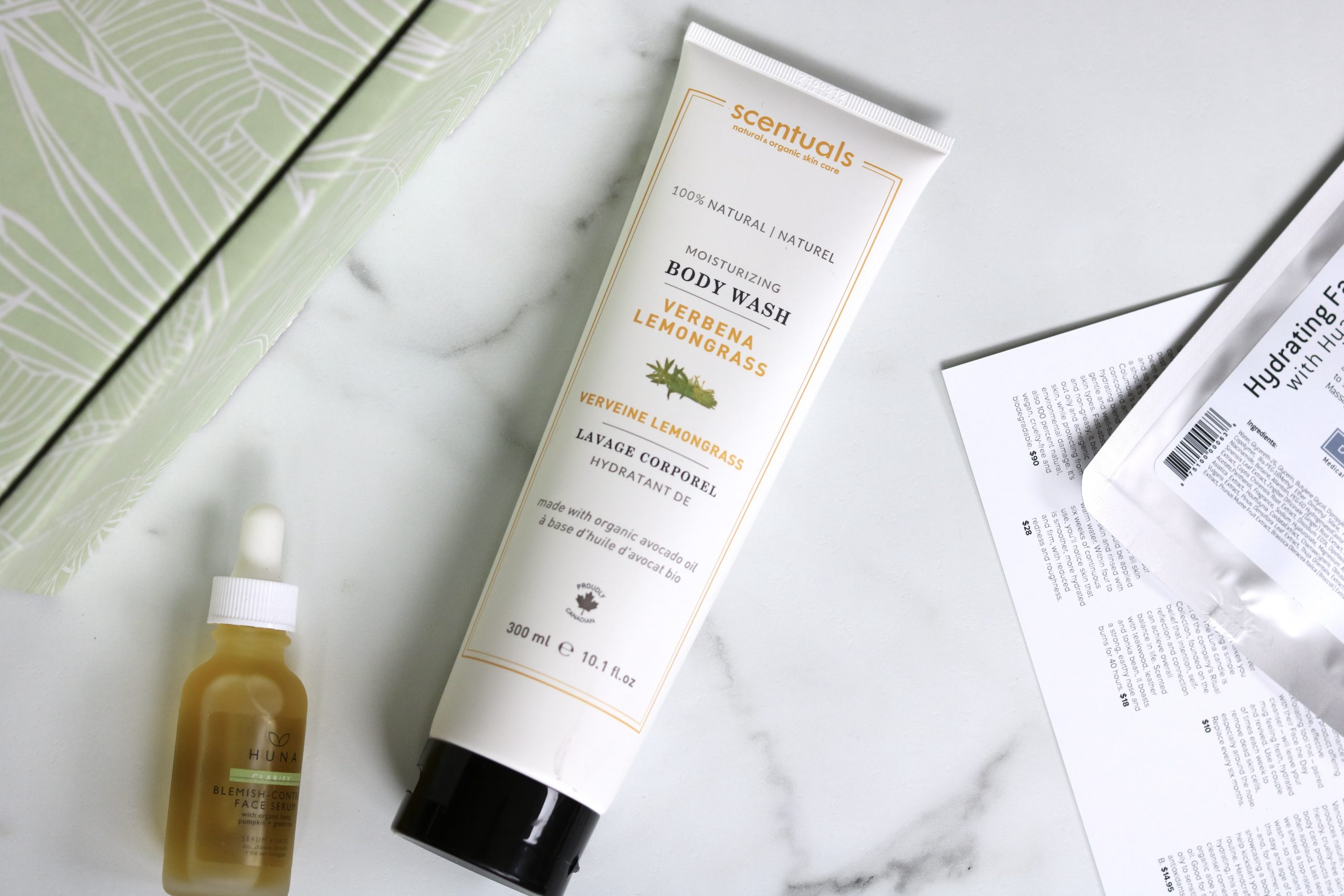 Scentuals – Verbena Lemongrass Body Wash, $14.95: Vancouver's Scentuals produces natural, vegan- friendly, cruelty-free skin and body care products that we often applaud. Last season, we shared a top-rated hand wash—so important in this day and age of course and, for summer, we're showcasing a body wash to help kickstart your morning routine. Handcrafted and hydrating, this rejuvenating cleanser comes complete with organic aloe juice and argan oil. Good for skin types from oily to sensitive, it's rich in antioxidants, vitamins C, E and B.
Di Morelli – Hydrating Face Mask, $12.50: Di Morelli has a variety of products in their arsenal to help battle dry, dull skin and uneven tone. Take a few minutes to sit still and be good to yourself—and your skin! This hydrating face mask from the Vancouver-based company is suitable for all skin types, contains antioxidants and a 14-plant complex to repair and restore, along with hyaluronic acid, peptides and niacinamide to help retain moisture.
Extraordinary Man Box Review Summer 2022 – Final Thoughts
The total retail value of the Summer Extraordinary Man Box is $173.45 which is wonderful seeing as the box itself only costs $74. The last few boxes have definitely focused heavily on skincare products so that is something to consider prior to signing up. I definitely prefer the boxes that feature at least a couple lifestyle items and/or accessories but overall I still think the Summer box is great. I always love to receive products from Scentuals, as well as candles. I am hoping that my hubby will test out the Bromance products as I have heard such great things about that brand. If skincare is your thing, this is the box for you!
-AYOB Sarah