Fabletics Review August 2016
Fabletics Review August 2016
Fabletics Review August 2016 – Wow, I can't believe it has been 2 months since my last Fabletics review. Normally I order a new outfit every month, but for some reason I forgot to place an order in June and July. Things have been super crazy around the blog office so I will blame it on that. But I really can't let it happen again. I LOVE my Fabletics outfits!
Fabletics Details
If you aren't familiar with Fabletics it is a monthly subscription service for workout clothes. Each month they release new outfits which you have the option to purchase. Once you sign up and become a VIP you get discounted rates, pay $49.95 per month and have the option to skip a month anytime.
The Box: Fabletics
Cost: $49.95 per month (outfit prices vary)
What You Get: 1 new workout outfit each month
Ships to: US & Canada
Shipping Cost: $4.95 to Canada
Azalea Outfit
This month I ordered the Azalea Outfit. I wanted to order styles I knew I would like, but also wanted to try out some new colors. Cue the white capris (well kind of white). This is a color/pattern I would normally stay away from, but I have been feeling pretty confident since being back with my trainer and figured I might be able to pull them off.
With the Azalea outfit you can choose from different closed tops, and different colored bottoms. I am almost tempted to order another one because the tank is available in 4 different colors.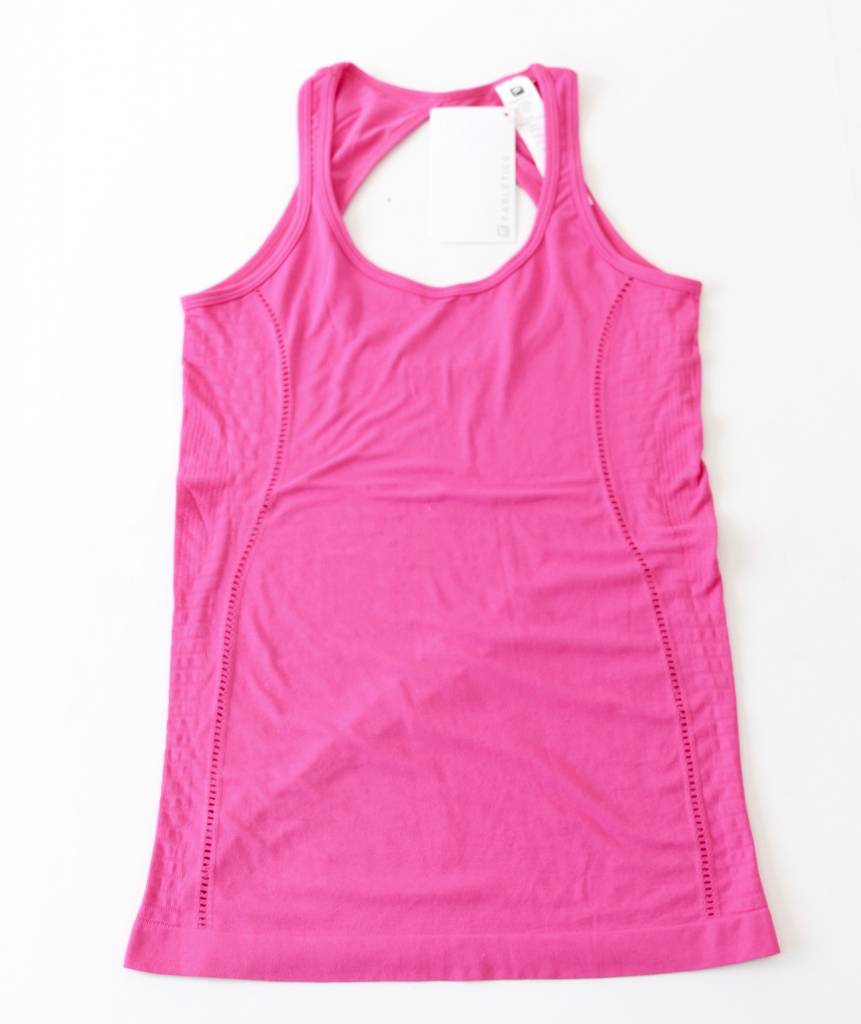 Norcross Seamless Tank
I am extremely picky with my Fabletics Tanks. I only really like a couple of the tanks I've ordered in the past, with the Oula still being my favourite. I saw that the Norcross had a similar style to the Oula while still being different, and thought it might work. Now that I have it in front of me I am very happy. It is the same fabric as the Oula, and fits the same in regards to sizing, but it is a little shorter and has a different back. I definitely want this in other colors.
Salar Capri
When you purchase the Azalea outfit you can basically choose any of the Salar capris to go with it. The options are endless. I had trouble narrowing it down because there are 4 or 5 other patterns I want. But like I mentioned above, I wanted to step out of my comfort zone, and white is definitely out of my comfort zone.
I order the small (as I always do) and they fit perfectly. I have mentioned this before but they fit very similar the a size 6 from Lululemon.
Fabletics Review August 2016 – Final Thoughts
I think I have a new favourite outfit from Fabletics. Surprisingly, I really like the white capris. I think the pattern takes away a little bit of the scariness. I definitely couldn't wear them it they were plain white. And this tank is exactly what I was hoping it would be. It isn't too long, it has a nice fit, and the neckline is flattering. I would definitely recommend the Azalea outfit. I will probably end up ordering another one.
XOXO