Fabletics Canada Review February 2016
I've been slacking with my Fabletics orders the last few months. I skipped a month in November, and skipped again in January. It's actually starting to worry me….maybe there's something wrong with me. I've ordered at least one outfit from Fabletics every single month for probably the last two years…..let's just say that my gym outfit collection is on point!
If you aren't familiar with Fabletics it is a monthly subscription service for workout clothes. Each month they release new outfits which you have the option to purchase. Once you sign up and become a VIP you get discounted rates, pay $49.95 per month and have the option to skip a month anytime.
The Box: Fabletics
Cost: $49.95 per month (outfit prices vary)
What You Get: 1 new workout outfit each month
Ships to: US & Canada
Shipping Cost: $4.95 to Canada
Deal: CLICK HERE & get your first outfit for $25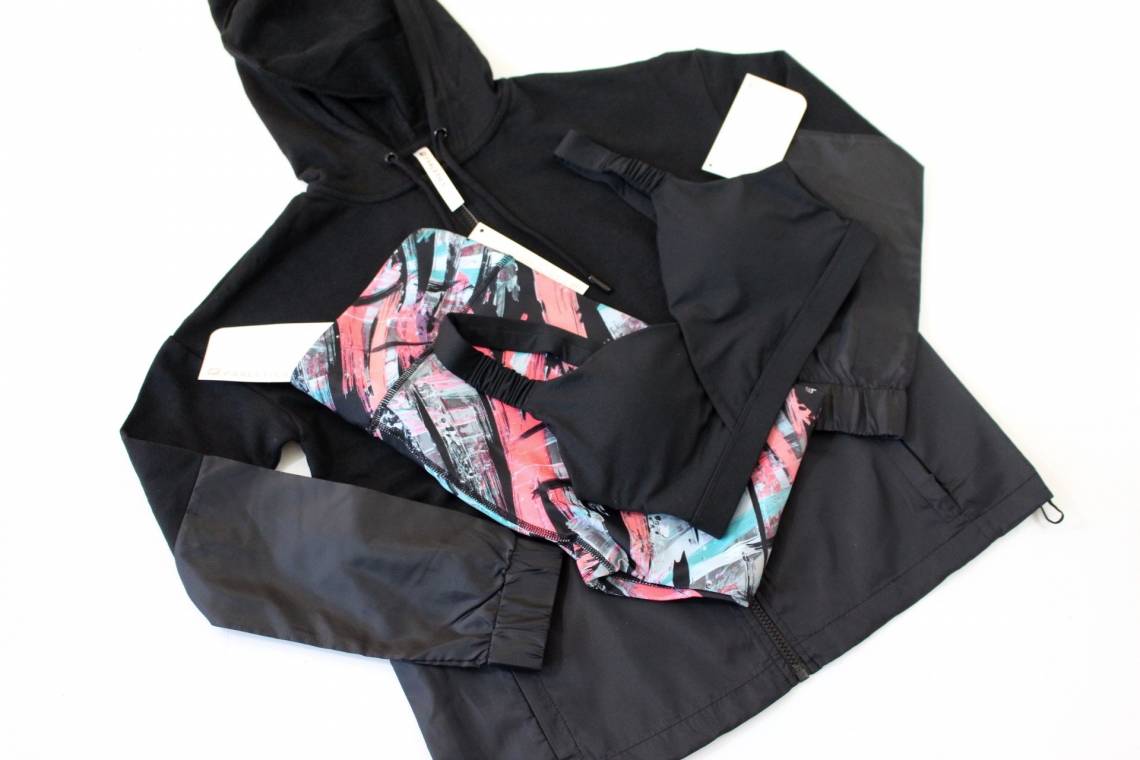 This month I am reviewing the Iris outfit. I'm all about value when it comes to my gym clothes, so I always try to find an outfit that contains 3 pieces as opposed to 2. I've also been on the search for a black jacket to wear to and from the gym, and was really hoping to find one from Fabletics specifically.
Windhaven Jacket – I have a love/hate relationship with Fabletics jackets. I really want to love them…..like really, really, want to love them….but they always end up being too big, or too frumpy. This one might be the best of the bunch thus far. It still fits big (I ordered an x-small), and it's still a little boxy, but I really like the contrasting fabrics, and the fact that it has a hood.
Salar Capri – Pretty much every pair of capris I own from Fabletics are Salar capris. You all know I love the way these ones fit, and I flippin' LOVE the fun patterns they come out with every month. This month's pattern just might be my favourite….FYI. I love the coral and teal combination…..well it's more of a fluorescent coral…..but I love it nonetheless.
Lilac Bra – I'm always on the search for black sports bras. I wear them so often that I like to have at least 3 in my sports bra drawer…..yes, I have a drawer specifically for my sports bras. I like the thick straps on this one, and LOVE that it has bra cups….I wish all Fabletics bras had built-in cups. FYI – this is size small.
Thoughts: I am extremely happy with this month's Fabletics outfit, which is kind of nice because I ended up hating the top from my last outfit…..it shrunk in the dryer. Anyways, the Iris outfit covers all my Fabletics must-haves. It has 3 pieces rather than two, the pattern on the capris is AMAZING, the sports bra has built-in cups, and the jacket isn't too frumpy. I would still like to see them change the fabric they use for their bottoms, but other than that I can't really complain…..this 3-peice outfit only cost me $89.95 which is about the price of a pair of capris from Lululemon.
What do you think of Fabletics?
XOXO