Fair Ivy Review April 2016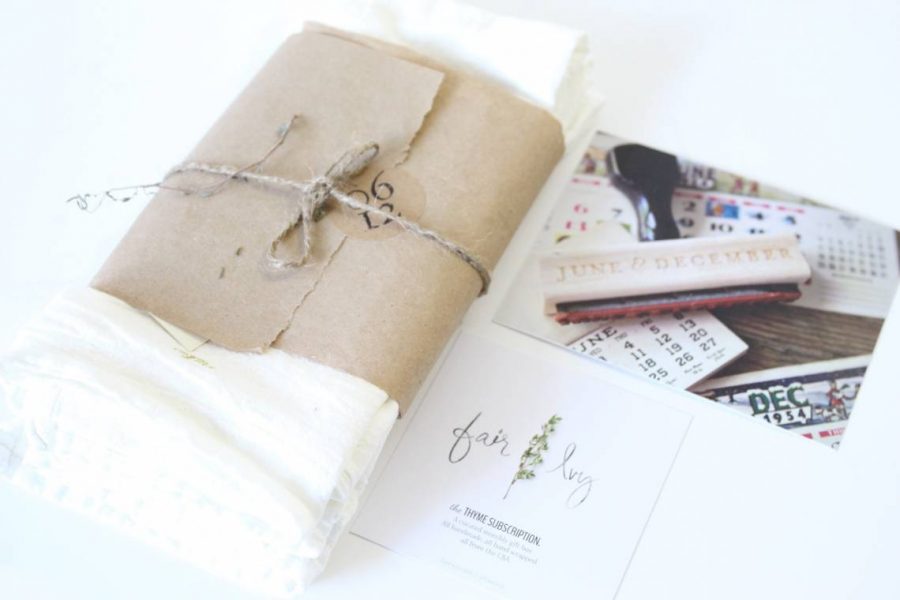 My appreciation for handmade subscription box has grown over the last year. I would now consider this one of my favourite subscription box categories, and sometimes find myself liking the handmade items I receive better than the high-end commercial goods. Fair Ivy just happens to be a handmade subscription box, so I have a feeling I am going to like this one….a lot.
If you aren't familiar with Fair Ivy it is a subscription box for handmade gifts, each one made and hand-wrapped with love. Each gift you receive is vegan-friendly, and contains an information card with details of the artist's process, background, or inspiration, so you can understand the time and care put into each hand-wrapped item.
The Box: Fair Ivy
Cost: $30 per month
What You Get: Every month, gift experts carefully select a new handmade surprise gift. Each gift is made by an artisan who lovingly creates and carefully wraps their handmade item just for you—and includes an artist information card so you can learn a bit more about them.  The gift ships straight from their house or workshop to your doorstep!
Ships to: US
Shipping Cost: calculated at checkout
I was a little confused when I first received this box. It was brown, and cute, but the shippers name said June & December. I had no clue that Fair Ivy subscriptions ship directly form the artist, rather than from Fair Ivy itself. This is such a unique idea, and I'm not aware of any other subscription box that does this. Any who…..this month's handmade item comes from a company called June & December, they create beautiful items such as home goods and paper products.
Herb Napkins – I am absolutely, 100%, in love with these napkins! I had no clue that Fair Ivy included home goods in their boxes, but I'm so glad they do. I could receive items like this every month and be a happy girl. I already know I will be using these a lot, and you will probably see them in my recipe photos on Instagram. If this is any indication of the other items June & December has in their shop, then it is definitely worth checking out.
Thoughts: I didn't't really have any expectations when it came to this subscription box. To be honest, I wasn't really sure what kind of items to expect, other than jewelry. These adorable little herb napkins were a pleasant surprise, and have made me a huge fan of this handmade subscription box, as well as the company that made them. I think this subscription box would make an AMAZING gift, and I will definitely be keeping my eye on them……I can't wait to see what kind of pretty handmade items they include in their next few boxes.
XOXO
Explore.
Save.
Enjoy!
Sign up for a free account on A Year of Boxes to receive exclusive offers, be added to our monthly mailing list, and much more! We are always adding features to improve the experience for our users, from their valuable feedback!
Join Today!