Feeling Fab Box Review January 2017
Feeling Fab Box is a monthly wellness, health and beauty box to help you build your self-care routine. They deliver 5-to-6 handpicked, seasonal beauty and wellness products straight to your doorstep, striving to source only cruelty-free, natural and non-toxic products. Each box has over $55 in retail value of curated products that are bundled together at an exclusive price. They kindly sent us this box for review.
Feeling Fab Box is relatively new. They shipped their first box only a few months ago, November if I remember correctly. Prior to receiving this box for review I hadn't really heard of this pretty little subscription, and hadn't seen any other reviews. It was a complete surprise, and that makes me kind of excited.
January Theme – Post Holiday Detox
I have to say it. I LOVE it when subscription boxes have monthly themes. I know it sounds like a small detail, but to be totally honest, I always end up liking boxes with themes more than boxes without themes. So Feeling Fab Box gets bonus points just for having a theme, a theme description, and a pretty product card. Their marketing is on point!
Theme Details
Now that we survived the holiday season, most of us feel like toxic messes – didn't we all get a little too tipsy, eat second and third helpings of dessert, and party past our bedtime? Thank goodness the holidays are over and it's time to do some damage control to get back on track with ourselves. This month, we curated our box to focus on skin cleansing and detoxifying. We've included cleansing grains and herbal steams to improve the skin's barrier function and to detoxify your skin with restorative minerals. 
LYESKA Facial Cleanser
This gentle facial cleanser combines the restorative properties of Siberian cedar nut oil with the beneficial blend of apple, burdock root and calendula to cleanse your skin without stripping away its natural oils, promoting anti-inflammatory, healing and soothing benefits while leaving your skin clean, soft and radiant.
I'm always happy to receive a new skin cleanser as long as it is natural and contains ingredients I am familiar with. I happen to be very familiar with calendula and think/know that it a very reputable ingredient for skincare. My skin responds very well to calendula so I have a feeling I will like this cleanser.
Facial steam by Herbal Moon Apothecary
A ritual handcrafted in small batches using high-quality organic herbs. Herbal steams are an easy and simple way to clarify and brighten your complexion, improve circulation, reduce inflammation, tighten pores and relieve facial congestion.
Cleansing Grains by Herbal Moon Apothecary
Cleansing grains are a gentle way to wash your face and nourish your skin. We handcraft our grains with four natural ingredients that won't strip your face and instead leave it glowing and feeling fresh. Use daily for clean, fresh and clear skin.
I am very intrigued by facial steams and have been meaning to add them to my skincare regime. I like the idea that it all brighten my skin and relieve facial congestion. The combination of these two products sound like a great way to get my glow back after the dry winter months. I don't know about you, but my skin is looking a little dull right about now.
New England Natural Face Brush
This brush is one of the most important beauty tools you need. Exfoliation noticeably speeds up the cell renewal rate, giving you bright, new skin in a matter of minutes. Don't over-do it though. About twice a week is enough, and always wash your brush immediately after use.
They really have put together the perfect little skincare regimen in this month's box. Cleasner, steam, mask and brush. I'm actually really looking forward to testing out all of these items.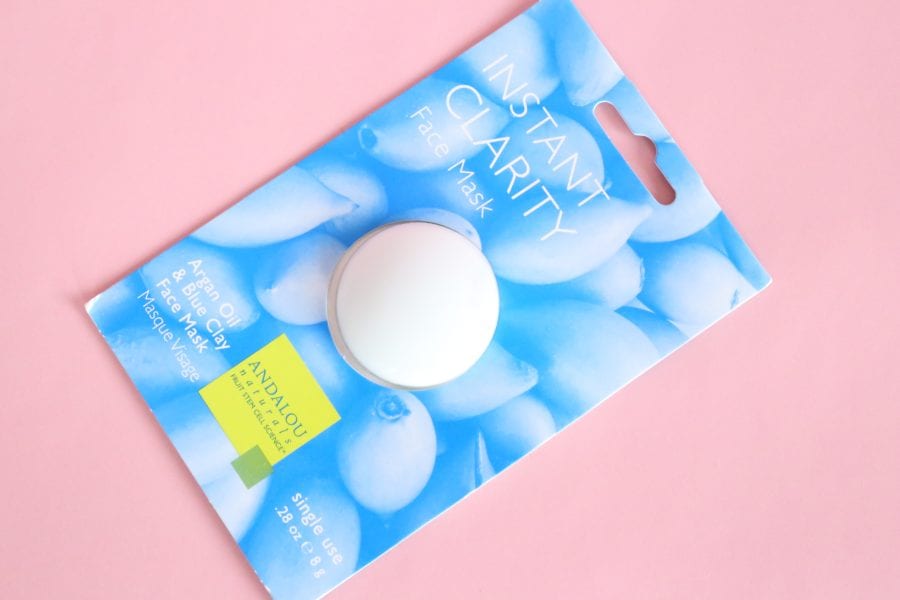 Andalou Naturals Instant Clarity Face Mask
This face mask is formulated with fruit stem cell complex, organ oil, and french blue clay. Upon application, it instantly nourishes and begins to clear away impurities, minimize clogged pores and stimulate circulation for a clean, clear complexion.
Aloha Protein Bars
This convenient on-the-go snack contains 18g of organic plant-based protein to promote lean muscle development. ALOHA products are vegan, and free of gluten, wheat, soy, dairy, nuts and GMO. They don't include dyes, sweeteners, natural or artificial flavours, colours, maltodextrin or fillers of any kind.
I am a huge fan of Aloha products and super happy to see them in my first Feeling Fab Box. Plant-based protein is the way to go. Not to mention the fact that their products are free of all the nasty ingredients I try to stay away from. I actually really love that they included these in the box. It makes it feel a little extra special.
Feeling Fab Box Review January 2017
Wow, I feel like I have been spoiled lately. I have received some amazing subscription boxes, this being one of them. I am so impressed with my first Feeling Fab Box. To be totally honest, its ten times better than I was expecting it to be. I think this is such a cool box. I'm very excited about the fact that it includes healthy snacks and beauty products. I'm high-maintenance when it comes to my subscription boxes, I want a little bit of everything. And the fact that the snacks are made with plant-based protein just makes it that much more exciting. Feeling Fab Box is only $28.99 per month, and for what you get, I think that is extremely reasonable. Not to mention the fact that the box itself is SUPER cute! I am so happy to have discovered this box, it's definitely a new favourite. I'm interested to see if they focus on skincare products every month or if they mix it up.
XOXO
Explore.
Save.
Enjoy!
Sign up for a free account on A Year of Boxes to receive exclusive offers, be added to our monthly mailing list, and much more! We are always adding features to improve the experience for our users, from their valuable feedback!
Join Today!