Fortify My Faith Review January 2017
Fortify My Faith produces a monthly subscription box delivered to your doorstep – filled with items that inspire daily Christian living by helping you strengthen your faith as you discover meaningful products from companies that operate with the Love of Christ as their core value.
Each box includes a daily devotional magazine to help keep your faith relevant throughout the month and keep you engaged in the pursuit of God's Will for your life. They kindly sent us this box for review. 
This is my first review for a faith box and Fortify My Faith is already setting the standard pretty high.  I don't think we have ever seen a basket provided in a subscription box before!  This is a huge bonus and sets this subscription box apart!  I can't wait to see what they've included in this month's box.
Let's get started…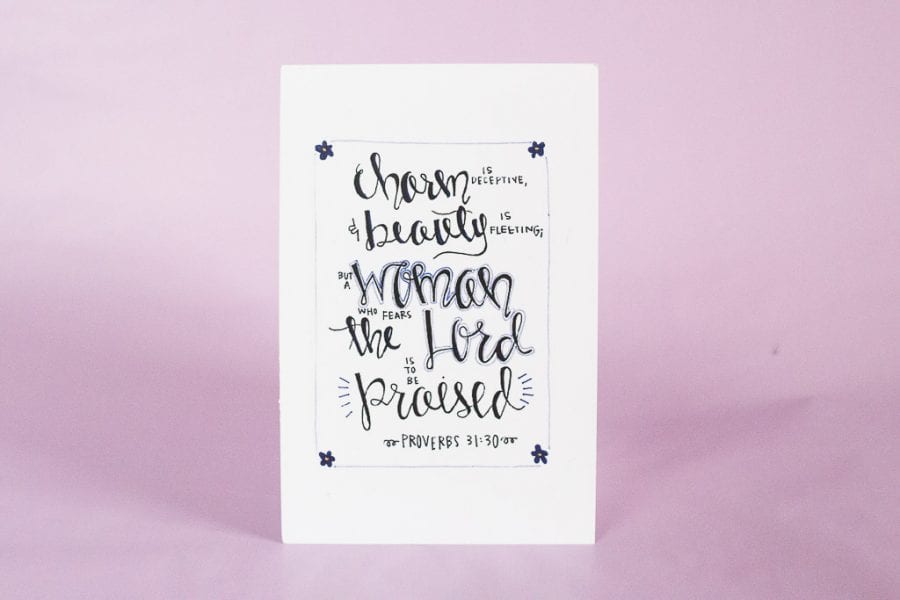 Proverbs 31 Poster
This poster is hand crafted and can be found through the etsy shop: HandmadeHostessKY
I have to say, I think the Proverbs 31 verse is way overused.  I do love this poster, the calligraphy, colours and size!  This is the kind of thing I would tape up to my bathroom mirror to encourage me each day.  I would love to see a different verse used for women's encouragement though.
Tapestry Devotional Magazine
Weaving God's Wisdom into a Woman's Heart
I have never used a daily devotional magazine, but I was pulled into this one right away when I saw the title "Attitude Matters".  Having just worked through some conflict that came down to my attitude I'm always surprised how direct and pointed daily devotionals can be.  I think I will keep this devotional close for the next few days and see what else it has to offer!  I like how this devotional is only one month-long.  Sometimes it can be hard committing to a large devotional book.  This one is designed to get you through to your next Fortify My Faith box!
Everyday Blessings Calendar
Start off the New Year with this handy calendar by Christian Art Gifts
I was so excited to see a calendar in this box!  I've been needing a calendar for my work desk and have been putting off purchasing one.  I would much rather have a calendar that encourages me than senseless photos of animals or travel locations, though I do love animals and traveling!
Daily Devotionals – A Prayer Journal & Pen
Write it Down!  We love their products!  Resolve in 2017 to improve your prayer life
So cute!  I love this little journal.  Inside it offers small sections for the following: "I'm grateful for", "Special prayer", "Donations of the heart (acts of kindness)", Goals and ideas for a better tomorrow".  Wow.  Love this.  Gratitude has been a huge thing for me lately and I try to start each day with texting what I'm grateful for to someone I'm in accountability with.  I always find my days start and end differently when I do this.  I love how this book encourages you to keep a record of gratitude, kindness and ways to improve.
Where God Guides God Provides
A rustic reminder of God's providence
So cute!  I love this little saying and it's small enough that you can tuck it by your computer, in your bathroom, kitchen or even car!  It's so nice to have small reminders like this where you can see them to remind yourself of God's goodness and provision.
Poplar Peppermint Penguins & Mondo Bath Bomb
Hand-made chocolates! Enough said.  Leona at My Heavenly Scents made this spectacular bath bomb.  Contemplate the New Year while you relax in a bath.  
LOVE that some self-care products have been provided in this subscription box!  So often you can forget that you need to refill and refuel too.
Fortify My Faith Box Review January 2017 – Final Thoughts
I honestly didn't know what to expect with a faith-based box.  I was pleasantly surprised in the quality of items and variety of items, yet they all follow a great theme.  I'm looking forward to seeing what other themes they come up with and how they support the themes from a faith perspective.
-Shonah
Explore.
Save.
Enjoy!
Sign up for a free account on A Year of Boxes to receive exclusive offers, be added to our monthly mailing list, and much more! We are always adding features to improve the experience for our users, from their valuable feedback!
Join Today!