Frank And Oak Style Plan Review April 2020
Frank And Oak Style Plan is an easy service from Frank And Oak that sorts you out with great style on a regular basis (without the fuss), at a low cost. When you subscribe to Frank And Oak Style Plan, their Stylists pick out the latest seasonal pieces based on your personal preferences and send them straight to your door every month. You can try on the items from the comfort of your own home, and pay for only those you decide to keep. Save up to 20% on every order with free shipping and returns. You can skip a month or cancel anytime. They kindly sent us this box for review.
You all know I love my Frank And Oak Style Plan deliveries but did you know how many Frank And Oak pieces I actually have in my closet? A lot! I love the classic yet trendy styles as they have allowed me to create a beautiful capsule wardrobe. I can mix and match most of my Frank And Oak pieces together which makes getting dressed that much easier. My go-to item right now is my Classic Sweatshirt in Mauve. I also have it with a hood and I really hope they bring the hoodie sweatshirts back soon as I want one in a few different colors. Needless to say I LOVE my Frank And Oak Style Plan subscription!
How It Works
From the Frank And Oak Style Plan website……
Tell Us About Yourself: Answer a few questions (style, sizes) and we'll fine tune our recommendations.
Preview Your Monthly Box: Confirm, customize or skip your monthly order.
Easy Home Try-On: Take 7 days to decide what you keep. Send back the rest for free.
Good to Know: No monthly fee. Skip a month anytime (it's free!). Each monthly box is subject to a $25 styling fee if you return the entire box.
Here's a peek at my April Frank And Oak Style Plan box…..
Long Sleeved Modal-Blend Ribbed Tee in Black
I have this top in a cream colour and decided I needed a black one as well. It's a super soft, ribbed material, it's described as a classic fit and it has a crew neck. It's perfect for layering under my Frank And Oak jumpers because it's thin and slightly fitted. It's available in 7 different colors and I would say it is true to size. I ordered my regular size (small) and it fits nicely.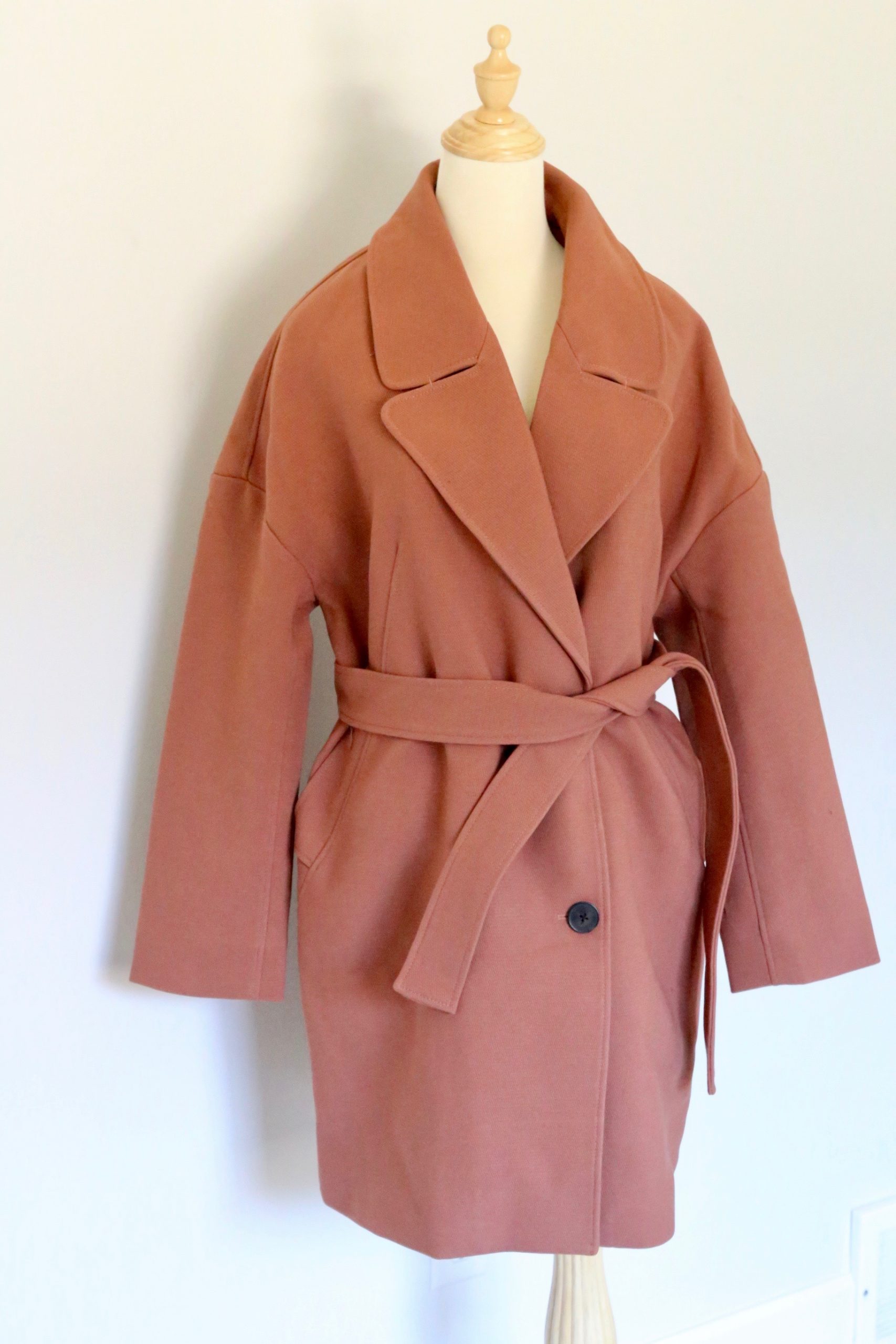 The Mackenzie Cocoon Coat in Dusty Wine
From the Smart-Layer family. Double breasted. Double weave fabric. 100% recycled polyester lining. Compatible with the Skyline series.
I fell in love with this jacket the moment I saw it. There's just something so lovely about the dusty wine color. It's unlike anything I have in my closet. I feel like it will go with most of the items in my closet as the color is actually quite versatile. You could easily pair it with neutrals, but you can just as easily pair it non-neutrals like olive green, yellow, navy, and pale pink…..just to name a few.
It will go perfectly with jeans but I can also see myself wearing it with dresses.
Frank And Oak Style Plan Review April 2020 – Final Thoughts
It's not often I get a high-price item with my Frank And Oak Style Plan delivers as I like to get the most bang for my buck but I just couldn't help myself this month. The Mackenzie Cocoon Coat is worth the price because it's an item I will have in my closet for years to come. Trench coats never go out of style and they are the perfect transition piece for Spring to Summer and Fall to Winter. I have no problem spending a little more on certain pieces if I know I will get a lot of wear out of them. And….I fell in love with the wine color the moment I saw it.
In addition to that I got a super soft tee perfect for layering under my jumpers. Overall I would say I got some great pieces with my Frank And Oak Style Plan this month.
-AYOB Sarah
Explore.
Save.
Enjoy!
Sign up for a free account on A Year of Boxes to receive exclusive offers, be added to our monthly mailing list, and much more! We are always adding features to improve the experience for our users, from their valuable feedback!
Join Today!