Freedom Japanese Market Review March 2016
This will be my third review of the Japanese snack box Freedom Japanese Market, and I always say that after 3 reviews you get a really good sense of what a subscription box is all about. So far I have discovered that Japanese Freedom Market always comes packed to the brim, and they always include a cute little origami. I don't always eat the items in this box, but J & A are more than happy to taste test for me.
If you aren't familiar with Freedom Japanese Market it is a monthly subscription that sends about a pound of unique Japanese candies and snacks sent straight to your front door! All candy and Japanese snacks are selected, assembled, and shipped by the team at Freedom Online Japanese Market. They love Japanese snacks as much as you do!
Cost: $25/month
What You Get: Each box contains 12 to 16 full size and sample snacks.
Ships to: Worldwide
Shipping Cost: FREE
Umaibo – Puffed corn tubes coated with flavored powder.
Chocolate Pen – Filled with chocolate, and you can also write with it.
Origami of the Month – Fancy Kimono
Smartphone Candies – Fruit shaped candy in a colorful wrapper.
Buta-Men Curry Ramen – A mini cup of instant ramen.
Kirby Gum – Mini pieces of gum covered in Kirby illustrations
Punch Cola – Drop one tablet in water to create your own tasty drink.
Whistle Ramune Candy – Ramune flavoured candy that doubles as a fun toy.
Umai Candy – Flavoured candy from the makers of Umaibo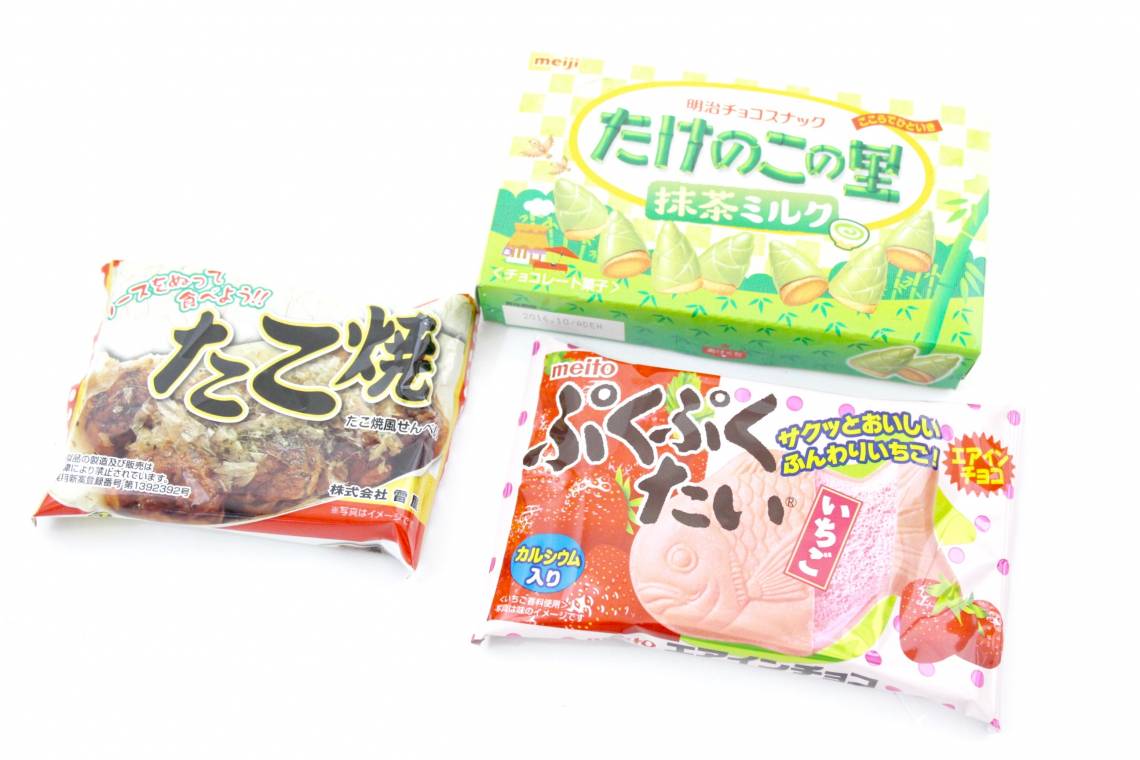 Takenoko no Sato – Bamboo shoot biscuits coated in matcha milk chocolate.
Puku-Puku Tai – Fish shaped wafers filled with strawberry chocolate.
Tako-Yaki Senbei – Pour the included sauce over the crackers.
Lifeguard Candy – Squeeze the thick candy paste onto chopsticks and lick like a lollipop.
Kurabete Neru-Neru – Pineapple and melon flavoured DIY candy.
Rice Crackers – Grilled beef flavoured rice crackers.
Thoughts: For a Japanese Snack subscription box this one is done well. It is reasonably priced, ships for free, and it comes packed full of fun snacks. The origami of the month is a nice little touch, and I like that it is run by a family (they have their photo on the product sheet and it is really cute). The snacks from this month's box will be going to J & A, and they will definitely get a kick out of them. I sit back and watch the two of them try everything, an if there happens to be leftovers (not very likely) they will go to work with J the next day. This is a good one to check out if you are in the market for Japanese snacks.
XOXO
Explore.
Save.
Enjoy!
Sign up for a free account on A Year of Boxes to receive exclusive offers, be added to our monthly mailing list, and much more! We are always adding features to improve the experience for our users, from their valuable feedback!
Join Today!