Gentleman's Box Review December 2016
Gentleman's Box is the first subscription box that caters to the modern gentleman. Each month honors a noteworthy gentleman from the past or present. Items in their subscription box for men are hand selected to reflect the carefully crafted image of that month's honored gentleman. Four to five products, including a subscription to GQ magazine, arrive at your doorstep monthly. They kindly send me this box to review. 
December Theme
This month's Gentleman's Box honours their favourite Mad Man. Sadly this is a show I have never seen. I've heard amazing things about it, and really should take the time to watch a few episodes. Anyways, I'm not familiar with any of the actors in the show, so as per usual, I need your help figuring out who this month's honouree is.
Let's have a look at what we received this month:
DeadSoxy Pocket Square
This month DeadSoxy is not providing you with socks, but a pocket square from their new line of accessories. Gentleman's Box members will be the first to see this pocket square design, as it won't be sold publicly in the DeadSoxy shop until early 2017. 
Ok, this is freakin' cool. The pocket square has its own little accessory….a button. This is the first time I have seen a pocket square like this and I am totally loving it. If this is representative of the quality of accessories we will find in DeadSoxy's new line, then it is definitely worth checking out.
Gentlemen Essentials Socks
This month you are receiving a pair of socks from the newly launched Gentlemen Essentials sock line. These socks are perfect for the winter season and incorporate a beautiful, holiday red color with grey accent stripes. 
Striped socks are classic. There's not much more I can say than that. And I am loving the festive color. Great sock choice this month.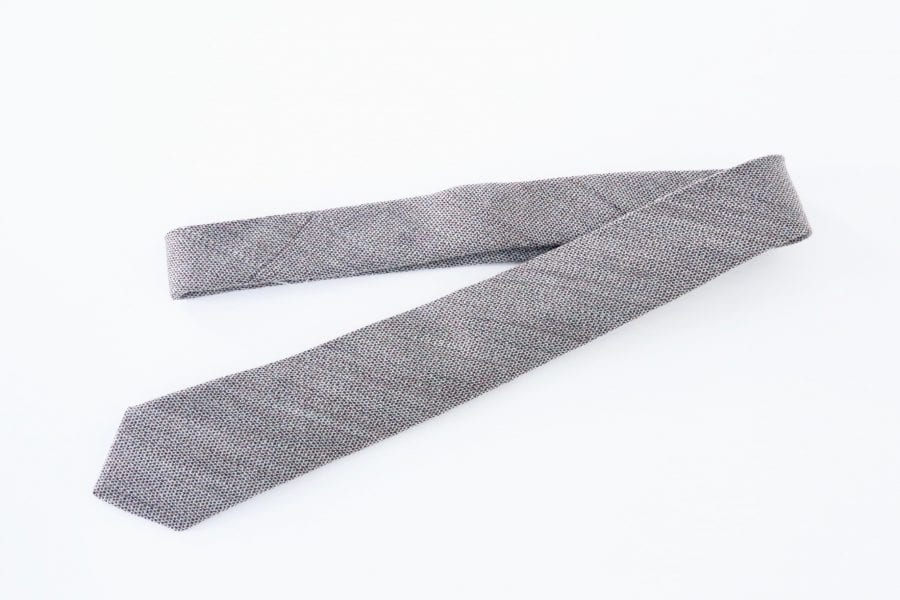 Aster Ganos Tie
Aster Ganos is proud to be featured in their first ever Gentleman's Box. This tie maker brings you a silk and wool blend that goes perfectly with other winter colours. Pair this month's tie with navy, gray, or brown suits. 
This is a really interesting color combo/pattern. I can see why they say that it will go with navy, gray and brown. It almost looks like it has each of those colours woven throughout. I actually really love this tie.
Père Paix Viscose Wool Scarf
Men who wear Pere Paix are warriors in a gentler time, constantly striving to achieve their passions, and ever aware of the power within. This month Pere Paix brings you a unique scarf made of viscose, a perfect, fashionable scarf, all year round. 
Now this is interesting. This is the first time I have received a men's fashion scarf in a subscription box. I have received casual scarves a couple of times, but this one is anything but casual. It won't be for everyone, but they are definitely making a statement with this item, and some subscribers are going to love it.
John Varvatos Fragrance
Combining an invigorating citrus blend with accents of spices and herbs for a unique woody aroma. This fragrance embodies the confidence and passion of the modern man. 
This item fits the theme perfectly, and compliments all the other products. I just wish it was a slightly bigger sample. I think fragrance samples are a really good idea for subscription boxes but would like to see deluxe sample sizes rather than the tiny samples.
Gentleman's Box Review December 2016 – Final Thoughts
This month's Gentleman's Box has a value of $205, and that's pretty amazing. One thing is for sure, you always get WAY more than you pay for when it comes to GB. I should also point out the fact that Gentleman's Box comes with a one-year subscription to GQ magazine (U.S. and Canada only) but it is shipped separately from the box itself. Most of you probably already know this, but for all the new readers out there, it's a good little piece of information. I LOVE subscription boxes that come with magazines. I think it is such a great idea. Anyways, as per usual I am very happy with my Gentleman's Box, they always do a phenomenal job putting it together. Always classy and always fun.
XOXO
Explore.
Save.
Enjoy!
Sign up for a free account on A Year of Boxes to receive exclusive offers, be added to our monthly mailing list, and much more! We are always adding features to improve the experience for our users, from their valuable feedback!
Join Today!