Gentleman's Box Review December 2020
Gentleman's Box is the perfect subscription box for men with style and class. Calling all modern gentlemen, here's a subscription that caters to you. With unique monthly themes designed around noteworthy men, you'll be wishing you had subscribed sooner. With each box, you can expect anything from lifestyle essentials to grooming necessities.
*They kindly sent us this box for review*
Subscription Details
When you sign up for Gentleman's Box, you have two options:
Classic Subscription: Monthly ($29.00) or Annual Subscription ($299.00)
With the Classic Subscription, you'll receive four to five hand-selected products that honour an iconic gentleman.
Premium Box: Quarterly ($100.00)
With the Premium Box, you'll receive a selection of seasonal handpicked products inspired by luxury brands. Each box is curated by fashion experts.
All US subscriptions come with a 1-year subscription to GQ Magazine.
Here's a closer look at the December 2020 Classic Gentleman's Box…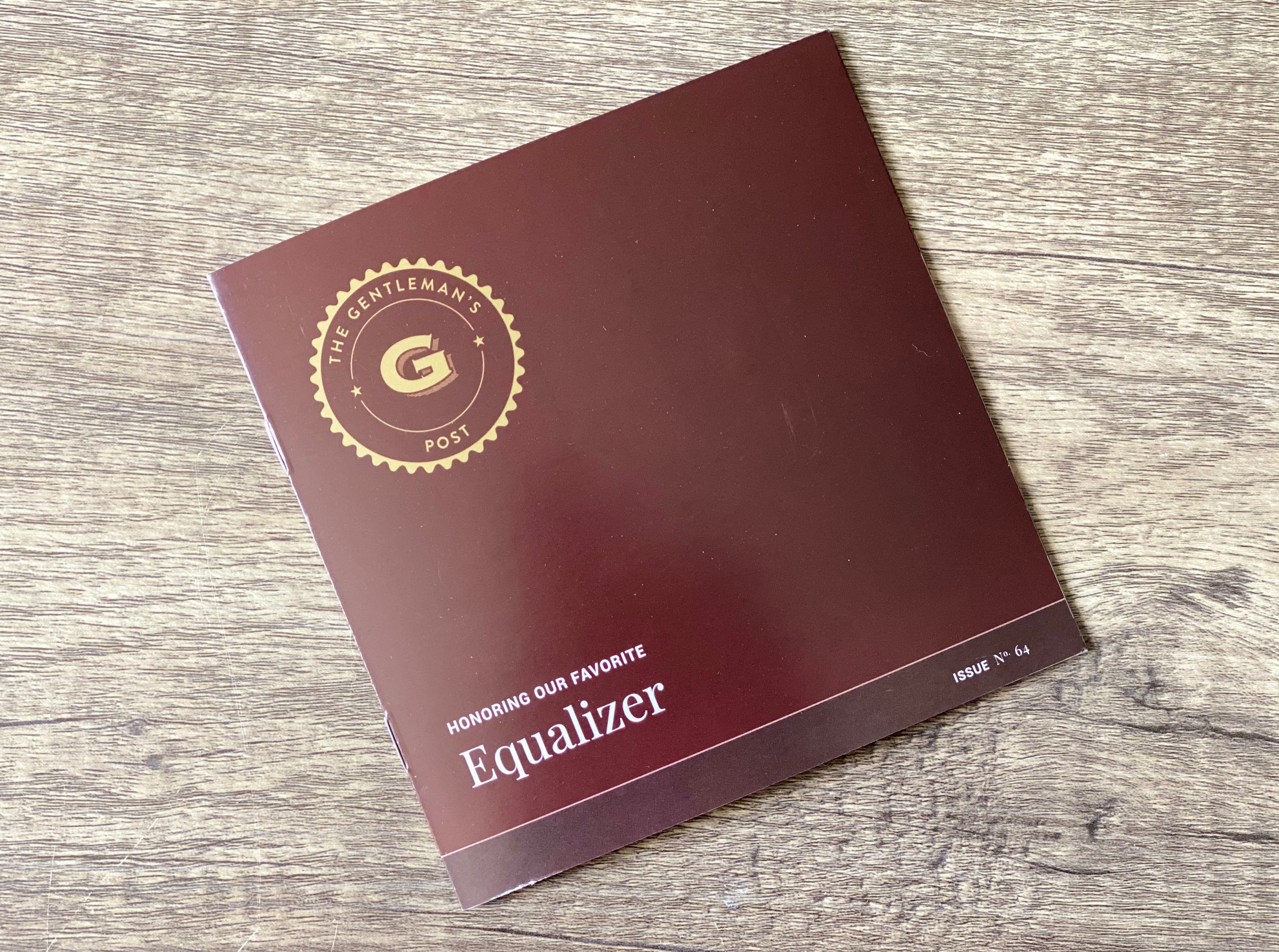 December Theme – Honoring Our Favorite Equalizer
"This month we honour one of the biggest icons in Hollywood, known for masterfully playing characters exuding Grace and Humanity. He is a household name, with Awards and recognitions and a career spanning 35+ years. Since the 1980s he has been in at least 55 films and has directed four. He has been awarded Oscar, Golden Globe, SAG and Tony Awards to name a few. He has also received several honorary degrees, from prestigious universities, on top of earning his bachelor's degree.
Some of his most memorable roles include human rights activist Malcolm X in the film Malcolm X, drug leader Frank Lucas in American Gangster, and football coach Herman Boone in Remember the Titans. The month's box features red, inspired by team colours in the film Remember the Titans, which many would agree to be one of the best football films of all time."
Keep reading to find out who this month's honoree is!
I am obsessed with Gentleman's box packaging – it is so unique, trendy and it feels like an exclusive gift is arriving each month.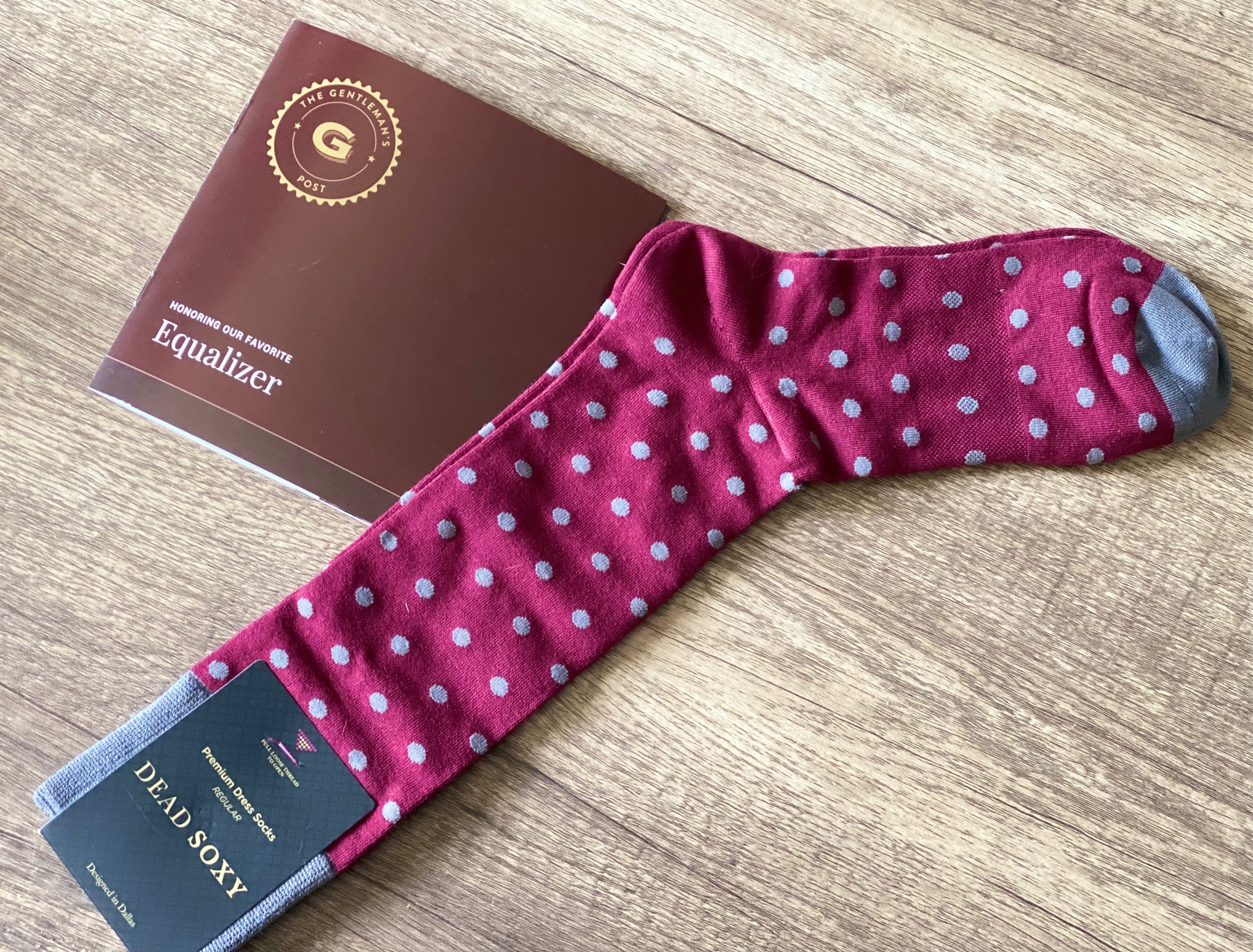 DeadSoxy Socks – $15.00
"DeadSoxy's exclusive line of socks, called Boardroom, set the bar high with their bold colors and patterns. This month we are offering three different designs of this specific sock to our members. These socks are made from breathable, moisture-wicking fabric, fit for comfort all day long."
These socks are definitely bold! A nice addition to dress-up an outfit or wear to a casual gathering. These socks are quite long and will keep you warm during the chilly months. They would pair nicely with a gray, black or navy suit. These socks are comfortable and soft, and breathable – a perfect mix for a gentleman!
Kings Stay Kings Tie – $29.00
"This month we bring you a classic, holiday red tie, made by the Canadian company Kings Stay Kings. This tie is 100% cotton, making it lightweight and perfect to wear all year round."
Subscribers received a holiday red tie with white dots. The holiday red will pair and complement many colours and looks including a navy, black, or any-shade grey suit. This tie will pair well with many outfits, all year long, as it is a timeless design, color and pattern.
Kings Stay Kings Shoe Laces – $5.00
"Kings Stay Kings is also the brand behind the red shoelaces included in this month's box. Made from elastic and polyester, these laces add color and uniqueness to your shoes. Pair them with your favourite shoe or boot and walk in confidence."
Subscribers received a handsome pair of red shoelaces this month. They are a striking red that will complement the tie, as well as some other items in the box. I was weary if they would stay done-up, but they do!
W. Marrison Watch – $45.00
"This month we teamed up with W. Marrison watches to bring you a sleek and modern watch, featuring rose gold accents and a burgundy nylon strap. What's so great about nylon, is that is durable and comfortable. Enjoy this unique addition to your growing watch collection!"
This watch is so stunning – burgundy and rose gold truly are the perfect color combination. This watch will be enjoyed by both of us and will most definitely jazz up any outfit. This was my partner's favourite item this month!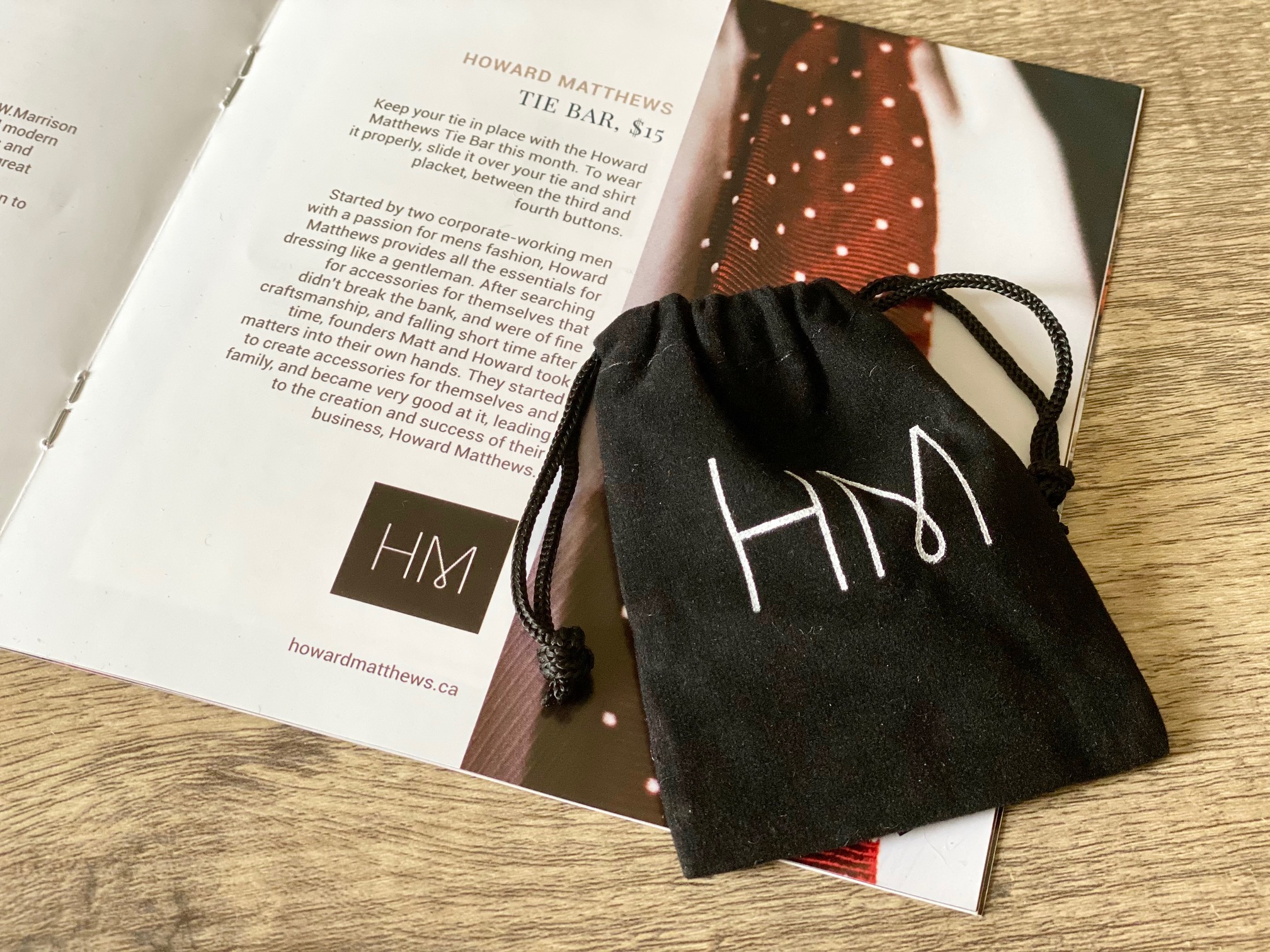 Howard Matthews Tie Bar – $15.00
"Keep your tie in place with the Howard Matthews Tie Bar. To wear it properly, slide it over your tie and shirt placket, between the third and fourth buttons."
My partner looks amazing sporting the Kings Stay Kings Tie and this Howard Matthews Tie Bar in rose gold. It is sleek, simple yet speaks volumes. We are obsessed.
Howard Matthews Lapel Pin – $15.00
"Howard Matthews is also the brand behind the button lapel pin this month. The floral design is simple and understated, making it a perfect go-to lapel for events and work."
My partner really enjoyed this matching lapel pin and received many compliments on it when he wore it to a distanced work function. It is a versatile item that I too, could wear. A perfect touch for any season or look.
Gentleman's Box Review December 2020 – Final Thoughts
This month's Hacker honoree is… you guessed it – Denzel Washington! Did you guess correctly?
Gentleman's Box wanted to celebrate Denzel Washington as he is someone who shares his wealth with multiple organizations and nonprofits. I found that the items we received fit the "Our Favorite Equalizer" and underlying "altruistic gentleman" themes great. Red is a must-have color to add to any gentleman's wardrobe and will be a great addition to my partner's. He looks so dapper in holiday red! This month's Gentleman's Box expanded my partner's style, and he appreciated all the items included! This box is valued at $124 which is a fantastic value based on the low cost of the monthly subscription. I am very impressed with this month's box, and my partner has used all of the items in it already, and I have also sported some!
Hayley Savanna – https://www.instagram.com/hayleysavanna/
Explore.
Save.
Enjoy!
Sign up for a free account on A Year of Boxes to receive exclusive offers, be added to our monthly mailing list, and much more! We are always adding features to improve the experience for our users, from their valuable feedback!
Join Today!