Gentleman's Box Review Fall 2019: Premium Box
Gentleman's Box is a quarterly or monthly subscription focused on bringing an experience to help you grow into a more well-rounded gent. With items based around fashion, technology, and lifestyle, the Premium and Classic boxes are more than a box. You can look forward to blogs, YouTube videos, and the Premium Gentleman's Post to stay engaged. The Gentleman's Box provides all the essentials for the savvy man! They kindly sent us this box for review.
This will be my second time reviewing the Premium Box from Gentleman's Box and I have to say…..I am very impressed. The men's subscription box world was lacking a luxury box and GB is filling the void.
Subscription Details
Gentleman's Box has 2 subscription options to choose from.
What You Get In The Classic: Each month honors an iconic gentleman, with the products inside chosen to capture his style and class. Each box contains 4-5 hand-selected items.
What You Get In The Premium: Gentleman's Box stylist's hand pick premium lifestyle goods centered around each season and ship them to you quarterly.
All US subscriptions come with a 1-year subscription to GQ Magazine
Here's a closer look at the items we received in the Fall Premium Box….
Modern Made Man Leather Backpack ($169)
The Modern Made Man backpack was designed for gentleman who require a versatile bag that meet the demanding needs of their everyday life. Whether you are heading into work, the gym or a weekend getaway, this will be the only bag you need.
I am 100% in love with this bag. Backpacks are my new go-to when it comes to travel, work, everyday use, etc…. This one is the perfect color for Fall and extremely versatile in that it will go with any outfit. It has padded shoulder straps, padded pocket dividers and a dedicated pocket for your laptop, phone and many other essentials. Hello new work bag!
Armoir Fashion Leather Portfolio ($69)
This leather portfolio is carefully crafted and designed in Canada, using full grain cyclone cowhide leather from the United States. It's careful design and detail continues to develop as the leather will shape and refine itself with age and use.
To go with our new work backpack we have a matching leather portfolio. The perfect accessory for your work day. Use it to carry notes, contracts, documents, etc….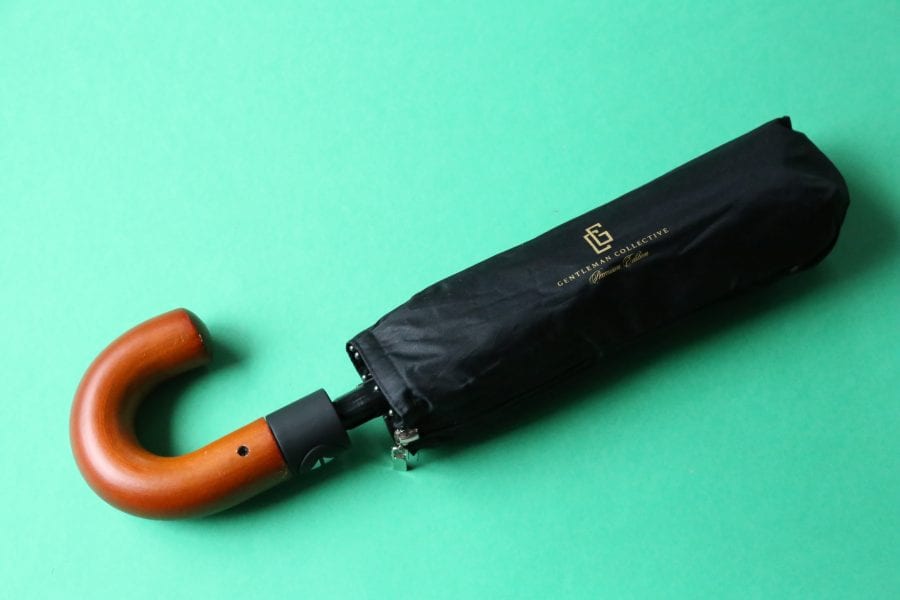 Gentleman Collective Umbrella ($59)
Rainy days no longer have to be so dull and gloomy. This 3 close fold umbrella will surely cheer you up in any dismal weather and mix and match with your outfits in a unique and stylish way.
Umbrellas are one of those things I never think to purchase but always wish I had on hand when a rainy day presents itself. This one is classic in it's colors and style. Perfect to keep in your backpack or vehicle.
Andar Leather Corditos ($18)
Made of soft full grain leather, Andar made these so you can wrap your cords and keep them from becoming a tangled nightmare, all the while keeping them looking fresh and clean.
Cord holders are a must for any bag, backpack, purse, drawer, etc…. I discovered these little gadgets in a subscription box years ago and fell in love with the convenience of actually having my cords organized and in once place. Another great accessory for your new backpack, and fitting with the theme perfectly.
Gentleman's Box Review Fall 2019: Premium Box
The Fall Premium Gentleman's Box is called The Commuter Edition and the curation is perfectly on point. GB says we all commute on a daily basis, to our jobs, our offices, coffee shops, when traveling and more. So this really is the perfect box for pretty much everyone. I appreciate the quality products, the top-notch brands and the way all of the items complement each other. I'm supposed to share this subscription with my husband but I've decided to keep all the items for myself. Because lets be honest…..there's no way I am parting with that backpack!
-AYOB
Explore.
Save.
Enjoy!
Sign up for a free account on A Year of Boxes to receive exclusive offers, be added to our monthly mailing list, and much more! We are always adding features to improve the experience for our users, from their valuable feedback!
Join Today!