Gentleman's Box Review July 2016
Gentleman's Box Review July 2016
Gentleman's Box Review July 2016 – This is a box I always look forward to. I like the structure of this box, and I like that I know what to expect. The obsessive organizer in me likes a consistent subscription box, and this one is consistent. Gentleman's Box came on the market when there weren't too many options for the boys. They set some high standards with their subscription, and continue to be a front-runner, even though they now have a lot of competition.
Gentleman's Box Details
If you aren't familiar with Gentleman's Box it is the first subscription box that caters to the modern gentleman. Each month honors a noteworthy gentleman from the past or present. Items in their subscription box for men are hand selected to reflect the carefully crafted image of that month's honored gentleman. Four to five products, including a subscription to GQ magazine, arrive at your doorstep monthly. This box was provided complimentary for review and may include affiliate links.
The Box: Gentleman's Box
Cost: $25 per month
What You Get: Each month honors a noteworthy gentleman from the past or present. Items in our subscription box for men are hand selected to reflect the carefully crafted image of that month's honored gentleman. Four to five products, alongside the latest issue of GQ, arrive at your doorstep monthly.
Ships to: US & Canada
Shipping Cost: FREE to US & $8 to Canada
Gentleman's Box Theme
One of the things I love about Gentleman's Box is the fact that they honor a noteworthy gentleman each month. The items in the box are themed after said gentleman, and that makes the box a lot more fun to go through. This month they are honouring "Our Favourite Fashion Mogul". The product booklet gives us some clues as to who the gentleman is and I am thinking it is Tommy Hilfiger?
Nikolas Ryan "Navy Jack" Pocket Square
Perfect for all Summer occasions, the Nikolas Ryan pocket square in this month's box is sure to be a standout piece in your collection. The simple red and white stripe pattern makes this pocket square easy to pair with a tan or white suit.
I'm not a huge fan of this month's pocket square, but that's strictly a personal preference. When I first saw it I immediately thought of circus clowns. But……the product description says to pair it with a tan suit, and that would actually look really great.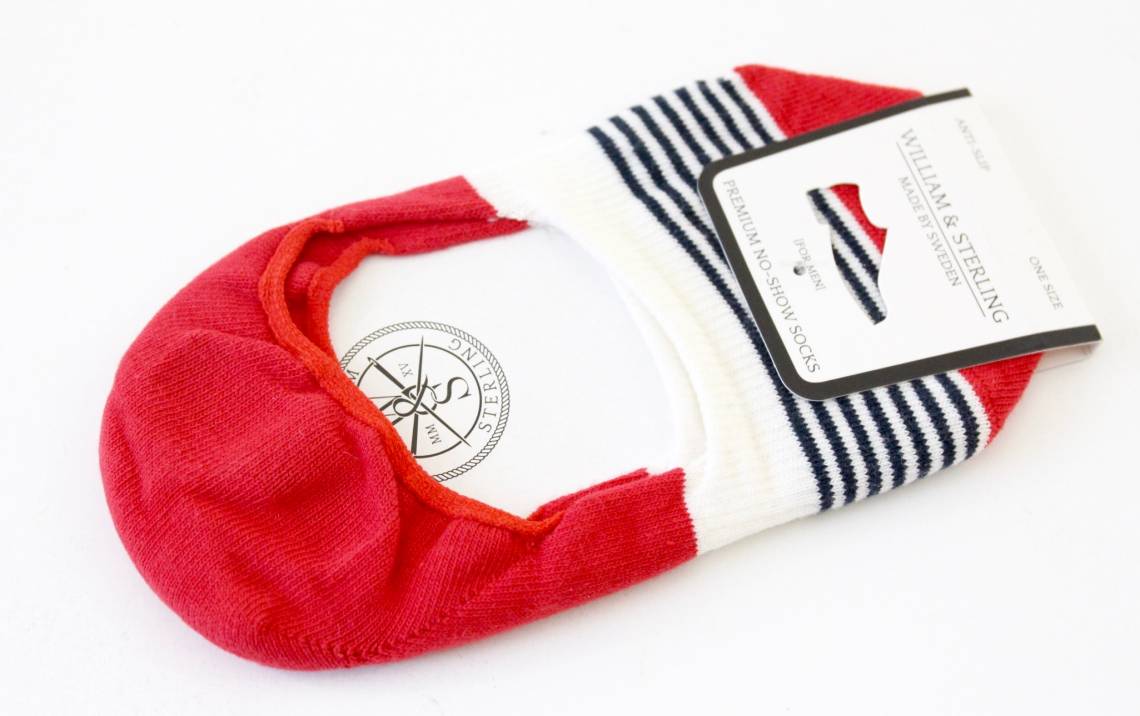 William & Sterling No Show Socks
With Summer in full swing, the last thing we want to do is smother our feet in calf-length wool prisons. We've partnered with William & Sterling to free you from this incarceration, and cool your ankles with no-show socks. 
I LOVE no-show socks. I rarely wear regular socks anymore, unless it is the dead of winter and I need cute knee-highs to go with my boots. I'm sure the men don't think of socks the same way I do, but…….I'm also pretty sure they will still appreciate these as much as I do.
Gentlemen Essentials Leather Shoehorn
Sporting bare ankles is a staple of summer, but that shouldn't mean that feet suffer. Slipping your sweaty feet into sneakers, or worse: those buttery leather loafers you just got, is a true sin. There is no revival for shoes with broken heel counters. 
This isn't a very exciting item, but at the same time it is SO practical. The BF asked me the other day if I had a shoehorn, and at first I thought he was joking, but he wasn't. So, this "not so exciting" item is actually much appreciated.
Kiko Leather Wallet
We often don't think about getting a new wallet until ours is tattered, stained with ink from that pen that exploded in our pocket, or worse. Don't be that guy. It's important to have a few wallets in rotation, especially with the change in weather. 
They nailed it on the head with this one. Guys wallets have a tendency to look sad and worn. I think it is a genius idea for them to have backups. I love that they included this much-needed item in the July box.
Balla Body Powder
Summer is here and it's nearly impossible to escape the scorching heat that comes with this season. You're bound to get a little sweaty in various regions of your body and that's wear Bella Body Powder for men comes into play. 
First of all, I have to say that this smells amazing. I've never received body powder in any of my men's subscription boxes and it's actually a really great idea. Especially this time of year. They definitely put some thought into this one.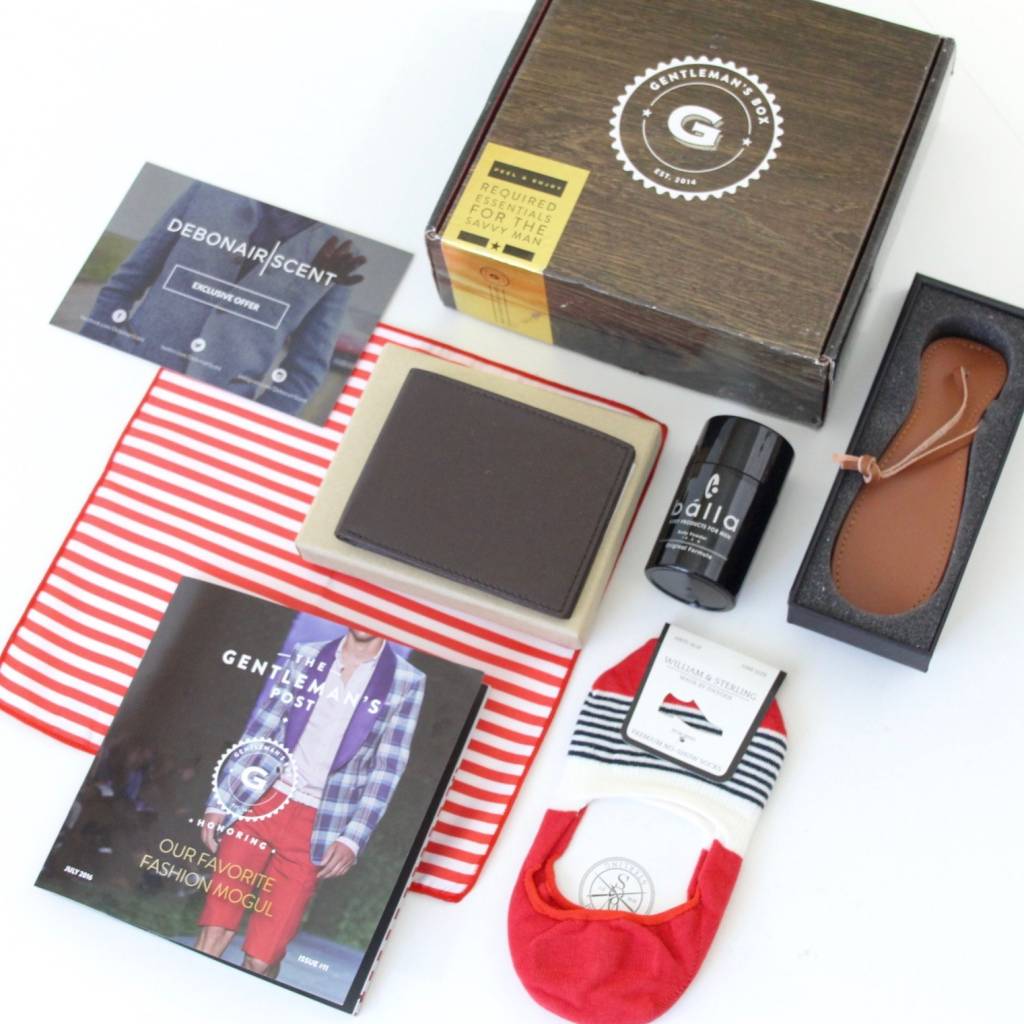 Gentleman's Box Review July 2016 – Final Thoughts
I always love my Gentleman's Boxes, but I definitely love some more than others. The July box is great, as per usual, but it's not my favourite. However, I also feel the need to point out that it has some really great, practical items. If I judge it based on the "practicality" it would get an A+. I think the wallet, no-show socks, and shoe horn, are all really great, and they are items that all men can, and will, use. Basically what I am saying is that we have two kinds of boxes when it comes to GB. We have the "wow" factor boxes; the ones that include really fun items that we don't get on a regular basis (sunglasses, watches, etc). And then we have the "practical" boxes, which include items all men need. I think both boxes are great, but obviously the "wow" boxes are more fun to receive. I hope that makes sense…….
XOXO
Explore.
Save.
Enjoy!
Sign up for a free account on A Year of Boxes to receive exclusive offers, be added to our monthly mailing list, and much more! We are always adding features to improve the experience for our users, from their valuable feedback!
Join Today!