Gentleman's Box Review July 2020
Gentleman's Box is the perfect subscription box for men with style and class. Calling all modern gentlemen, here's a subscription that caters to you. With unique monthly themes designed around noteworthy men, you'll be wishing you had subscribed sooner. With each box, you can expect anything from lifestyle essentials to grooming necessities.
*They kindly sent us this box for review*
Subscription Details
When you sign up for Gentleman's Box, you have two options:
Classic Subscription: Monthly ($29.00) or Annual Subscription ($299.00)
With the Classic Subscription, you'll receive four to five hand-selected products that honor an iconic gentleman.
Premium Box: Quarterly ($100.00)
With the Premium Box, you'll receive a selection of seasonal handpicked products inspired by luxury brands. Each box is curated by fashion experts.
All US subscriptions come with a 1-year subscription to GQ Magazine.
Here's a closer look at the July 2020 Classic Gentleman's Box…
July Theme – Honoring Our Favorite Urk Man
"This month we honor an American actor, comedian, producer, and writer. Born in Culver City, California, this gentleman launched his acting career at the age of three. He started off with commercials and soon after he made his first television show appearance in 1984, on the American sitcom, The Jeffersons. Though this role was short-lived as a guest, his first appearance propelled his career further and he appeared on a handful of other television shows throughout his childhood. At the age of 12, our Honoree became a household name with his highly successful and long-standing role in the television show, Family Matters. What originally was intended to be a quick guest appearance, turned out to be a 9 season gig. His character, Urkel, was a protagonist, stereotypical nerd, who was extremely clumsy, owning the catchphrase, "Did I just do that ?" Though we make no suggestion of dressing exactly like his character in the show, we did include one signature piece of his look in this month's box."
Keep reading to find out who this month's honoree is!
Aristo Ties Tie – $35
"Finessed with a playful popsicle design, this month's tie makes a "cool" addition to your relaxed summer attire. Created by Aristo Ties, this tie is unique and sure to be a conversation starter. Aristo Ties pride themselves on their attention to design, and high-quality at affordable prices."
Subscribers received a high-quality blue tie this month, and I can't wait to see my partner sporting this. The base navy blue will pair and complement a variety of outfits and colors including red, grey, and blue. The details on this tie are what stand out to me as they are rocket popsicles that are classy, cool, and clever. This tie would look great paired with a navy or grey suit!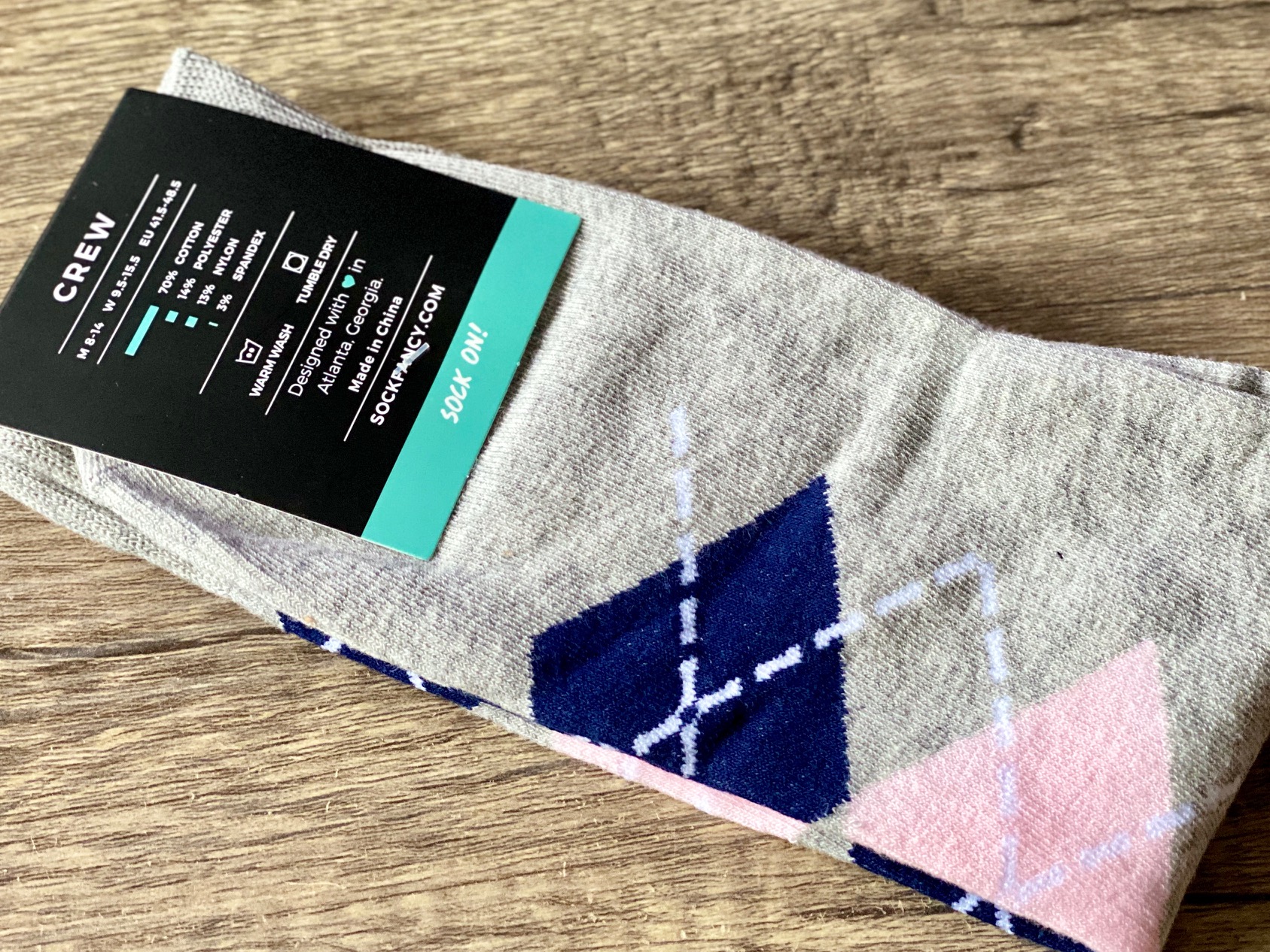 Sock Fancy Socks – $12
"The Argyle pattern is one of that has been consistent throughout history, dating back to the 17th century Scotland. It made its way into US fashion in the early 1900s. Often associated with golf attire, it is a classy yet casual print fit for a gentleman. This month we bring you a pair of Sock Fancy Argyle socks, made of 70% cotton. Sock Fancy launched in 2013 as a simple solution to the growing frustration of locating comfortable, durable, and awesomely-designed socks."
This color combo is awesome! The argyle pattern on these grey, blue, and pink socks is very classic. These socks are very soft and would pair nicely with the other items in this month's box. These are the type of socks that are easy to dress up or down depending on your outfit. They are nice, soft, and comfortable.
Handsome and Lace Suspenders – $35
"Inspired by our honoree this month, we bring you Handsome and Lace Suspenders, made of 90% polyester. The perfect addition to your summer wardrobe, pair these with your favorite tailored dress pants. Handsome and Lace are passionate about finding fabrics that set you apart!"
Gentleman tip: do not wear suspenders with a belt. Subscribers received a handsome pair of navy suspenders made of polyester. They are classy and will work for many seasons and outfits. In the "Urk Man" themed box, suspenders were expected!
Trendz Co. Pocket Square – $19
"Turn up your summer style by adding a pop of color with the Trendz Co. pink Pocket Square. Made of 100% cotton, this pocket square can be a casual accessory, adding a touch of flair to an open shirt and jacket combination or can be dressed up with a full suit and tie. Trendz Co. sells men's and women's fashion essentials, sure to help you stand out!"
This pink pocket square is so sweet and classy. It definitely gives me an "Urkel" vibe and I love the little white dots details.
Trendz Co Lapel Pin – $12
"One of the simplest ways to add unique style to your look is putting on a lapel pin. This subtle detail goes a long way in terms of style. This month we bring you a pink Trendz Co. pin, made of 100% polyester. Trendz Co. believes style is what you choose!"
This is so neat! I would rock it on my lapel as a female or my partner would rock it on his as a male. The pink perfectly compliments the other items in the box and would look stunning on a navy, grey, or even mint-colored suit.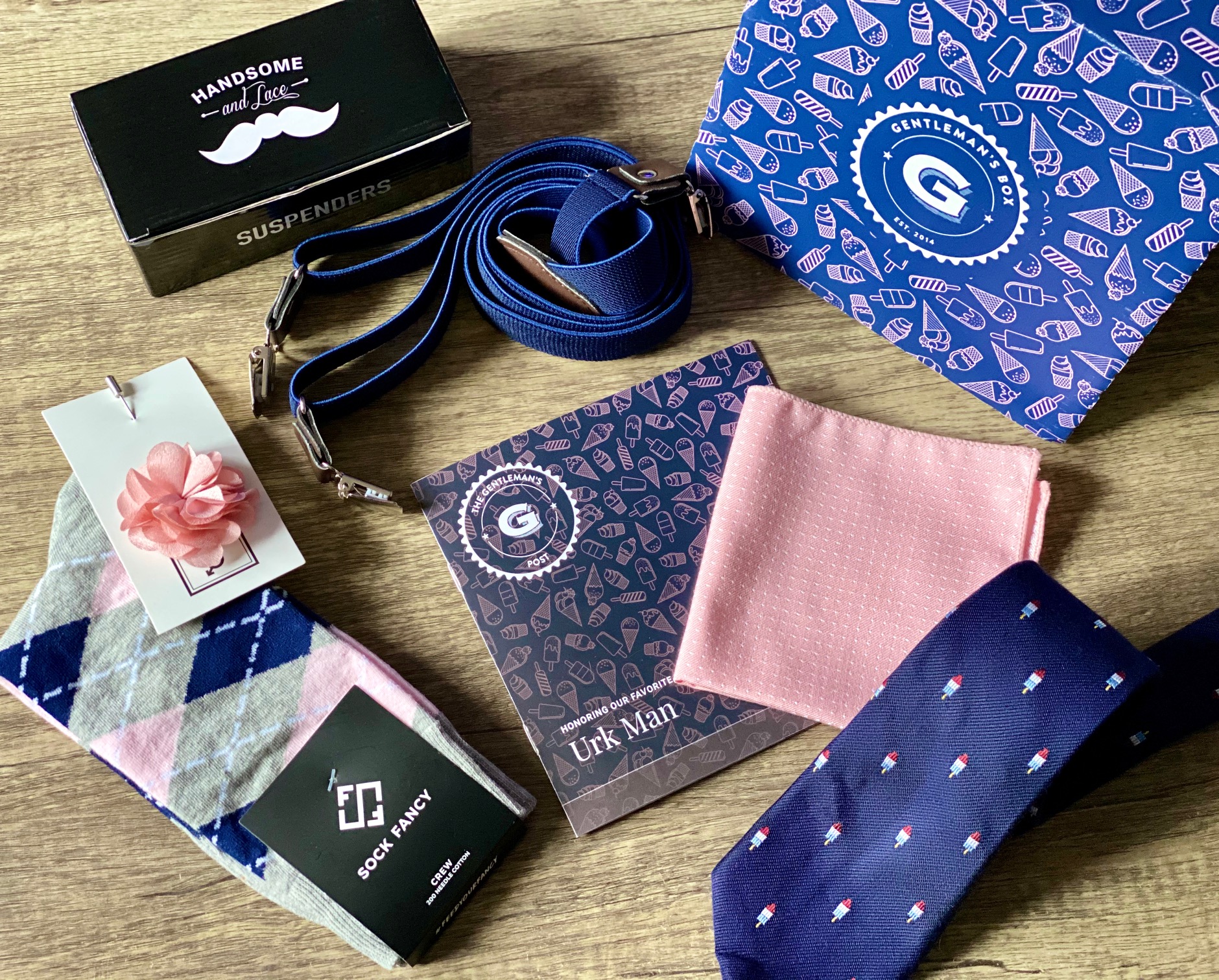 Gentleman's Box Review July 2020 – Final Thoughts
This month's Urk Man honoree is… you guessed it – Steve Urkel aka Jaleel White!
I grew up in the 90's watching Family Matters on Friday nights, so I was very happy to read about Jaleel White inside this month's Gentleman's Box informational pamphlet. I found that the items we received fit the "Our Favorite Urk" theme great. This month's Gentleman's Box is on point and I love the feminine pink color and class of most of the items! It is valued at $113 which is a fantastic value based on the low cost of the monthly subscription. I am very impressed with this month's box, and I can't wait to see my partner (or myself?) looking fabulous and stylish with these new accessories.
Hayley Savanna – https://www.instagram.com/hayleysavanna/
Explore.
Save.
Enjoy!
Sign up for a free account on A Year of Boxes to receive exclusive offers, be added to our monthly mailing list, and much more! We are always adding features to improve the experience for our users, from their valuable feedback!
Join Today!