Gentleman's Box Review September 2020
Gentleman's Box is the perfect subscription box for men with style and class. Calling all modern gentlemen, here's a subscription that caters to you. With unique monthly themes designed around noteworthy men, you'll be wishing you had subscribed sooner. With each box, you can expect anything from lifestyle essentials to grooming necessities.
*They kindly sent us this box for review*
Subscription Details
When you sign up for Gentleman's Box, you have two options:
Classic Subscription: Monthly ($29.00) or Annual Subscription ($299.00)
With the Classic Subscription, you'll receive four to five hand-selected products that honor an iconic gentleman.
Premium Box: Quarterly ($100.00)
With the Premium Box, you'll receive a selection of seasonal handpicked products inspired by luxury brands. Each box is curated by fashion experts.
All US subscriptions come with a 1-year subscription to GQ Magazine.
Here's a closer look at the September 2020 Classic Box…
September Theme – Honoring Our Favorite Shark
"This month we honor a man most known for his seat on the American television series, Shark Tank and for his ownership of the basketball team, The Dallas Mavericks. Having an estimated net worth of around $4.3 billion, this gent knows business and how to invest."
Keep reading to find out who this month's honoree is!
Windsor Tie Co. – $30
"This month we bring you a 100% cotton, blue and white striped tie from Windsor Tie Company. The light blue pairs nicely with a variety of colors, such as navy, grey, burgundy and beige."
Subscribers received a high-quality blue and white striped tie this month, and I can't wait to see my partner sporting this to my best friend's wedding (socially-distanced) at the end of the month. The light blue will pair and complement with either his navy or grey suit. The stripes are a timeless design and this tie will be fashionable for many years to come.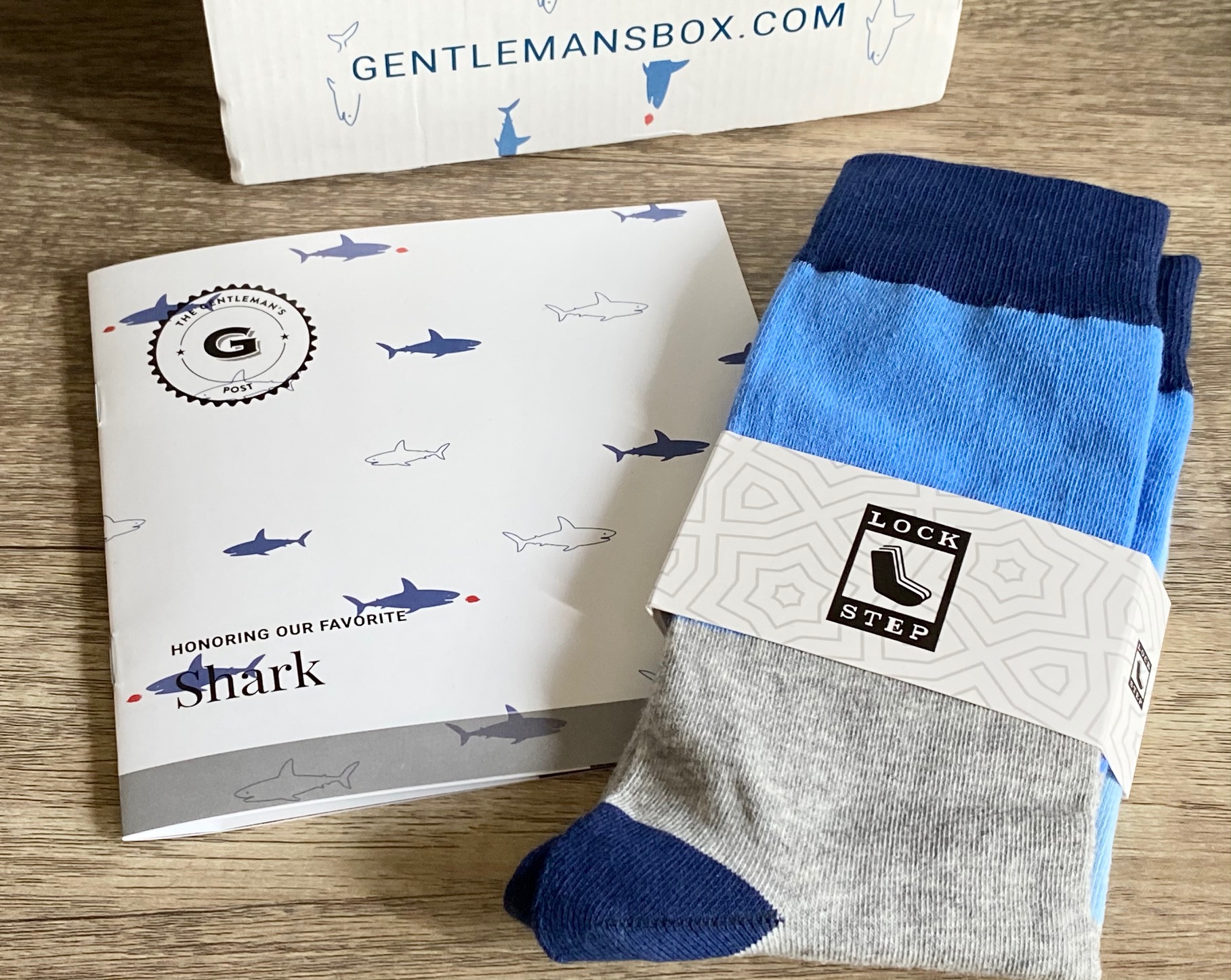 Lockstep Apparel Socks – $15
"We've teamed up with Lockstep this month to provide you with an easy-to-match pair of socks, made of 70% cotton, 23% nylon and 2% spandex. The shades of blue look sleek against a brown shoe and look wonderful under a navy, grey, beige or burgundy dress pant."
These socks are amazing! A perfect addition to dress-up an outfit or wear to a casual gathering. These socks are very soft and would pair nicely with the other items in this month's box. They are stylish, soft, and comfortable; my partner reported that his feet did not stink after wearing them either…an added bonus!
Aus Cufflinks – $25
"Cufflinks are a small yet powerful addition to your wardrobe. They exude style, class and confidence. This month we've equipped you with a pair of 100% copper cufflinks from Aus Cufflinks. For those new to cufflinks, use them on a shirt with french cuffs."
Subscribers received a handsome pair of copper cufflinks. They are classy and will work for many seasons and outfits. This was my partner's favourite item this month!
Winners Circle Fashion Company (WCFC) Pocket Square – $20
"100% cotton, and 100% class; this month's pocket square from WCFC is simple in design while still adding just the right amount of color and flair. The deep blue and red, pairs nicely with a navy, grey, or beige suit."
This red pocket square is classy with a side of bad-ass. It definitely gives me a "boss shark" vibe and I love the contrasting blue details.
Winners Circle Fashion Company (WCFC) Tie Clip – $15
"Fitting with the theme of our honoree this month, enter the Shark Tank, and rock your WCFC tie clip, made from 100% copper. Its simple design is playful and sure to spark conversation. Gentleman's Tip: Clip your tie between the third and fourth buttons of your dress shirt."
This is such a fun item! My partner was excited to receive this tie clip as he loves sharks and it will be a fun conversation piece.
Giorgio Armani Code Sample
This is so neat! This is not a product I was expecting to find in this month's box, but I love that they threw in a cologne sample – it smells so good!
Gentleman's Box Review September 2020 – Final Thoughts
This month's Shark honoree is… you guessed it – Mark Cuban! Did you guess correctly?
I did not expect to find Mark Cuban inside this month's Gentleman's Box informational pamphlet – I do not know why he did not cross my mind with all the clues! I found that the items we received fit the "Our Favorite Shark" theme great. This month's Gentleman's Box is fantastic and I love all the stylish, blue items! This box is valued at $105 which is a handsome value based on the low cost of the monthly subscription. I am very impressed with this month's box, and I can't wait to see my partner darning these new accessories.
Hayley Savanna – https://www.instagram.com/hayleysavanna/
Explore.
Save.
Enjoy!
Sign up for a free account on A Year of Boxes to receive exclusive offers, be added to our monthly mailing list, and much more! We are always adding features to improve the experience for our users, from their valuable feedback!
Join Today!