GlobeIn Artisan Box Review February 2019
GlobeIn Artisan Box is a monthly subscription box featuring handmade, ethically sourced products from makers around the world. Each Premium Box has a theme and February's is Masquerade. (Just in time for Carnival and Mardi Gras. )
* They kindly sent us this box for review
There are two subscription options for the GlobeIn Artisan Box (all prices in USD):
Essential Box ($10 per month): Choose your own products and receive add-on credit to pick your own selection at members-only prices, or receive the surprise item of the month. Shipping in the US is $3/month; shipping to Canada $12/month (your first box ships free); and international shipping is $15/month.
Premium Box ($40 per month): Each Premium Box is approximately $70 in value and includes 4 to 5 handmade items by artists from around the world. Subscribers can also choose additional products to customize their box. Shipping in the US is $10/month; shipping to Canada $22/month (your first box ships free); and international shipping is $25/month.
This is my third GlobeIn Artisan Box and while everything in the first and second arrived in perfect condition, I was a bit worried about this one. One side of the box was mashed in (FRAGILE people! It says FRAGILE) and another side had a nasty hole — you'd think it had made a few trips around the world before it got to me (and it only ships from San Francisco).
So what a relief to see everything inside in tip-top, brand-new condition! All of the items were packed with care and very little plastic. (I like to see companies use recyclable materials like paper and cardboard.)
First up: a glossy, full-colour guide to the box. The guide includes brief profiles on the makers of each item and how their work has helped improved their lives.
Hand-Embroidered Mask, India ($20)
The mask is really well made and I can see it lasting for years — perfect for costume parties, Hallowe'en, storytelling and dress-up play.
Wooden Beaded Necklace Set, India ($12)
The necklace set is handcarved from sustainably harvested wood, an upscale version of the long strings of plastic beads worn at Carnival and Mardi Gras.
Upcycled Sari Macrame Garland, India ($28)
When I unravelled this I could totally picture my mother grabbing it from me, tying it around her waist and saying, "What is this? For belly dancing?" Of course you could use it anyway you want, but I'd hang it for a party or an Indian-themed dinner. (We really should have more of those.) It's 6.5 feet long and a foot wide, so it would make a big impact.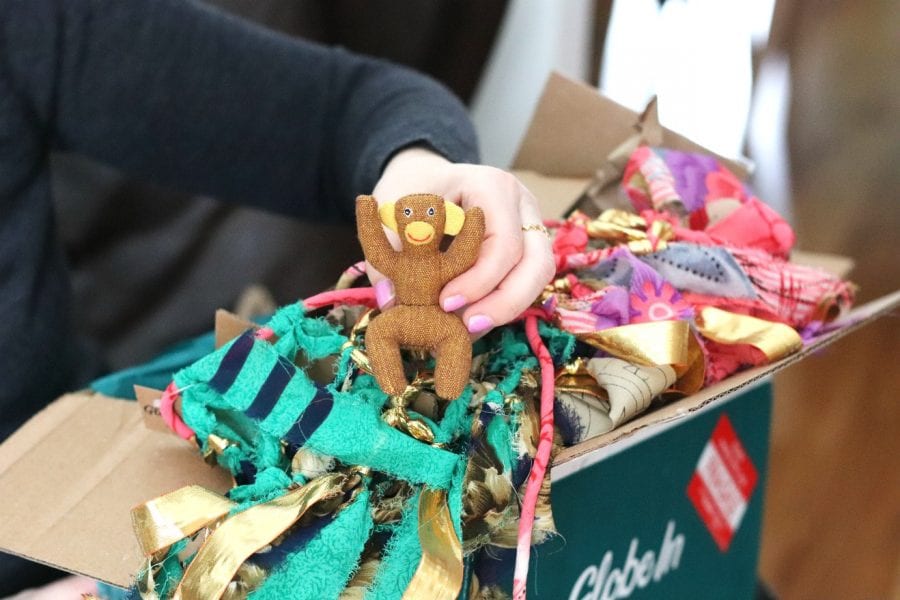 Hand-sewn Mini Plush Animal, Sri Lanka ($4)
GlobeIn suggests you toss this little monkey from a parade float, gift it as a party favour or keep it on your desk at work as a small souvenir. But you know what else?
It makes a great cat toy!  (This is our fella Benny.)
Hand-Blown Glass with Handle Set, Mexico ($30)
And last (I feel like there's a lot of things in this box!), two handsome hand-blown mugs for cold drinks. I like the green rim around the top. It's summery!
GlobeIn Artisan Box Review February 2019 – Final Thoughts
February can be a dreary month so the Masquerade GlobeIn Artisan Box is a much-needed dose of cheer. The colourful accessories are a perfect excuse to throw a party or have a lunch, brunch or dinner with a Carnival theme (and with the mask and the beads you've already got one costume covered). The box would make a fun house-warming or birthday gift for your party peeps and an especially thoughtful box for anyone who's been to Mardi Gras and loved it. I totally thought February's GlobeIn Artisan Box would have a Valentine's theme (I love everything Valentine's) but the Masquerade box was a pleasant surprise!
Try Small Things – https://trysmallthings.com