GlobeIn Artisan Box Review March 2017
GlobeIn Artisan Box is a monthly subscription box featuring favourite products from global artisans. Each box is curated around a monthly theme selected by the editor with the aim of helping you experience new and interesting products and cultures. They kindly sent us this box for review.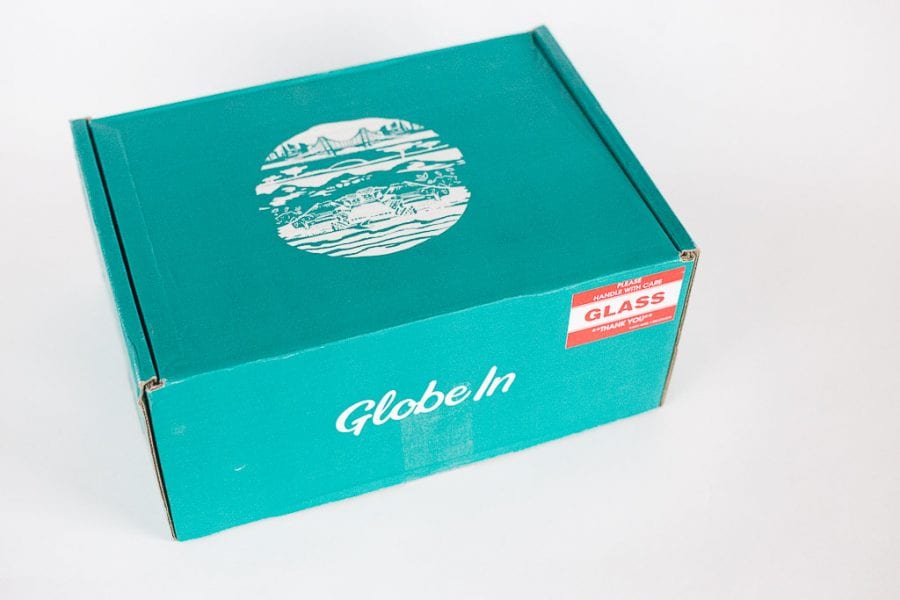 As you know already GlobeIn Artisan Box is one of Sarah's favourite boxes!  I feel the pressure with the review here.  It's like that feeling of cooking in someone else's kitchen.  You know you can do it and it's all familiar but you feel the pressure to perform your very best!  It's a good thing GlobeIn makes the job easy with providing such amazing products!
The March theme is "Unwind".  Perfect.  I could really use some unwinding right about now.  In your booklet describing each item GlobeIn has recommended that I drop everything, kick off my shoes, pour myself a glass of something and kick it on the couch…. Looks like this review will have to wait.  I have some unwinding to do.
Just kidding, let's see what they gave us!
Organic Cotton Socks – India
The first thing I noticed about these socks is that they are made in a wind powered factory!  How cool is that?  I don't really care that they are mens.  I'm putting them on right now.  I'm a sucker for stripes and the colour blue, so these are a win win for me.  I also see that these socks promise I will never get cold feet again… Big promises GlobeIn… Big. Promises.
Nose Glasses Holder – India
Woodcarving is an ancient craft in Idea.  I've actually taken an interest in woodcarving and recently looked into some classes on it.  I haven't yet taken up the art, but I feel like I already have a new appreciation for hand carved items!  This is a beautiful piece and though I don't have eye-glasses I would quickly use this for my sunglasses, as I am known to chuck them on the table when I get home.  It would be nice having a more respectable place to set them!
Catch-all Tray & Rosewood Bottle Opener – India
More wood carvings from India!  Such beautiful items.  This is exactly the type of item I would look for when traveling to bring back as a gift or personal souvenir.  The wood is really nice quality and dense.  This would make a beautiful gift.
Glass Mug – Mexico
I often feel like I have too many mugs in my cupboard, but this one is sticking around and may even become a fast favourite!  It fits my hands perfectly and the glass is so thick!  Again, it's hand-made and you can tell.  You can feel the personal touch of the craft when you hold it.  I would feel confident that you could unwind with this holding a cold beer or hot coffee.
GlobeIn Artisan Box Review March 2017 – Final Thoughts
What a treasure!  I loved every item.  The theme was perfect and every item made sense with the theme.  Just talking about these items has helped me unwind a bit.  It did feel like there was a masculine theme to this month's box.  Perhaps that's because February's box was themed love.  When I first opened it I wondered if GlobeIn was a mens subscription box, but looking at past posts they clearly aren't.  GlobeIn Artisan Box has a pretty consistent history with providing quality items and I would be confident in investing in their subscription!
-Shonah
Explore.
Save.
Enjoy!
Sign up for a free account on A Year of Boxes to receive exclusive offers, be added to our monthly mailing list, and much more! We are always adding features to improve the experience for our users, from their valuable feedback!
Join Today!