GlobeIn Artisan Box Review May 2021: The Sow Box
GlobeIn Artisan Box is a monthly subscription box featuring handmade, ethically sourced products from makers around the world. Each month subscribers can choose from a selection of boxes curated around a theme. For May I've got a gardening-themed box to share with you, GlobeIn's Sow Box.*
* They kindly sent us this box for review.
Each GlobeIn Box is valued around $70 USD (sometimes more) and usually includes four to five items. Subscribers can also choose additional products to customize their box.
Subscription prices are as follows (all prices in USD):
1 month — $40
3-month subscription — $38/month ($114)
6-month subscription — $35/month ($210)
12-month subscription –$33/month ($396)
Shipping in the US is $10/month (your first box ships free); shipping to Canada $22/month (your first box ships free); and international shipping is $25/month.
Each GlobeIn Artisan Box includes a welcome card with a picture of the contents on one side and QR code to the online brochure on the other. The brochure sets the tone for the box with an introductory message suggesting uses for the products, followed by descriptions of the contents and the makers behind them.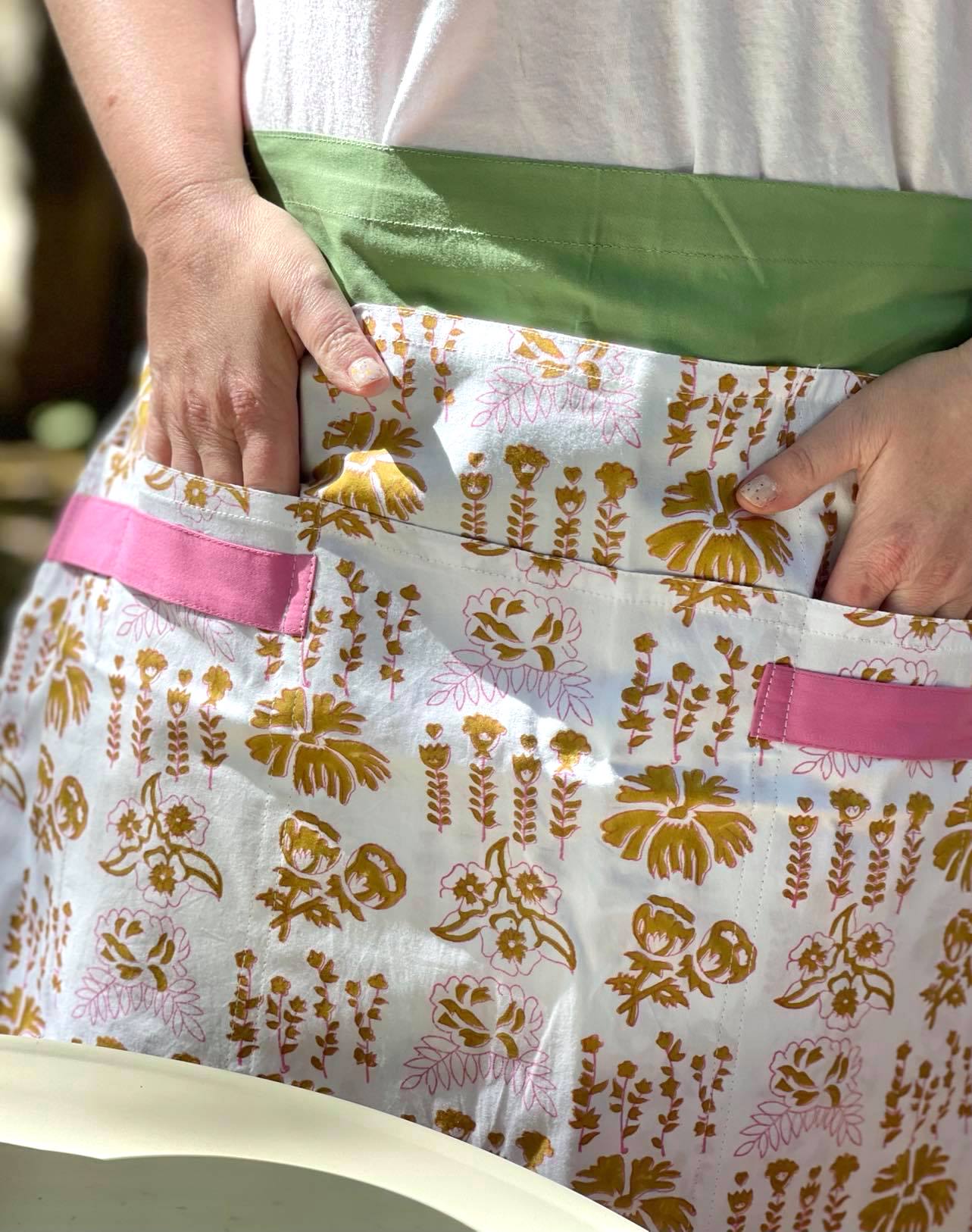 Block Printed Gardening Apron (India)
I've never had much interest in gardening but if this apron is what gardeners wear then I've been missing out! I love the floral block print and the bright splashes of pink and green and it's got pockets to hold your gardening gloves or seed packets. I wouldn't use it for anything heavier like tools — the apron's a light cotton material and would probably tear. In that way it isn't as useful as it could be but it'll help you keep the dirt off your clothes and feel cute at the same time. Handwash recommended.
Plant Sticks (India)
"Have a plant friend that needs extra support? Place the plant stick into the pot and wrap any stems or leaves that need to be supported around the offshoots of the plant stick. Let your plant friend grow with the plant sticks for several weeks or months until it's ready to stand on its own."
I've only just bought a couple of outdoor plants and neither of them need extra support (except maybe life support ha ha) but now that we have these, maybe we should try some tomatoes? Do you think we could grow some in our herb planter? Most of our backyard is in shade, so we need something that can thrive with little sun. I'd love your suggestions!
Whitewashed Terracotta Floral Planter with Saucer (Bangladesh)
I've received several GlobeIn boxes in the past couple of years and never had an item that has arrived broken or damaged, this lovely pot included. It came nestled in scads and scads of shredding paper and a paper netting — which I was glad to see instead of plastic bubblewrap — and not a blemish to be found. I love the terracotta, the white-washed effect and the intricate design. And I couldn't share it with you here without showing you how it looks with a friend so I picked up some pretty lilies at my first opportunity.
We've been watering them in the morning as instructed and trying to give them as much sun as possible during the day and so far so good. Several more flowers have bloomed.
Palm Leaf Wide Brim Wavy Hat (Mexico)
Last we have a wide brim hat, great for keeping the sun off your head when you're toiling in the soil. I can't pull off the chin string or the ruffled brim so I'll probably gift it.
I wish I could say the hat was growing on me but I'm happy with the GlobeIn Artisan Box Sow Box all the same. You don't have to have a green thumb to appreciate the planter and the apron can be used indoors and out. And now that we have the plant sticks (we call them stakes — do you?) I want to plant something just so I can use them.
What do you think of GlobeIn's Sow Box? Do you garden?
Try Small Things – https://trysmallthings.com