GlobeIn Artisan Box Review October 2017: Beauty
GlobeIn Artisan Box is a monthly subscription box featuring favorite products from global artisans. Each box is curated around a monthly theme selected by the editor with the aim of helping you experience new and interesting products and cultures. They kindly sent us this box for review.
It's been a couple months since I've reviewed GlobeIn and boy have I missed it!  This little box has got to be one of the best subscription boxes on the market!  If you want to start your subscription love with the right box, you really can't go wrong with this one.  I'm tempted to order it twice, one I will keep and the other I will use as gifting items, because I always want to keep what's inside, but I also love utilizing these quality items as presents!
September 2017 – Beauty
The theme of this box is beauty.  What does that mean?  While it can be a difficult concept to define, beauty is something that we never fail, at least intuitively, to recognize.
We find it in Kenya, in female refugees making their way to safety, sisterhood, and self-worth.  In an elderly Mexican widow emerging from solitude to join a group.  In northern India, beauty manifests as the artistic spirit that forges a path through difficult times.  And in Ghana as a young woman returns to her passion after the confines of a restrictive marriage.  
Your funky new cosmetic bag, rosewood compact mirror, cotton scrunchie and palm leaf basket are more than just beauty supplies – they are symbols of stories that bring a sense of harmony to the soul.  They are the finishing touches of an impulse that begins within.
Wow!  I'm already loving this and we've barely got going yet.  Seriously, I already wish I ordered two of these.
GlobeIn Palm Leaf Basket – Mexico
Most commonly, having a job is associated with earning the income one needs to survive.  But there are other, less obvious benefits that may be just as essential.  Meet Dona Filomena, one of our Oaxacan weavers from San Luis Amatlan.  Dona is nearly 70, her husband died years ago and her children have all married off.  Dona lives alone, taking care of her chickens and goats.  What's more, she can't hear very well, which make venturing out of the house difficult.  Working with GlobeIn has allowed Dona the opportunity to emerge from her empty nest and be part of a project with other weavers.  Together, the women gather palm leaves from the hills and weave them into vibrant, multicoloured baskets.  Together, they generate a vital sense of agency and connection.
Suggested Use: As a holder for hairpieces, or perhaps toiletry kit for house guests!
I love these baskets!  I have received one in almost every one of my subscriptions from GlobeIn!  I want to collect them all, but keep using them as gift boxes for friends!  I have also used them to serve bread and chips at parties as well as store small items in my room.  This size is perfect for toiletries on the counter and I already plan on rearranging the bathroom to utilize this for a cleaner and more compact look in the crowded powder room.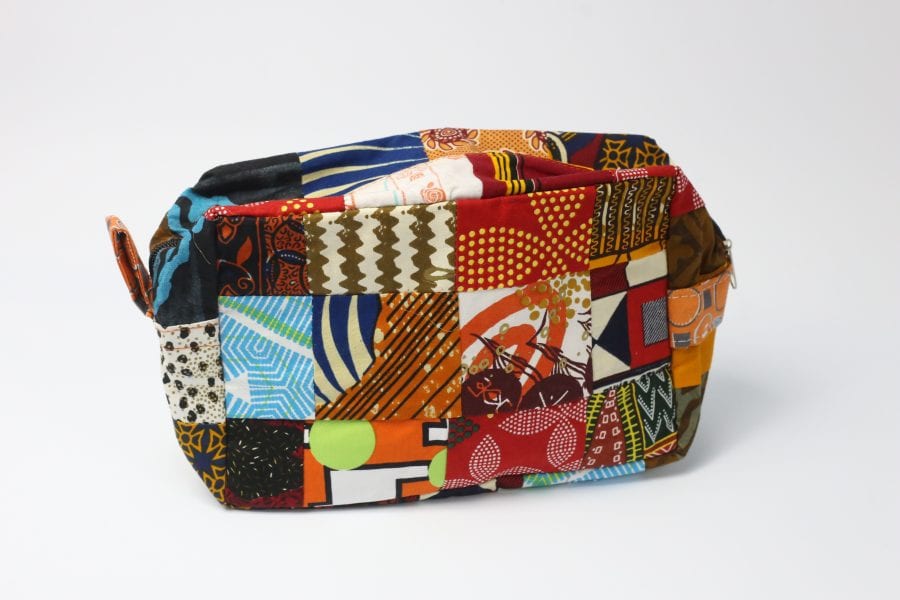 Cosmetic Bag – Assorted Kitenge Fabric – Ghana
What are Stella Ampofo's favourite things to do?  Style her hair and put on makeup!  Expressing herself in this way bring Stella such joy that she also offers the services to others, working as a makeup artist and hair stylist.  At least, she used to, back before she got married. Unfortunately, not only did Stella stop working when she got married, eventually she also became forbidden to do those two things that bring her such joy – wear makeup and do her hair.
Stella has since left her marriage.  She is also back to work, this time as an artisan with Trashy Bags.  Making fashionable products like your cosmetic bag out of discarded plastic water sachets, Stella is bit by bit using spare income to rebuild her supply of beauty products, so she can eventually resume her calling as a beautician.
Suggested Use: As a makeup or toiletries bag – with an easily cleanable upcycled interior!  Because this is an upcycled product (and therefore respectful to the environment!), fabric designs are subject to change.
Once again, I can't decide if I want to keep or gift this… Should have ordered two!  I love the plastic inside, as so often cloth cosmetic bags get really grungy and you just want to wipe them out, not to mention when something leaks!  This is a perfect design and the fact that it's upcycled is even better!  You can't really tell from the photos, but it's also a very good size!  I sometimes take two cosmetic bags with me when I go away for the weekend, but in the future, I may just need this one!
Scrunchie – Kenya
Aziza was fleeing war in the Congo when she was kidnapped and taken to the forest.  There, she lived for two years as a sex slave.  She remembers eating leaves to survive and giving birth to her son alone in the woods.  Kenya is full of refugees fleeing war and persecution in neighbouring countries.  Unaccompanied women and girls like Aziza are the most vulnerable – and the most invisible.  That's why the non-profit Heshima Kenya has chosen to set its sights on just this population.  Most of its members are teenage girls.  Many of them have children, often as the result of sexual violence encountered on their journeys.  Heshima Kenya provides a full spectrum of services to its ladies, offering them a sense of safety, agency and belonging that most of them have never known before.
Suggested Use: Great for night-time use, as it won't yank your hair out while you sleep.  Because this is a hand-died product, patterns are subject to change.
GlobeIn can often be a humbling and eye-open journey.  Such stories of bravery and courage can be found here.  It reminds me again that GlobeIn is so much more than a subscription box, it's really an organization working to bring better lives to people around the world by supporting their products and giving business to otherwise forgotten areas.
Rosewood Compact Mirror – India
Need to reapply lipstick?  Do a hair check?  Meet with a friend after eating a poppy seed bagel?  Maybe you simply wish to read a secret note written backwards.  Or steal a peek at the interesting character behind you in line…. The compact mirror, where Marilyn Monroe meets Nancy Drew, prepare you for all of the above situations.  Inspired by the regal motifs of Muslim dynasties and skillfully hand-carved into glowing Indian rosewood, the heart design of your lovely new piece brings an air of elegance and intrigue to your beauty kit.  And of course, it's super useful!  Meanwhile, your mirror, and woodcraft of all sorts, brings  vital livelihood to Muslim communities of northern India, where artisanal ability is high, yet economic opportunities is limited.
Suggested Use:  Toss in your purse or makeup bag for quick fixes throughout the day.
Such a pretty little pice!  Who doesn't need a compact mirror?  I often buy those cheapo mirrors from the dollar store that break on me in minutes.  This is a much better option and so much prettier.  I love the support GlobeIn gives to smaller communities as well.
GlobeIn Artisan Box: Beauty September 2017 – Final Thoughts
What can I say… I think I've made it pretty obvious throughout the whole review that I'm totally in love with GlobeIn.  I honestly have not received a box I didn't like.  If you go to our search bar and search GlobeIn in "Reviews" and just look at the featured photo of the past number of posts I think you will agree that you will want all the past boxes we've reviewed!  Even if I wasn't reviewing boxes for AYOB I would be subscribing to this box on the regular.  I loved all the items provided here.  The basket will go to immediate use and I wish I had two more just like it!  The cosmetic bag is beautiful and the story behind it even more so.  I feel inspired and humbled by this month's box.
-Shonah