GLOSSYBOX Review August 2018
GLOSSYBOX is a monthly beauty subscription box filled with beauty essentials for you to discover. Every month, receive 5 deluxe to full size beauty products that have been handpicked from around the globe in a beautiful keepsake box! They kindly sent us this box for review.
Subscription boxes are a really great way to treat yourself each month. Especially those that fall under the $25 category. Skip a couple lattes each month and get yourself a beauty box instead. Seriously, you won't regret it. It's so much fun seeing a gorgeous little box like GLOSSYBOX arrive in the mail each month. It's packaged beautifully, it's a great price point, and it provides you with a few little beauty must-haves to test out each month. What's not to love?!
Subscription Details
When you sign up for a GLOSSYBOX subscription you can choose from the following options:
monthly subscription
3-month subscription
6-month subscription
12-month subscription
Every month you will receive a selection of five beauty treats that include niche, high-end, and emerging brands.
They source products from all over the world—to bring you the absolute best in beauty. With over 400 brands in their repertoire.
Inside each box, they provide you with a detailed description card with tips and tricks on how to use the products included.
To make sure your box fits your needs, fill in the beauty profile when you sign up. Update it when your personal style evolves, and they will customize the products sent to you accordingly.
August Theme: Beach Please
As the Summer days start to fade away and July gives way to August it's time to move from the blue ocean waves onto the golden, sandy beaches as we soak up every last bit of the sun-filled season. Fortunately for our Glossies, these beach-themed products can easily last you past the final summer sunset. 
NCLA Nail Lacquer – I Been Drinking
This gorgeous watermelon pink nail polish is the perfect color to brighten up even the rainiest of Summer days. Apply two coats while you are hanging at home or lounging on the beach and your nails will sparkle and shine. Plus it's named in honour of Beyonce, so it's a confidence boost in a bottle. 
First up we have a super fun shade of polish. Come Fall I usually go for darker shades of maroon, purple or brown but during the summer months I like to wear brighter shades. This will be a nice way to celebrate the last little bit of summer.
PS – Did you know that NCLA polishes are cruelty-free, 100% vegan, and 7-free? I had now clue! Now I love this brand even more than I did before.
Monu Eye Cool Gel
Ditch the puffiness and dark circles by dabbing one pump of Eye Cool Gel around the eyes in the morning. Ginseng, Vitamin C, Arnica and Sodium Hyaluronate helps to lift, plump and correct your skin tone so you look flawless all-day long. It's the perfect cool down before heading out in the sun. 
This is a product that excites me. You all know I love testing out new eye creams, or gels in this case. GLOSSYBOX tells us to keep it in the fridge for an added cooling sensation but I might end up keeping this one in my purse.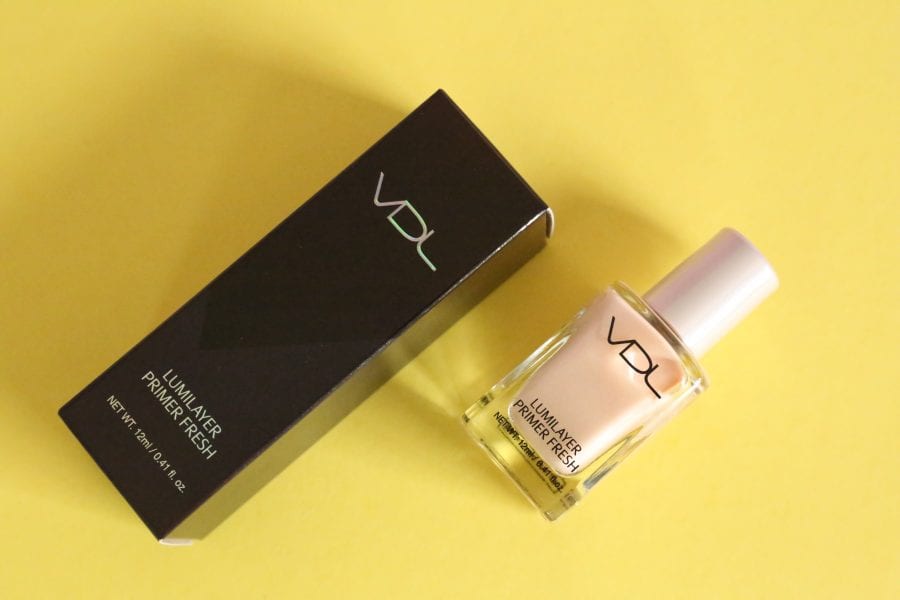 VDL Lumilayer Primer Fresh
VDL is a brand that's dedicated to women actively seeking out their dreams and desires and this primer gives you radiance that lasts from morning until night. Unlike your ordinary primers, this one  not only preps your face for makeup, it actually illuminates your face and highlights your features.
I'm not much of a primer girl so this product doesn't really apply to me but it does get great reviews and is said to provide great color while remaining sheer and natural.
Grow Gorgeous Haircare
Getting rid of your split ends is healthy hair 101, but your scalp is where growth starts so its time we start showing it some love. Natural ingredients and a blend of minerals exfoliate the scalp which helps create the perfect environment for your hair to grow into the lustrous locks you deserve.
I couldn't agree more!! If you want healthy hair you need to take care of your scalp. You can use this treatment 1-2 times per week before shampooing. You simple wet your hair, apply to your scalp, massage with fingers, leave in for a few minutes, rinse and then wash you hair as usual.
SETZ Blot + Translucent Powder
Carrying a purse full of makeup ruins an outfit so these tiny one-time use packages are perfect for when you're on the go. The silky powder not only helps blot away excess oil but it locks in your makeup for a lasting look. Just like a summer love, this setting powder won't weigh you down.
Oh……this is fun!! I love travel-friendly products. I'm a sucker for anything small, compact, convenient and that will fit in my purse. I don't wear powder on a regular basis but the odd time I use it to control an oily appearance. This is definitely something I will be adding to my purse.
Ren Clean Skincare Keep Young And Beautiful Instant Firming Beauty Shot
We can't take you back to the summer of '69, but this supercharged, light serum instantly lifts and firms skin to leave you looking dramatically more youthful. A gentle massage of 2-3 drops will help produce new elastin to fight the aging protein in your face, which causes sagging and wrinkling.
This is another product I am really excited to try. I'm really in to serum as of late. I started using it on a regular basis  just over a year ago and really love the results. Until now I mainly stick to the same brand but I am always on the hunt for a new one.
GLOSSYBOX Review August 2018 – Final Thoughts
At first glance I wasn't overly excited about the August GLOSSYBOX but after going through the box and getting to know each product I am actually quite happy with it. I will definitely use the polish for an end-of-summer pedicure, I am excited to try the eye gel and the serum, and I love the idea of the SETZ packettes. Oh…..and I can't forget about the scalp treatment, that is definitely something I will be using. The only item I won't get use out of is the primer but 5 out of 6 is pretty darn good. The August GLOSSYBOX might not have appealed to me at first glance but upon further inspection it's actually a really great box. Overall I am pretty happy.
XOXO