GLOSSYBOX Review August 2019
This month's GLOSSYBOX is a special edition birthday box celebrating the company's eighth year in business. They typically come with five deluxe or full-size products ranging from trendy to high-end; for August it's a selection designed to make subscribers sparkle and shine. *
* They kindly sent us this box for review.
There are four subscription options (all prices in USD):
monthly ($21/month, billed monthly)
3-month ($58.50, paid upfront)
6-month ($111, paid upfront)
12-month ($210, paid upfront)
Shipping in the US is free; shipping to Canada is $5/box + any duties and customs fees.
Subscribers can complete a beauty profile to help ensure the box matches their preferences and needs. It can be updated at any time.
Each GLOSSYBOX opens with one-page, fold-out guide to the contents. The August box also included discounts for Naked Wines ($100 off a case of wine priced at $160 or more) and Amora Coffee (a bag of coffee valued at $14.95 for $1 shipping and handling). Unfortunately both offers are only for U.S. residents, so I can't use either of them.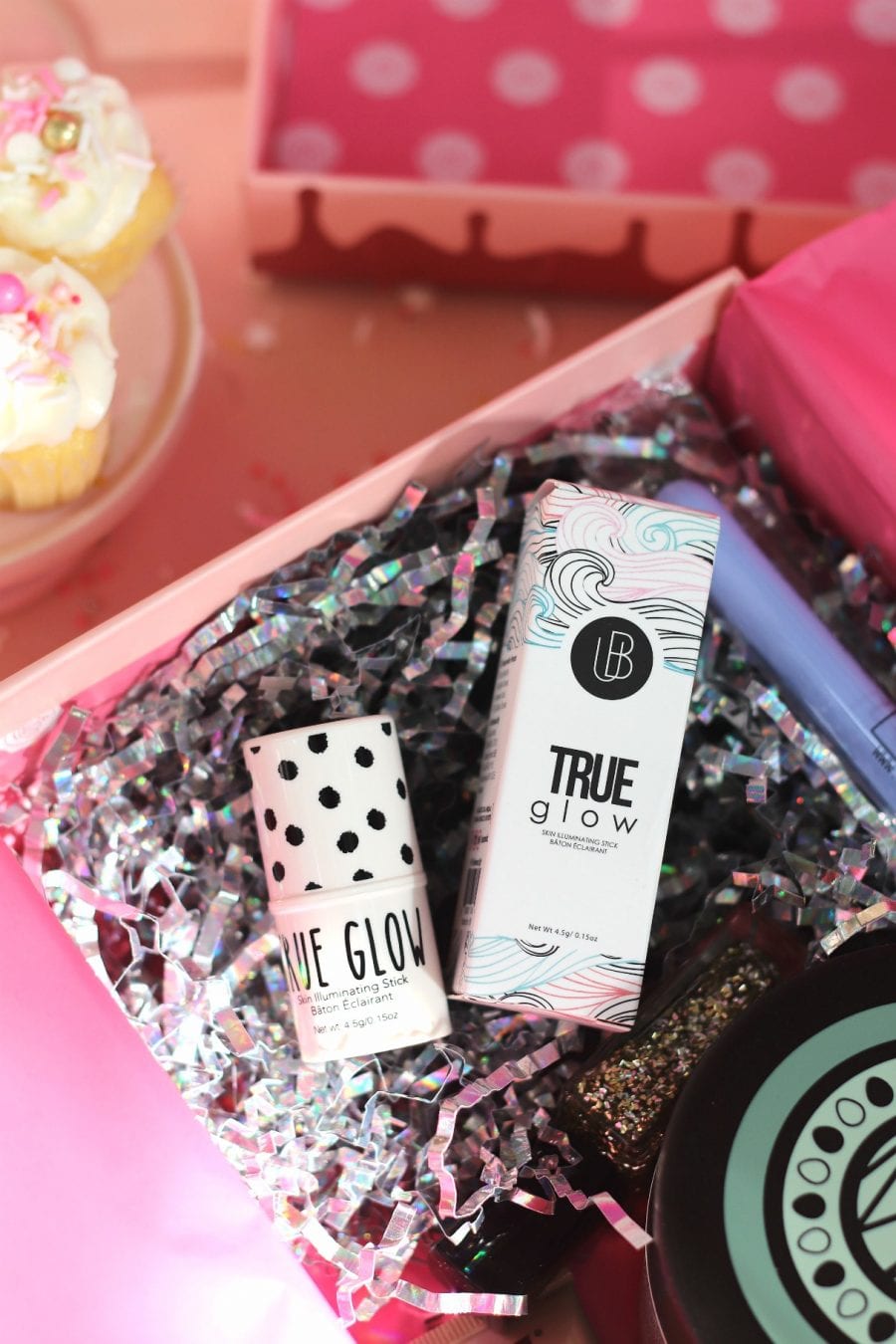 UB Cosmetics True Glow Skin Illuminating Stick
Giving a perfect sun-kissed glow exactly where you need it, this illuminating stick is also cruelty-free and vegetarian-friendly. ($20)
I typically use one of a couple of liquid highlighter drops, but I really like this stick formula as well. Super easy to apply.
Maria Nila True Soft Masque
A hair mask that lives up to its name, this vegan-friendly hair revitalizer is the perfect product that's good for you, and for the planet! Environmentally friendly and color protecting, Maria Nila is one of our favourite cruelty-free haircare products. ($30)
I've never tried a hair mask at home, and if this one will help my colour last I'm all for it. Love the generous size.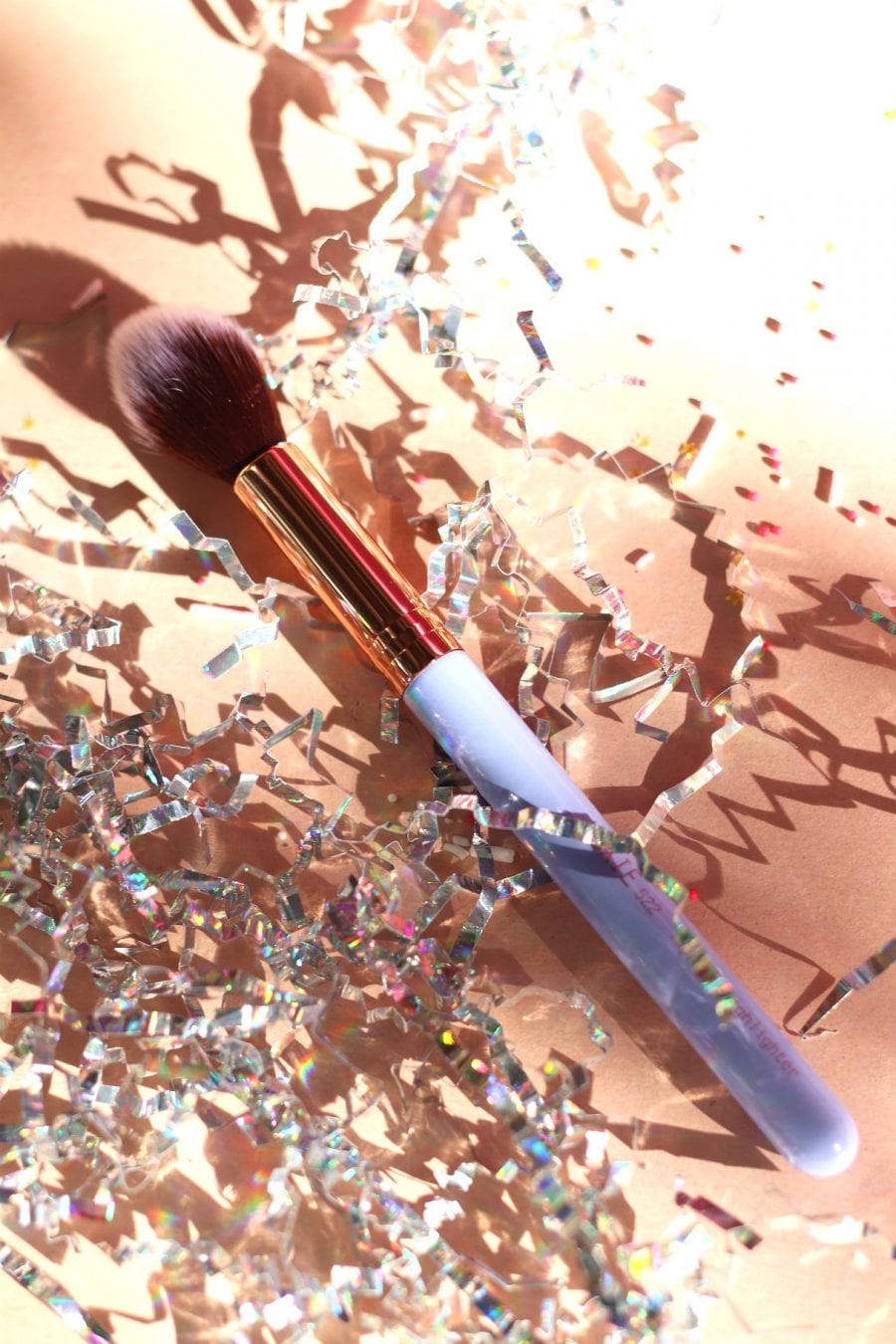 Luxie Dreamcatcher Tapered Highlighter Brush
With pristine craftsmanship, an easy grip, and vegan friendly bristles, this brush is a luxurious addition to your makeup box. ($26)
The brush was one of a few different products you could get in the box (the others included an eye shadow palette and a lipliner). It feels soft and well-made and I love the touch of fancy with the purple tip.
Emma Hardie Moringa Light Cleansing Gel
Rich, luxurious, packed with vitamin C and suitable for all skin types. ($56/100 ml; featured size 15 ml.)
June's GLOSSYBOX included a pink clay mask from this brand and I really liked it. This one checks all the boxes: lightweight ✔︎ balances oily skin ✔︎ and hydrates and moisturizes ✔︎ .
Lauren B. Beauty Bright Lights Nail Polish
Who said 7-free can't be sparkly? Not Lauren B. Beauty! Their polishes are the best of both worlds: ethical and luxurious. Bright lights will be that extra "oomph" to any look, day or night! ($20)
I love glitter nail polish and gold sparkles are my jam. What I don't like is how difficult they can be to remove. I hope this one is an exception (if not, I doubt I'll use it often).
August's GLOSSYBOX impressed me with its full-sized products (4 out of 5!) and overall value — not only in terms of price, but in that I can see myself using all of them. And all but one of the products are vegan- or vegetarian-friendly, which is really encouraging to see. The packaging is super cute and festive and the sparkly shredded paper definitely adds a wow factor when you first open the box. (I'm pretty sure it can't be recycled but I'll reuse it for sure.)
What do you think of August's GLOSSYBOX? Have you received other special edition subscription boxes that you really liked?
Try Small Things – https://trysmallthings.com