GLOSSYBOX Review August 2020: The Birthday Edition
GLOSSYBOX marked its ninth year this August with the annual birthday edition. The subscription box typically delivers five deluxe or full-size beauty products for $21 USD that add up to at least $60 in value. This special one includes a product from the company's new skincare range and a small extra treat.*
*They kindly sent us this box for review.
GLOSSYBOX offers four subscription options (all prices in USD):
monthly ($21/month, billed monthly)
3 months ($58.50, paid upfront)
6 months ($111, paid upfront)
12 months ($210, paid upfront)
Shipping in the US is free and shipping to Canada is $5/box + any duties and customs fees.
Each GLOSSYBOX includes a one-page product guide that opens to full-colour photos and descriptions of the contents, where you can find them and the retail price, as well as tips on how to best apply them.
Let's look inside!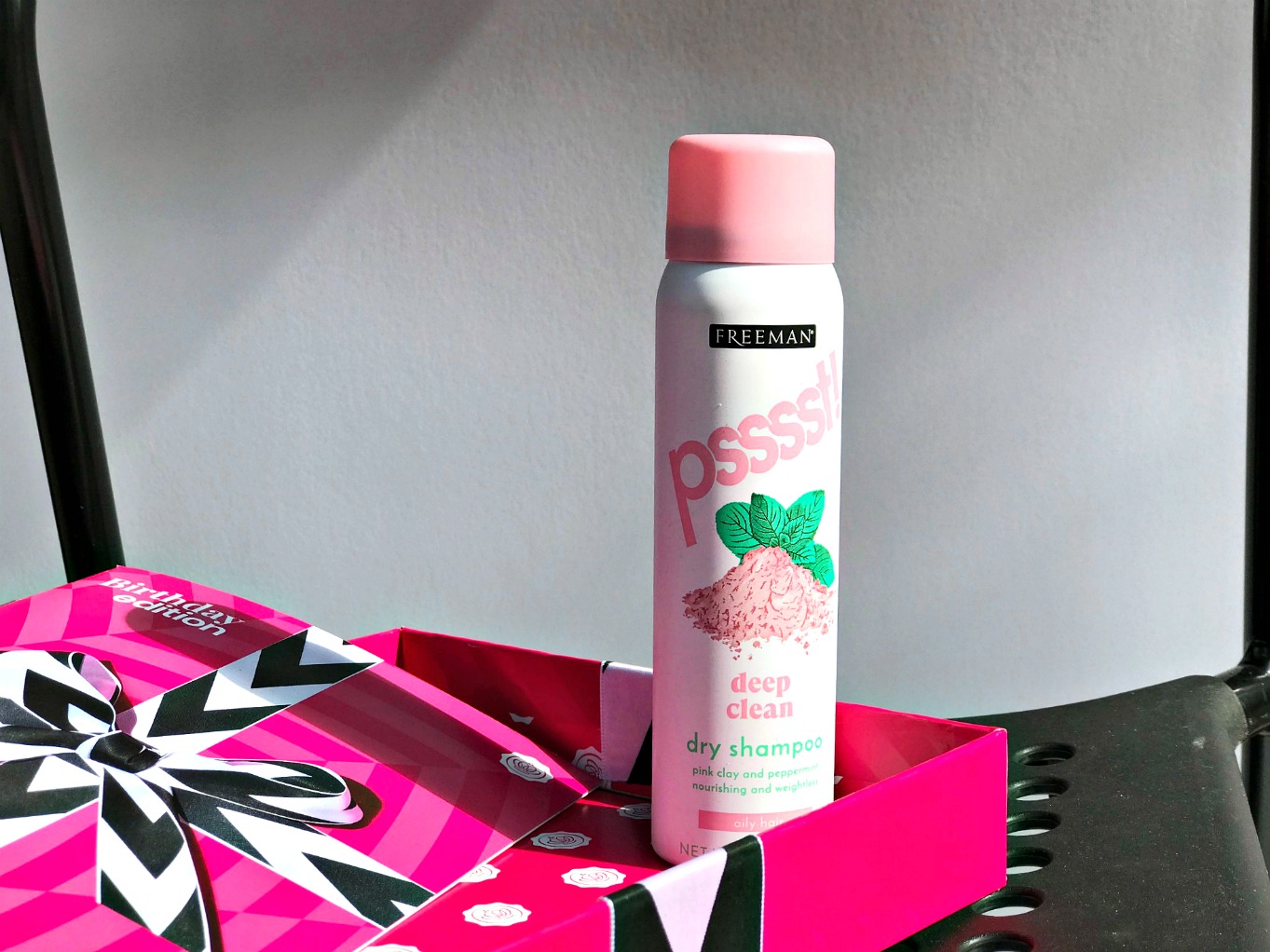 Freeman Beauty Psssst! Deep Clean Dry Shampoo
"Perfect for the woman on the go, this dry shampoo absorbs all the excess oil and leaves hair fresh, invigorated and volumized! The added peppermint leaves a cool and refreshing sensation so you feel energized." ($2.99)
We saw another dry shampoo from Freeman in the February 2019 GLOSSYBOX and I liked that one a lot. Refreshes limp, greasy hair when you want to eek out another day before a wash and adds a bit of volume too. It's got a white cast but so do my roots so it doesn't really bother me.
GLOSSYBOX Skincare Eye Boost Cream
"Your first chance to try our brand new skincare range! With a combination of elderflower, eyebright and red seaweed extract, this cream helps to reduce eye bags and add some brightness." ($18 for subscribers; $23 for non-subscribers) 
Who else is having a hard time sleeping? All that tossing and turning is making me super puffy around the eyes. I've been using this cream for a few weeks and I do notice a difference as the day goes on, 'tho part of that may be from just standing up and moving around.
Tangle Teezer The Original Detangling Hair Brush (Sweet Lilac)
"A cult classic loved by everyone, from busy moms to pro hairdressers, this brush is ideal for regular hair types. Detangling wet or dry hair with its two-tiered regular-flex teeth which glide through the hair with no pulling, it leaves hair super-smooth and tangle-free." ($12)
If it's tears, tears, tears when it's time to brush your little one's hair you need to get a Tangle Teezer ASAP. They get out the tangles with minimal pulling so brushing goes much more smoothly. I like them for me because I don't lose near as much hair when I use one compared to other brushes and combs.
Jecca Blac Glow Drops Primer (Rose Pearl)
"Bring out your inner glow with this primer from gender-free beauty brand Jecca Blac! Vegan friendly, your skin will be hydrated and radiant as you prep your makeup routine or dot on top of your base as a highlighter." ($20)
This primer feels so good going on and creates a subtle but flattering glow.
Rebels Refinery Geo Heart-Shaped Lip Balm (Wildberry)
"This natural lip balm has the highest quality coconut and sweet almond oils to moisten, nourish and protect your lips while Vitamin E provides essential antioxidants. Plus it's an adorable addition to your handbag!" ($7)
Some subscribers got a coconut lip balm but I'm happy with the wildberry. It feels really nice, keeps my lips from getting too dry and smells like grape bubblegum, which just makes me happy. And I love the heart-shaped case!
Snowberry Youth Renewing Face Serum
"This multifunctional super serum is designed to plump the skin and reduce the appearance of fine lines and wrinkles. Perfect for some post-summer care." (Price unknown but the 34 ml full size is $72) 
GLOSSYBOX tucked in this serum sample as an extra treat. I haven't tried it, but I appreciate the bonus product.
The GLOSSYBOX Birthday Edition is valued at $59.99 ($64.99 for non-subscribers) but it feels like a lot more, both in terms of the quality of the products and the colour-coordinated packaging. The contents and the box itself arrived in pristine condition as always, this one dressed for its birthday best with that snazzy black and white bow. Love this one!
Try Small Things – https://trysmallthings.com