GLOSSYBOX Review February 2018
GLOSSYBOX is a monthly beauty subscription box filled with beauty essentials for you to discover. Every month, receive 5 deluxe to full size beauty products that have been handpicked from around the globe in a beautiful keepsake box!
GLOSSYBOX is my go-to subscription for beauty products. It's one of the original beauty boxes and definitely one of my faves. It's beautiful, reasonably priced, and always includes the best brands. Not to mention the fact that it is well-rounded and provides a nice mixture of makeup, hair, skin and fragrance products. You get a little bit of everything.
Subscription Details
When you sign up for a GLOSSYBOX subscription you can choose from the following options:
monthly subscription
3-month subscription
6-month subscription
12-month subscription
Every month you will receive a selection of five beauty treats that include niche, high-end, and emerging brands.
They source products from all over the world—to bring you the absolute best in beauty. With over 400 brands in their repertoire.
Inside each box, they provide you with a detailed description card with tips and tricks on how to use the products included.
To make sure your box fits your needs, fill in the beauty profile when you sign up. Update it when your personal style evolves, and they will customize the products sent to you accordingly.
February Details
It's the month of love and we are celebrating it in the best way we know how, by delivering beauty products we absolutely adore straight to your door. We are also taking a moment to reimagine the lost art of the love letter, starting with you, our gorgeous community, because, the truth is, we're in love.
Featuring everything you need for a fun night out with our friends or a romantic date night, this delicately curated box is dedicated to you, and serves as a reminder of our appreciation. Among the beauty booty you'll score a divinely scented body care duo from John Masters Organics, a K-beauty sheet mask that will instantly make your complexion glow, and a cheeky lip color that is sure to become your new favorite – not to forget the sugar-infused lip scrub from Royal Apothic which we are obsessed with.
Here's a closer look at the items we received in the February box……
John Masters Organics Body Wash & Body Milk
Time to get refreshed! This fruits and flowers-infused body duo will leave you feeling like a new woman. Featuring fragrant essential oils including geranium, grapefruit and lavender, this rich, foaming body wash and gentle creamy moisturizer will leave your skin refreshed and senses invigorated.
GLOSSYBOX is keeping my travel bag stocked and I couldn't be more excited. This is exactly what my bag was missing – body wash and lotion. These are the kind of products that put a smile on my face, the essentials. I haven't tested them out yet but they smell lovely. Fresh and clean and very much like grapefruit. I will be saving these for our next road trip.
Luxie Beauty Onyx Noir Small Tapered Blending 231
When it comes to eyeshadow, the brush you use is everything! Achieve precise and blended colors with soft synthetic bristles that create a natural look.
You all know that makeup really isn't my thing, and I prefer to wear as little as possible, but when it comes to shadow I am a HUGE fan of blending brushes. I also really appreciate receiving makeup tools in my beauty subscription boxes so this is a win-win situation.
JJ Young Mud Sheet Mask
Behold the power of nature! This K-beauty 3D Sheet Mask delivers ingredients from the earth like green tea leaf extract, rose hip and charcoal directly into your pores to banish impurities, minimize moisture loss and help fight signs of aging.
I like to have a couple face masks on hand at all times. It's a great way to pamper yourself and a great way to give your face a little TLC. I like that this one contains rose hip and charcoal. I love both of these ingredients when it comes to skincare.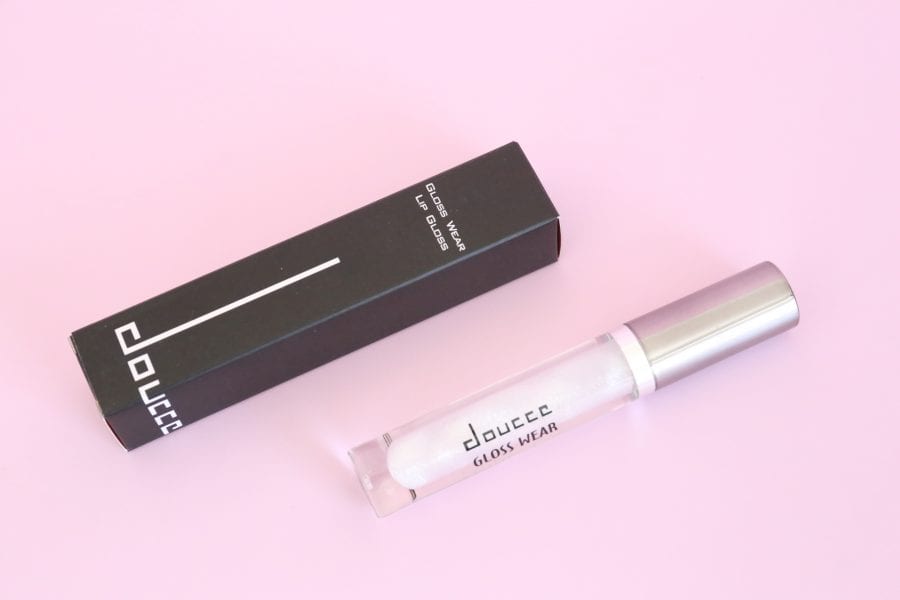 Doucce Gloss Wear Lip Gloss
For those inclined to rock a full lip, this high shine lip gloss delivers buildable color and plumping effect straight to that lovely pout of yours. Muah!
I'm pretty sure this item was available in different colors. We received a clear, sparkly gloss and that works perfectly for me. I can wear it on its own or apply it over any of the colors currently in my collection.
Royal Apothic Scrubbie Exfoliating Lip Treatment
Cold weather does notorious things to our lips. To keep your pout looking smooth and perfectly plump, use this gentle but effective lip scrub, which utilizes natural sugars to banish dryness for good.
It took me a while to jump on the lip scrub trend, but once I finally gave it a try I was hooked. Lip scrub is a really great treatment for your lips. All of the scrubs I've used in the past have left my lips unbelievably soft, as I'm sure this one will.
GLOSSYBOX Review February 2018 – Final Thoughts
I always love my GLOSSYBOX deliveries and this month is no exception. I feel like all the products we received are perfect for a variety of beauty preferences. Everyone can use body wash, moisturizer, lip scrub, clear gloss and every beauty routine needs a good blending brush. Subscribers are going to be very happy with the February box, this I know for sure. I'm often asked to recommend a well-rounded, reasonably priced beauty box and GLOSSYBOX is the first one that comes to mind. If you aren't already a subscriber I highly recommend giving GLOSSYBOX a try. You won't be disappointed…….I never am.
XOXO
Explore.
Save.
Enjoy!
Sign up for a free account on A Year of Boxes to receive exclusive offers, be added to our monthly mailing list, and much more! We are always adding features to improve the experience for our users, from their valuable feedback!
Join Today!