GLOSSYBOX Review February 2020
GLOSSYBOX is a subscription box that delivers five deluxe or full-size beauty products every month. For $21 USD you get about at least $60 in value. (Almost double that for the February box.)
*They kindly sent us this box for review.
GLOSSYBOX offers four subscription options (all prices in USD):
monthly ($21/month, billed monthly)
3-month ($58.50, paid upfront)
6-month ($111, paid upfront)
12-month ($210, paid upfront)
Shipping in the US is free; shipping to Canada is $5/box + any duties and customs fees.
GLOSSYBOX has done away with the product card (a glossy, full-colour one-pager) so you have to go to the GLOSSYBOX website for information on the contents. And even then, it's just a list of the products and their prices. For the descriptions you need to click through a couple of pages to each brand's site. (Bring back the product card, GLOSSYBOX!)
What they did include was two discounts: one for $100 off a case of Naked Wines priced at $160 or more (good for US customers only) and a $80 discount for new Hello Fresh customers (applicable in Canada and the US). I won't use either of these, so I'd love to see some discounts for other products and services.
Figs & Rouge Wonder Love Charm Glow Elixir
"Love your complexion. Glow, Revitalize, Smooth and Hydrate with every drop. GLOW – Distinctive Brightening & Charming Elixir, delights & intensifies skin in a natural glow. REVITALISE – Enrapture your skin with a perfecting & soothing complex to re-energize complexion. SMOOTH – Multi-hued Minerals, Rose Water & Rose Quartz enhance radiance & skin perfection. HYDRATE – Delightfully hydrating Hyaluronic Acid & Vitamins A,C & E defend against daily moisture loss. ($46)"
The pearly pink formula feels as light as a feather and gave my skin a pretty and subtle glow. I'm charmed!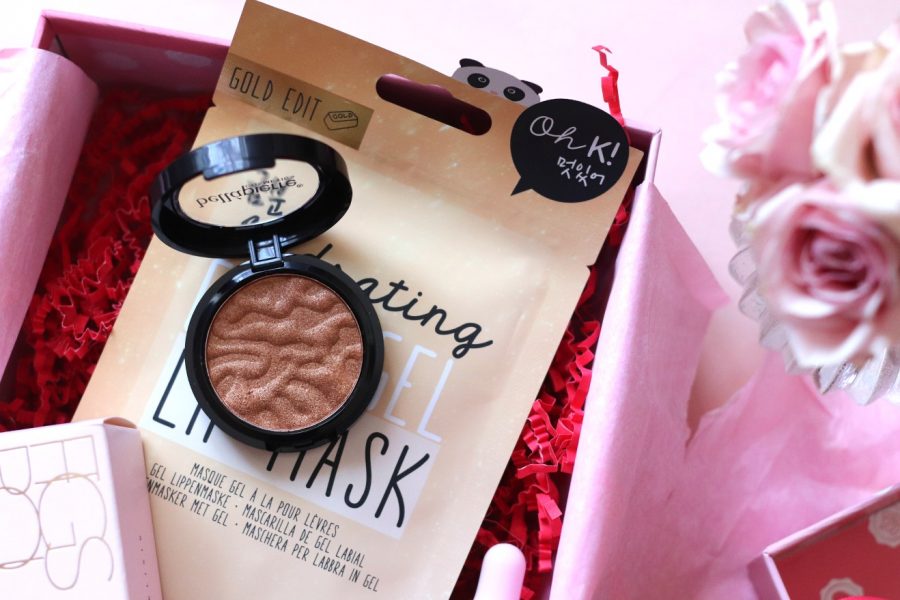 Bellapierre Cosmetics Pressed Highlighter (Sultry)
"Create the most versatile looks with the pressed highlighter & eyeshadow powder. The highly pigmented and buttery formula glides on and blends in effortlessly. The soft shimmers catch the light for a metallic finish. ($24.99)"
As a highlighter, this one's too dark for my fair skin and as an eyeshadow, too orange for my taste. Setting this one aside for a friend.
Oh K! Hydrating Gold Gel Lip Mask
"This hydrogel lip mask containing gold and honey extracts is deeply hydrating, leaving your lips soft and smooth. Shaped to form to your lips, the hydrogel formula locks in moisture and maximizes absorption of the precious essence. Ideal to use at the start and end of your beauty regime. ($6)"
I don't know whose lips this is for because this mask is HUGE. It's shaped like a pair of lips and on me the bottom covered half my chin and the top almost reached my nose. It's heavy so you need to put it on lying down and leave it on for 10 to 20 minutes so you're kind of forced to do nothing for a little bit. That said, it feels cool and soothing and my lips were super soft after. I think I'd be just as happy using a moisturizing lip scrub but these would be cute for a sleepover, spa day or just an Instagram moment.
Floss Beauty My New Favorite Lip Gloss
"My New Favourite Gloss is just that. It's not glittery, not sticky, and not grimy. Instead we created the holy grail, the gloss you'll take with you everywhere. It's hydrating, long-lasting, smooth and most importantly comfortable to wear. Use it alone for a semi-sheer wash of color or over your lip color for added shine. We even took care of the headache of color selection – it's available in 4 universally flattering shades. ($16)"
I didn't see this colour on the brand's website — it's called ATH and it's a pretty and punchy pink that makes me think of summer with its faint coconut scent. Love the formula and the name (it might be my new favourite!).
Saint Luxie Lip Liner Duo
"Our Lip Liner Duo makes lip shaping easier than ever. With a creamy, long lasting, and hydrating formula, the lip pencil smoothly glides onto lips and blends with little to no effort. Achieve a fuller look by over lining lips just above the natural lip line to get a plump, kissable look. ($30)"
The darker pencil is fantastic with the Floss gloss and somehow goes on smoother than the lighter one. (That one feels really dry.)
February's GLOSSYBOX had a couple of misses with the highlighter/shadow and the light lip pencil and I'm so-so on the lip mask. On the other hand, I really like the skin elixir and the lip gloss and those are more than worth the cost of the box alone so I'm still a happy camper. February's GLOSSYBOX is valued at $129.99.
What do you think of February's GLOSSYBOX? Have you tried any of February's products or brands?
Try Small Things – https://trysmallthings.com