GLOSSYBOX Review January 2020
GLOSSYBOX is a monthly subscription service that delivers five deluxe or full-size beauty products ranging from trendy to high-end. For $21 USD you get about $60 in value (but often much more than that). January's box is the Sleep and Refresh Edition, a theme I can fully get behind.
*They kindly sent us this box for review
GLOSSYBOX offers four subscription options (all prices in USD):
monthly ($21/month, billed monthly)
3-month ($58.50, paid upfront)
6-month ($111, paid upfront)
12-month ($210, paid upfront)
Shipping in the US is free; shipping to Canada is $5/box + any duties and customs fees.
This is the third or fourth time in as many months that the the box has arrived without a product card, so I'm wondering if it's been discontinued. The GLOSSYBOX website lists the contents for each box but you have to click through to other web sites for the product descriptions, which is a bit time consuming and certainly not as convenient as a one-pager with everything spelled out for you. What the box did include was two gift cards:  one for $100 off a case of Naked Wines priced at $160 or more (good for US customers only) and a $80 gift card for new Hello Fresh customers (applicable in Canada and the US). These are the same discounts that have been offered for the past several months. I'm curious to see when they'll switch them up.
YBI Strawberry Booster
"100% cold pressed strawberry seed oil. Designed to be used as part of your existing daytime routine, the Strawberry Booster is a great skin-softener, improving moisture levels for complexions that are feeling a little dry, flaky or sensitive. ($17)"
My skin tends to be oily in the t-zone so I've steered clear of there and just tried Strawberry Booster on my cheeks and hands. It takes a few minutes to absorb but it feels wonderful. I wish it had a stronger strawberry scent (wouldn't you expect that from strawberry seed oil?) but it's so faint I wonder if I might be imagining it.
Mudmasky Sleep Repair Renewal Nourishing Mask
"A natural way to repair and feed your skin overnight. Your skin looks visibly 'less tired' and reduces dark under-eye circles. Your face will feel extremely smooth and energized. ($20.50)"
I haven't tried this yet but it gets great reviews. Let me get back to you on this one.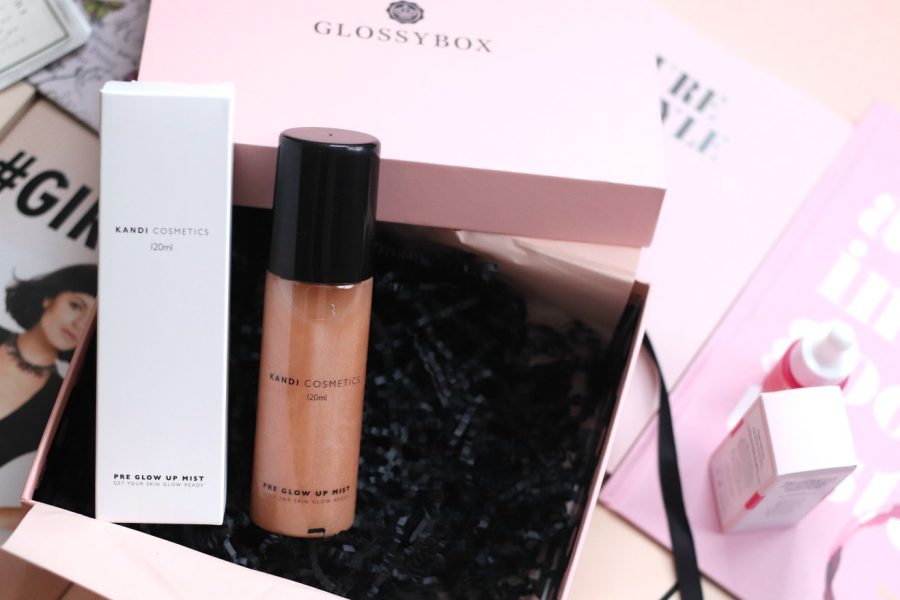 Kandi Cosmetics Pre Glow Up Mist
"Give your winter skin the ultimate glow up with Kandi Cosmetics' Pre Glow Up Mist. Its hydrating properties moisturizes the skin whilst giving it a long-term glow. ($19.50)"
What a difference a little mist makes! The hint of colour and shine in this one gives the skin a lovely, subtle glow. You can apply it before or after putting on your makeup.
Purelei Black Velvet Scrunchie
I wear scrunchies all the time and I love this one's velvety soft fabric. And you can't go wrong with black. ($5)
Tree Hut Sugarlips Lip Scrub
"Tree Hut's polishing and hydrating lip scrub is a unique 2-in-1 formula that's simple but packs a punch. Specially formulated with raw sugar that scrubs and exfoliates plus a blend of shea butter with refreshing peppermint oil to nourish and soothe dry lips. The best part is it's a leave-on formula, after scrubbing lick off the sugar and enjoy petal soft lips. ($6)"
I almost didn't open this scrub because I already have a few on the go but is it ever nice! It smells like Butter Rum Lifesavers (my fave!) and makes your lips so soft and smooth.
Avant Skincare Hydra-Bright Collagen Eye Restoring Pads
"Wake up to brighter eyes with this revolutionary eye set saturated with a complex of active ingredients to smooth, intensely hydrate and minimize the appearance of fine lines, dark circles and puffiness. ($14)"
I'm saving these to try before an event but I don't have any on my calendar so it could be a while, ha ha. I don't have many fine lines but I could definitely use something to take down the puffiness.
January's Sleep and Refresh GLOSSYBOX is valued at $82, just shy of four times the purchase price. Although I still haven't tried a couple of the products I'm really pleased the ones that I have. The mist, booster and lip scrub should last for months and I'll use the scrunchie all the time so January's box will go a long way.
Have you tried GLOSSYBOX?
Try Small Things – https://trysmallthings.com