GLOSSYBOX Review July 2021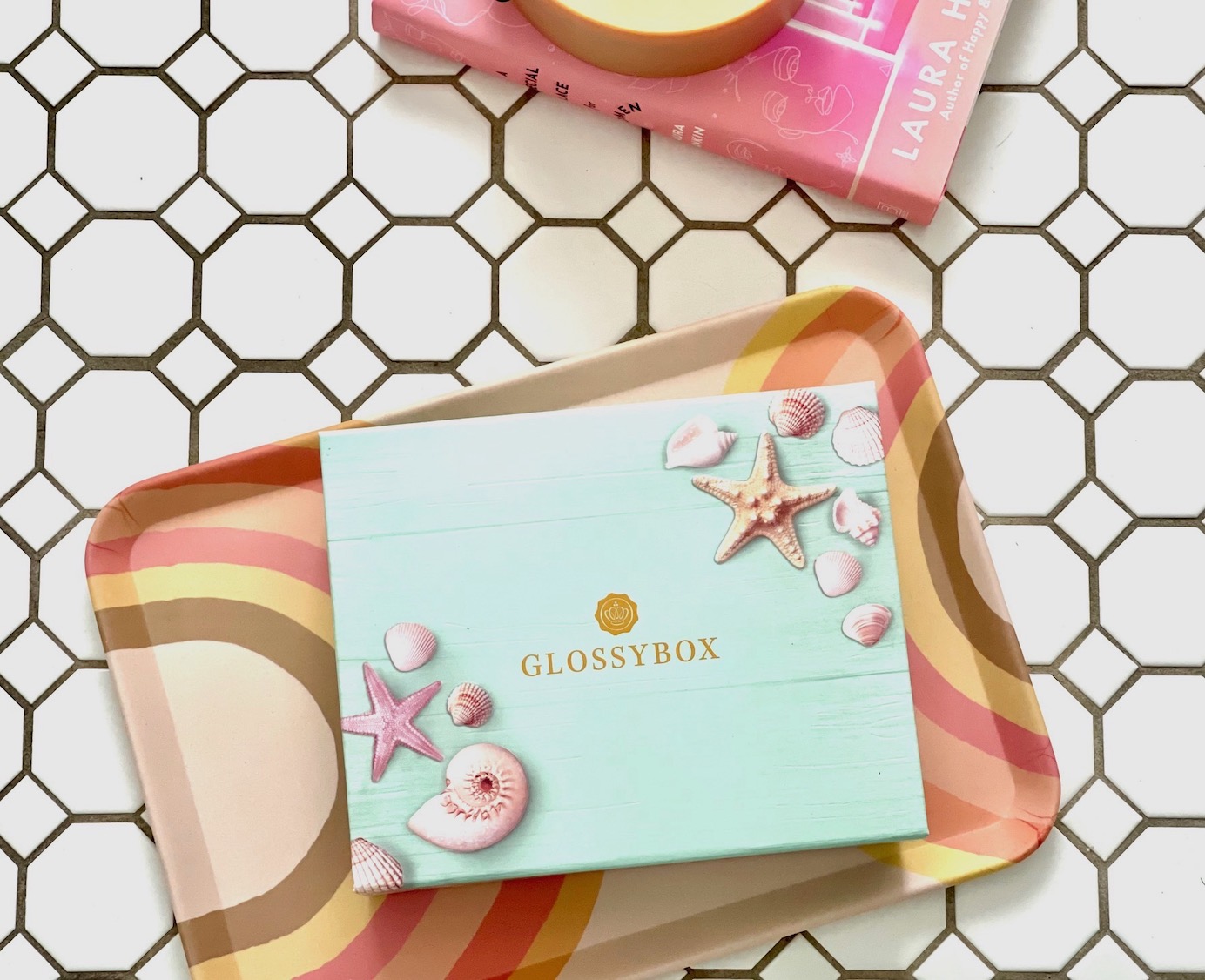 GLOSSYBOX is a beauty box from the US that typically delivers five deluxe or full-size products every month. July's "Beauty Treasures" edition looks like a treasure chest and includes a magnetic closure for an extra touch of fancy. But this one's so good you might want to keep it under lock and key. *
*They kindly sent us this box for review.
GLOSSYBOX offers four subscription options (all prices in USD):
monthly ($21/month, billed monthly)
3 months ($58.50, paid upfront)
6 months ($111, paid upfront)
12 months ($210, paid upfront)
Each box is valued at $60+. Shipping in the US is free and shipping to Canada is $5/box + any duties and customs fees.
Each GLOSSYBOX opens with a pamphlet-style product guide with pictures and brief descriptions of the contents, tips for using them and the retail price. It's well designed (I love the magazine look of July's cover) and printed on a matte cardstock that makes the box feel luxe.
Purlisse Blue Lotus & Seaweed Treatment Sheet Mask (Full Size)
"The sun can really dry and dehydrate your skin, specially in the peak of summer. Formulated for all skin types, including sensitive skin, this mask contains blue lotus, seaweed, mulberry, and anise fruit to combat dryness, inflammation, irritation, and redness. ($6)"
I'm constantly misting my face and generally out of the sun so I didn't think my skin was particularly dehydrated but this mask made a visible difference, leaving my skin plump, even-toned, glowy and baby soft for hours afterward. I've found a Canadian retailer that sells them for $5/mask when you buy a pack of 6 but even at $6 it's a great value given the results. Wonderful once-a-week treat.
Verso Skincare Eyecream (Deluxe Mini)
"This rich formula nourishes and moisturizes the eye area to ensure a robust skin barrier and healthy hydration level for soft, smooth, and supple skin. It owes its potency to a combination of fermented oat and a hyaluronic acid boosting yeast extract. ($21)"
I'm not religious with eye cream but this one gets great reviews. Recommended for morning and night. I'll give it a go.
Batiste Volumizing Dry Shampoo with Collagen (Travel Size)
"Put some oomph back into your locks with this dry shampoo, great for when you're on the go and need a quick refresh. Made with collagen complex, the clean-feel formula removes oil, leaving your hair bouncy, beautiful, and volumized. ($3.99)"
Batiste is my go-to dry shampoo and this one might be my favourite. Great for lifting oil, boosting volume and buying time before another hair wash. Smells great and only a subtle white cast.
Elaina Badro Divine Duo Brush Set (Full Size)
"This beautiful seagreen set includes an angled brush and blending brush. The angled brush can be used for brow liner and eyeshadow, while the blending brush is ideal for creating soft color diffusion or defined blending. ($34)"
I tend to use the same eyeshadow palette and the little brush that came with it but when I want to take more time and care and experiment with other colours I'll use a brush. I have others like these so I'll gift them to my teen.
Ciaté London Glow-To Illuminating Blush (Full Size)
"Our unique proprietary blend, prisma technology combines silky matte blush with ultra fine powder highlighter. Available in six beautiful shades, the marbling of blush and illuminator means, like a piece of art, no two compacts are ever the same! Glow-To Illuminating Blush has a lightweight, second-skin finish, making it ideal for a radiant no-makeup look. Alternatively, build up the color to take your look from a morning glow to flushed in the moonlight! ($26)"
July's product guide shows Cleo Noir's eyeshadow palette in golden malachite ($16) instead of this blush but I'm happy with the swap. It's so, so pretty. Subtle but buildable and I love the highlighter built in.
July's GLOSSYBOX is valued at $80.99 with the eyeshadow or $90.99 with the blush. The box itself is super cute and the products I've tried are beauty treasures for sure. I can't wait to see what August's box will bring! GLOSSYBOX turns 10 next month.
Try Small Things – https://trysmallthings.com