GLOSSYBOX Review June 2018
GLOSSYBOX is a monthly beauty subscription box filled with beauty essentials for you to discover. Every month, receive 5 deluxe to full size beauty products that have been handpicked from around the globe in a beautiful keepsake box! They kindly sent us this box for review.
GLOSSYBOX has been really great for providing me with beauty essentials the last little while. I've gotten use out of most of the products I have received the last few months and that right there is reason enough to love this subscription. I receive products I actually use……and products I actually really like. It's one of the better beauty boxes on the market.
Subscription Details
When you sign up for a GLOSSYBOX subscription you can choose from the following options:
monthly subscription
3-month subscription
6-month subscription
12-month subscription
Every month you will receive a selection of five beauty treats that include niche, high-end, and emerging brands.
They source products from all over the world—to bring you the absolute best in beauty. With over 400 brands in their repertoire.
Inside each box, they provide you with a detailed description card with tips and tricks on how to use the products included.
To make sure your box fits your needs, fill in the beauty profile when you sign up. Update it when your personal style evolves, and they will customize the products sent to you accordingly.
June Details
The days grow longer and the nights grow shorter, our favourite season is in full swing. We are taking inspiration from the Summer Solstice, a celebration of nature and femininity, with products that make you feel as gorgeous and free as a day spent in the sun. 
Absolute New York Icon Mini Eyeshadow Palette
Bring out your inner golden goddess with Icon Mini Gold Glitz – 6 luxurious shades that can take you anywhere from a glowy day look to smoky nighttime glam. Create your favourite golden looks with the mix of matte, metallic and satin finish. Each compact palette comes with a mirror perfect for on-the-go travel. 
I am a huge fan of makeup palettes. They are useful and convenient. I like that they cut down on the number of products I need to have in my makeup bag. GLOSSYBOX tells us that gold looks good on everyone, and I would have to agree.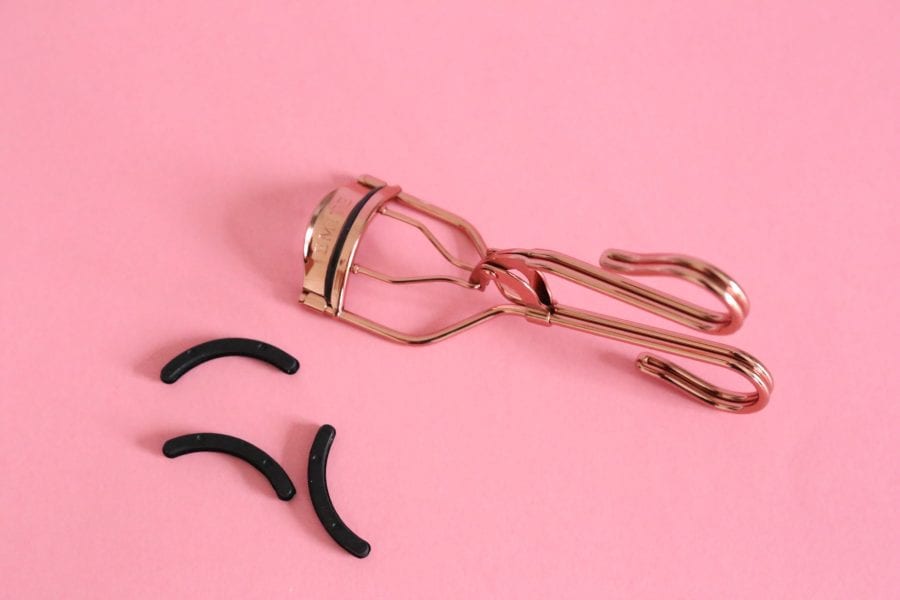 Emite Make Up Professional Eye Lash Curler
Our professional eye lash curler has a special curved design which angles to suit all eye shapes, without touching your makeup base. Its silicone rubber pad applies the appropriate amount of pressure to curl lashes naturally. Your eyelashes will remain in perfect shape all day. 
I received rose gold eyebrow tweezers in a subscription box a little while back and now I have an eye lash curler to match. GLOSSYBOX tells us to line the rubber pad at the base of upper lashes. Press handles together and hold for several seconds. Gently release and apply mascara as a final step.
Karl Lagerfeld + ModelCo Lip Pencil
Looking to enhance that gorgeous pout of yours? This soft wax lip pencil will make your lips look pillowy and full thanks to its creamy formula and universally-flattering color. 
I just reviewed the Limited Edition Karl Lagerfeld + ModelCo GLOSSYBOX and was quite happy with all the items we received. Here we have another lip pencil from the new collaboration and I am liking this color more than the one we received in the LE box. It's a little more understated.
Temple Spa Repose Aromatherapy Resting Cream
Are you sleep deprived? If so, reach for this nutritive night cream, rich in plant extracts and relaxing essential oils. Designed to encourage restful sleep and promote feelings of calm, you'll wake up to firmer, softer skin. 
I love receiving items like this. It's the perfect size for my purse or travel bag. I carry some sort of face cream with me at all times. This one is to be used at night but I might also use it during the day when I need a little extra moisture under my eyes.
Gilchrist & Soames Body Lotion in English Garden
Close your eyes and breath in the fresh essence of the English countryside with this fragrant silk-infused body cream. Containing food-grade naturally derived botanicals as well as cruelty-free honey, this evocative blend is as transportive as it is delicate. 
This is a lovely lotion that has a fresh, summer-inspired scent.
The Artist's Studio By Lux Beauty Group Eau De Parfume
Think summer with this fragrant blend of fruits and flowers, meant to evoke feelings of freedom and freshness. From grapefruit to coconut to lavender, whichever iteration you get, you'll be transported in just a spritz. 
Subscribers could have received different scents and I received Summer Rose. It's actually quite nice, not to flowery and not too sweet. It's a nice combination.
GLOSSYBOX Review June 2018 – Final Thoughts
The June GLOSSYBOX is absolutely lovely. That's the first word that comes to mind as I sit here and look at all the items I received. I get a fresh summer vibe from the product mix. In addition to that the value is amazing, as per usual. We received a few full-size items and a couple deluxe sample size items. I love that we received a makeup tool and a eyeshadow palette. Those two items right there add value to the box for me personally because they are items we don't see often enough in subscription boxes. Once again GLOSSYBOX has done an amazing job!
XOXO