GLOSSYBOX Review March 2018
GLOSSYBOX is a monthly beauty subscription box filled with beauty essentials for you to discover. Every month, receive 5 deluxe to full size beauty products that have been handpicked from around the globe in a beautiful keepsake box! They kindly sent us this box for review.
GLOSSYBOX is one of the original beaut boxes, and in my opinion, one of the best beauty boxes. They have been in business long enough to know what works and what doesn't. They have a great product on their hands and as a result, it has stayed pretty much the same since they launched their first box. Why mess with a good thing? Am I right?
Subscription Details
When you sign up for a GLOSSYBOX subscription you can choose from the following options:
monthly subscription
3-month subscription
6-month subscription
12-month subscription
Every month you will receive a selection of five beauty treats that include niche, high-end, and emerging brands.
They source products from all over the world—to bring you the absolute best in beauty. With over 400 brands in their repertoire.
Inside each box, they provide you with a detailed description card with tips and tricks on how to use the products included.
To make sure your box fits your needs, fill in the beauty profile when you sign up. Update it when your personal style evolves, and they will customize the products sent to you accordingly.
March Details
Although it's clearly the year of the woman (let's face it, so was 2017), this month we celebrate International Women's Day and reflect on those amazing ladies in our lives who lead by example, lifting us up when we need it, and singing alongside us when we're feeling fabulous.
We all know a woman who we admire for her strength, perseverance, or that ability to just do-it-all. These women are strong, multidimensional and represent true beauty, inside and out. Our March box is dedicated to them, and to you (of course), and it comes filled with hard-working, multi-benefit products that will keep you looking and feeling like the girl boss that you are. From cleansing to glamifying, this month's stash is all about embracing and enhancing your natural beauty.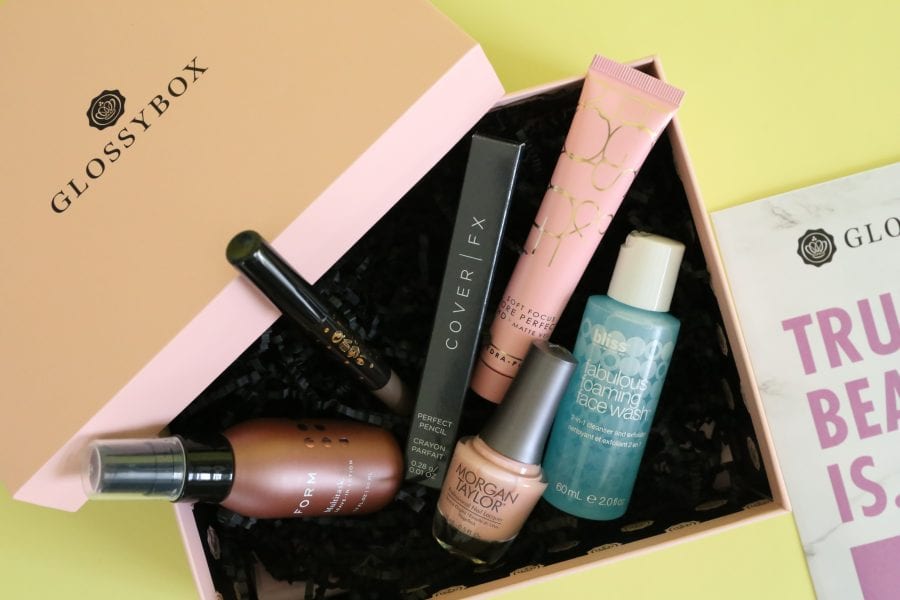 Here's a closer look at the items we received in the March box……
Cover FX Perfect Pencil Concealer ($20)
It's official. The product you never knew you needed is Cover FX's Perfect Pencil Concealer. This versatile little tool can be used to define lip and eyebrow arches and conceal trouble spots in an instant. Headed to the gym? No problem, the formula is also waterproof.
The product description couldn't be more accurate! This is definitely the product I never knew I needed. I'm not so concerned about the lip and eyebrow definition, I'm more concerned about concealing my trouble spots. This is genius! I don't need a lot of concealer, but from time to time I need a little spot coverage, and this will be perfect for that!
Figs & Rouge Soft Focus Pore Perfect HD + Matte Veil ($35)
Figs & Rouge HD+ Matte Veil is a weightless, matte serum designed to help minimize the appearance of pores & create a sheer complexion. With a unique duo action this anti-blemish formulation, helps reduce skin impurities & combat breakouts. For diminished shine & a micro-fine, soft focus effect, Figs & Rouge New Hydra-Pore collection delivers long lasting pore correction, to help fade imperfections & promote a clearer balanced complexion.
At first glance I wasn't too excited about this product, but upon further investigation I'm actually kind of intrigued. I love a good serum, my skin responds well to it, so why not use one that will also minimize pores and create a sheer complexion? What do I have to lose?
Multitask: 3-in-1 Leave In Lotion ($32)
Good hair days are ahead! This 3-in-1 hair perfecter will detangle, soften and refresh your look in one go. Designed to also strengthen your strands against breakage, this nutritive mist, which is infused with coconut oil, argan oil, avocado oil, and grapeseed oil will keep any style, from beauty waves to tight braids, looking fierce.
This little hair saver has all my favourite ingredients – coconut, argan, avocado and grapeseed. I am constantly singing the praises of hair oil, and now I have one that I am able to spritz on and leave in.
De Bruyère Beauté Jumbo Eye Pencil ($18)
Jumbo eye pencil, khaki-grey glamorous and shimmering shade, highly pigmented which, thanks to its generous size , can be used either as liner or eye shadow.
The days that I actually get my butt in gear and "do" my makeup I like to apply the following – eyeshadow, liner, mascara and blush. Therefore, I appreciate a good liner, especially one that is easy to apply. I much prefer a thick line to a tiny defined line, so this pencil will be perfect for me.
Morgan Taylor Nail Lacquer ($9.50)
Morgan Taylor is one of the newest nail lacquers in the professional industry. Its high quality formula and heavy pigment load distinguish it as a true professional nail lacquer that gives up to 7 to 10 days of wear and incredible color saturation. With a wide range of shades from every color family, Morgan Taylor has the perfect color for every lacquer lover!
It's always nice to receive a new nail polish. Especially a polish from Morgan Taylor which is a really great brand. And a polish in such a pretty color, because it has me thinking of Spring.
Glossy Fave
Found an extra product in your box this month? Enjoy a little gift from us and try one of our Glossy Faves!
I received: Bliss Fabulous Foaming Face Wash
Bliss Fabulous Foaming Face Wash is a two-in-one oil-free exfoliating wash for all skin types. This fresh, fruity cleanser contains rose hip extract, milk thistle, passion flower and chamomile in a non-stripping formula that helps re-balance even the most scattered of skins.
GLOSSYBOX Review March 2018 – Final Thoughts
GLOSSYBOX is a wonderful little subscription. Really it is. They have the prettiest packaging out of all the beauty boxes we review, and I love that the box can be re-used. I'm really happy with the products we received this month, with only one of them being a little out of my comfort zone. The Cover FX pencil is genius and the Jumbo Pencil is the perfect addition to my makeup bag. I always feel satisfied after unboxing my GLOSSYBOX. I'm never left wanting more or wishing I had received a different product. I'm always happy with the items we receive and am always left looking forward to the next month.
XOXO
Explore.
Save.
Enjoy!
Sign up for a free account on A Year of Boxes to receive exclusive offers, be added to our monthly mailing list, and much more! We are always adding features to improve the experience for our users, from their valuable feedback!
Join Today!