GLOSSYBOX Review May 2019
May's GLOSSYBOX arrived this week and it's a good one, mes amies. The U.S. beauty box delivers 5 deluxe or full-size products each month ranging from niche to high-end, sourced from more than 400 brands around the world. From time to time they'll throw in a bonus product too. This month's extra goodie just might be my favourite product in the box. (It's leopard, so it's kind of purrfect.)
* They kindly sent us this box for review
There are four subscription options (all prices in USD):
monthly ($21/month, billed monthly)
3-month ($58.50, paid upfront)
6-month ($111, paid upfront)
12-month ($210, paid upfront)
Shipping in the US is free; shipping to Canada is $5/box + any duties and customs fees.
Subscribers can complete a beauty profile to help ensure the box matches their preferences and needs. It can be updated at any time.
Each GLOSSYBOX comes with a guide to the contents that tells you a little about each product and tips on how to use it. May's box includes a code for a free bag of Amora coffee ($14.95 value, pay just $1 shipping). Unfortunately Amora doesn't ship to Canada so the offer's only good for US subscribers.
Grow Gorgeous Back into the Roots 30-Minute Stimulating Scalp Masque
Give your hair a boost with this luxurious scalp mask. With a healthy combination of burdock root, hyaluronic acid, vitamins and caffeine, this mask will give your hair the extra moisture and volume it craves. ($28/8 fl oz; featured size 2.2 fl oz)
Scalp treatments are having a moment in the beauty world, so I wasn't surprised to see one in this month's box. (GLOSSYBOX is nothing if not on trend.) The minty scent is amazing and feels really fresh on (not tingly exactly, but squeaky clean) — once you actually get it on. My hair isn't super thick but I still had trouble getting through all of it to my scalp. Should I have put it on when my hair was dry? I need your tips!
Purlisse Coconut Oil + Coffee Sugar Body Scrub
Coffee and coconut oil? Who doesn't love that combo? As the coconut oil softens and moisturizes your skin, coffee kicks into high gear to reduce the appearance of cellulite. ($24/6 oz; featured size 0.7 oz)
I love this scrub. It smells amazing and it's got just the right amount of grit to feel like you're getting a good exfoliant and moisturizer at the same time. My skin feels silky soft hours after using it. The coffee makes a bit of a mess in the tub but que sera, sera. Nothing a quick rinse can't fix.
Purlisse Watermelon Energizing Aqua Balm
A lightweight, oil-free gel cream filled with vitamins A, B and C, this aqua balm keeps skin energized and hydrated, for oily, normal, combo, sensitive and dull skin types that want the energizing benefits of watermelon and other skin-nurturing ingredients including aloe vera, cucumber and white tea. ($45/1.7 fl oz; featured size .34 oz)
I'm trying this on the backs of my hands for now. It's wonderfully light, absorbs like a boss and isn't the least bit sticky. But I'll stop short of saying it's the  since it's early days. If you've used it for a while, let me know what you think!
ORYZA Beauty Dewy Glow Beauty Balm
Cruelty free, this all-purpose skin and lip balm will protect your skin from harmful UVA and UVB rays while it moisturizes and soothes for an all over dewy effect and is perfect for even the most sensitive skin. ($16 as featured)
This balm feels great on my lips — very moisturizing and light. And I like that it's fragrance- and taste-free. Not everyone wants fruit salad on their lips 24/7. And I'm all for the sun protection.
invisibobble Sprunchie (Purrfection)
Hidden underneath luxurious velvet fabric, the invisibobble® SPRUNCHIE contains a classic ORIGINAL, therefore providing benefits that come with its super talent. Due to its spiral shape, the hair tie holds all strands of hair together and is still easy to remove. Available in three different colors, this new invisibobble® family member is your companion for the upcoming season. ($8 each)
This is the extra product I mentioned — and GLOSSYBOX included two of them! I've used regular invisibobbles and they work really well, but I'm loving the super soft, almost velvety material covering these ones. I especially love them for tying my hair back for sleeping — I'm sure they're not near as damaging as typical hair elastics.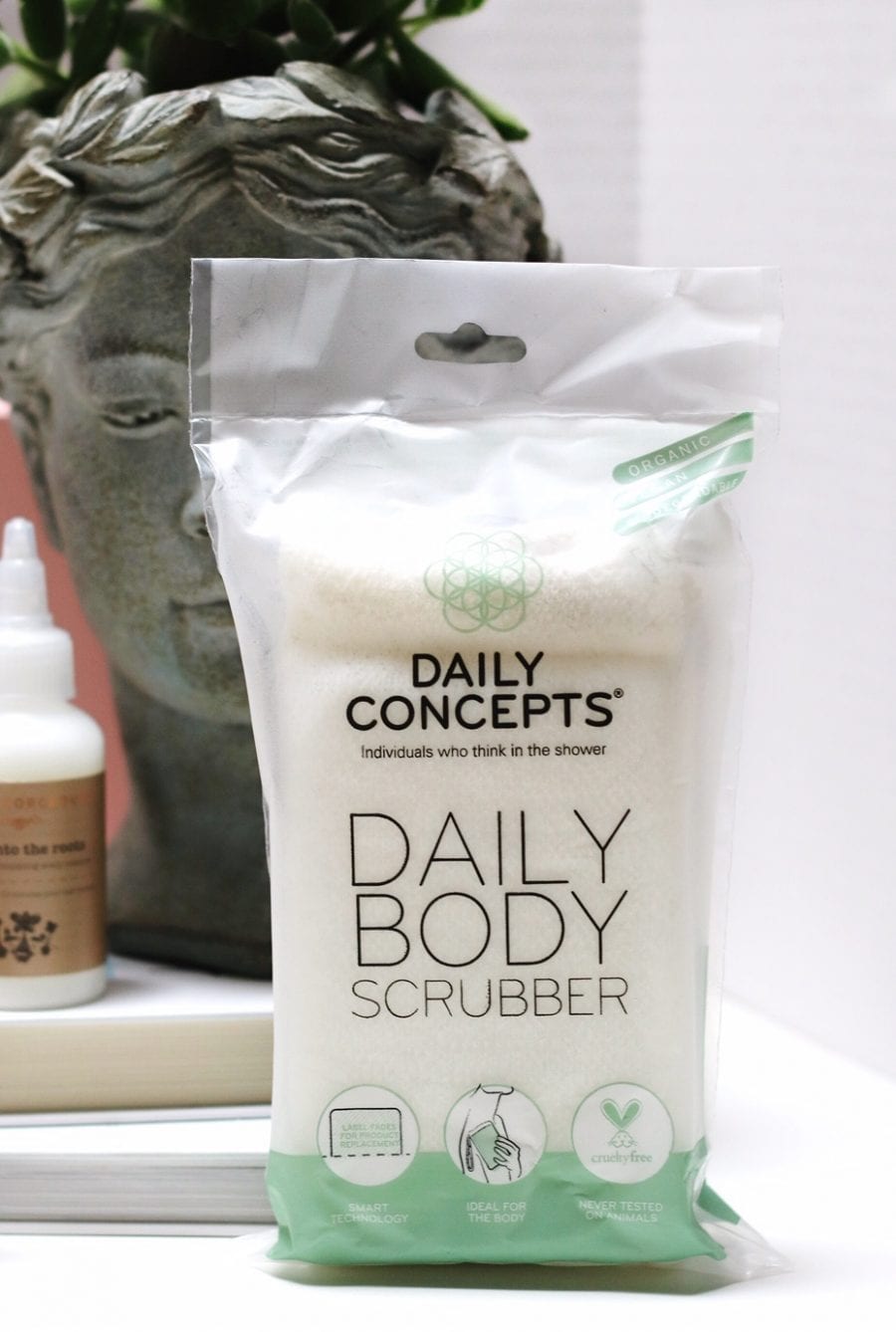 Daily Concepts Daily Body Scrubber
Perfect for buffing away dead skin cells with its texture, this scrubber has a soy based foam material inside to create a rich lather. Allergy and dermatologist tested, Daily Concepts even incorporated its label to fade so that you know when it's time to replace your scrubber. ($10 as featured)
I haven't used a scrubber in years and this one feels great! I got a fantastic lather out of my shower gel and the scrubbing action made my skin feel more alive somehow. (Do you know what I mean?) The sponge has a little loop on it and comes with a suction cup for hanging it in the shower, which I think is brilliant. I'm curious to see how long this one will last before I need to replace it. How often do you replace your scrubber?
KOKOSTAR Slice Sheet Masks (Lemon and Watermelon)
Have full control of how you apply your masks with KOKOSTAR'S Slice Mask Sheet! Unlike traditional masks, you can peel the masks off piece by piece, like a sticker! With antioxidants and hydrating qualities, you can apply your masks on your face, neck, under the eyes, and anywhere in between. ($10/2 sheets as featured)
Last but not least, these brilliant and HIGHLY Instagrammable face masks — watermelon for hydrating and refreshing the skin and lemon for clarifying. I'm always worried about exacerbating breakouts in my t-zone, so I like that these are small and you can apply them where you like. They're so cute that I feel like I should save them for my tween in case she wants to have some friends over for a spa day or something.
And that's May's GLOSSYBOX! The Sprunchies and the face masks make it worth the cost of the box alone and then you still have five other products, so I think this one is an especially good value. The trial sizes give you enough product to figure out if you like them or not, and GLOSSYBOX provides links on their website for purchasing full-sized versions of all of them (many can be found at Sephora). I'm really looking forward to next month's box, and not-so-secretly hoping it'll contain a cosmetic or two, maybe a summery nail polish or lipstick.
What do you think of May's GLOSSYBOX? Is it something you'd try?
Try Small Things – https://trysmallthings.com