GLOSSYBOX Review September 2017
GLOSSYBOX is a monthly beauty subscription box filled with beauty essentials for you to discover. Every month, receive 5 deluxe to full size beauty products that have been handpicked from around the globe in a beautiful keepsake box!
Wow, it has been a long time since my last GLOSSYBOX review. Coming up on two years to be exact. I almost forgot how much I love this subscription until I had the September box in front of me. I should point out that I am a little late with this review due to some shipping issues but everything is sorted out now, and I always say, better late than never.
Since it has been so long, let's just quickly go over the details….
Subscription Details
When you sign up for a GLOSSYBOX subscription you can choose from the following options:
monthly subscription
3-month subscription
6-month subscription
12-month subscription
Every month you will receive a selection of five beauty treats that include niche, high-end, and emerging brands.
They source products from all over the world—to bring you the absolute best in beauty. With over 400 brands in their repertoire.
Inside each box, they provide you with a detailed description card with tips and tricks on how to use the products included.
To make sure your box fits your needs, fill in the beauty profile when you sign up. Update it when your personal style evolves, and they will customize the products sent to you accordingly.
September Details
Your beauty wardrobe awaits…This month we take the fashion show from the runways to our real lives. We filled our September box with drop-dead-gorgeous beauty musts to keep you in style now and forever. From a designer-approved nail polish to a highlighter perfected to leave all skin tones glowing, we can't wait to see how you make our faves your own.
Here's a closer look at the items we received in the September box….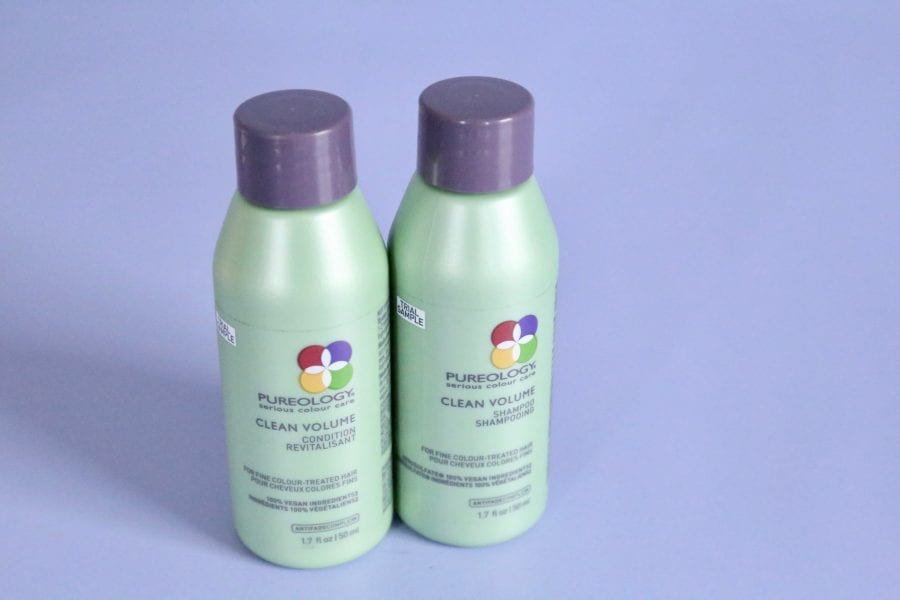 PUREOLOGY 
Clean Volume Shampoo & Conditioner
Achieve airy, root lift with Clean Volume Shampoo and Conditioner! Formulated for fine, color treated hair with technology that elevates each hair for a weightless, airy, full-bodied finish. Sulfate-free, and silicone-free, Clean Volume uses Aloe Water and Soy Protein to provide hair body, absorb oil, fortify and more. Clean Volume Shampoo: A concentrated, sulfate-free, volumizing shampoo that gently cleanses fine hair without stripping hair color. Clean Volume Shampoo provides light, airy fullness to those seeking hair volume.
I never use to like receiving shampoo and conditioner in my subscription boxes but now it makes me very excited. I like to try new brands and this is the perfect way to do it. I can usually get a few washes out of bottles this size, and I can also use them in my travel bag. I love that they included these.
BEAUTY INFUSION
Charcoal & Probiotics Cleansing Clay Mask
Discover a deep, pure clean. This serum-infused clay mask instantly clears pores with activated Charcoal that gently draws out oils and toxins without over-drying. Boosted with powerful skin-balancing Probiotics to reveal a fresh, clear complexion. Perfect for all skin types.
Funny enough, this is another product I never use to get excited about. My skin is quite sensitive and I use to stay away from any sort of face mask. But……I've been using masks for about a year now and haven't had any problems. Actually, it's the exact opposite. My skin responds well to a weekly or monthly mask treatment. I like that this one is made with charcoal as that is currently one of my favourite ingredients when it comes to skincare. And…..this bottle is a really great size. It is going to last me a while.
MORGAN TAYLOR PROFESSIONAL 
Nail Lacquer
Morgan Taylor is one of the newest nail lacquers in the professional industry. Its high quality formula and heavy pigment load distinguish it as a true professional nail lacquer that gives up to 7 to 10 days of wear and incredible color saturation. With a wide range of shades from every color family, Morgan Taylor has the perfect color for every lacquer lover!
Wow…..I am swooning over this color. It's the exact shade I reach for on a regular basis but with a little twist. I'm not sure if you can tell from the photo but it actually has the slightest bit of shimmer and shine. It's absolutely beautiful.
MANNA KADAR COSMETICS 
Glo Illuminator
Glo is an incandescent liquid that lights up skin with all over radiance. Mix with foundation or wear alone to provide a luminous glow for all skin types. An especially amazing product for mature or dry skin. Glo provides a youthful glow and dewy finish. Use on face and/or body and get glowing. -Helps you achieve the most beautiful you -Enhances the face and completes the makeup look -Great introduction to Manna Kadar Cosmetics MANNA'S TIPS For those who desire a more dewy look apply this product with your Flawless Foundation or BB Cream.
I have received this product quite a few times over the last 3 to 4 months, and I have to be honest, it's not really for me. I like the Manna Kadar brand and have used their blush and a couple other products in the past, but the illuminator just isn't something I would use personally.
LANCÔME PARIS 
Visionnaire Advanced Multi-Correcting Cream SPF 20
This anti-aging day cream immerses your skin in comfort and 24-hour hydration. SPF 20 provides additional sun protection to protect against future damage caused by UVA rays. The formula locks in moisture for 24 hours while visibly plumping and softening skin and boosting luminosity and bounce. Its luxurious silky cream texture melts on skin for an ultimate comfortable feeling. This product is suitable for sensitive skin and tested under dermatological control.
Lancome is an old favourite. You really can't go wrong with any of their products. I like that this one claims to provide 24-hour hydration.
LANCÔME PARIS
Advanced Génifique Sensitive Antioxidant Serum [PURE FERULIC ACID + VITAMIN E]
Oftentimes, environmental factors such as weather, travel, change of seasons, stress, and pollution can cause fragility on skin's surface. This fresh serum instantly soothes skin sensitivities, such as tightness, overall discomfort, itchiness and redness due to dryness, and provides antioxidant protection against future environmentally-triggered skin discomforts. Over time, this serum featuring a synergistic antioxidant combination of pure Ferulic Acid and pure Vitamin E, helps strengthen skin against free radicals induced by UVA rays, infrared radiation, and pollution, which may lead to visible signs of accelerated skin aging, improving the look of skin for a healthier-looking complexion.
GLOSSYBOX Review September 2017 – Final Thoughts
Wow, I really did forget how much I love this beauty subscription box. GLOSSYBOX is one of the first beauty boxes I reviewed. They are an established brand with a really great subscription offering. I love everything about this box – the price point, the gorgeous packaging, the keepsake box, the number of items we receive, and the quality brands they work with. This month's box was a nice reminder of just how wonderful this subscription really is. I feel like it is a classic. GLOSSYBOX will become the Lancome of subscription boxes. An old favourite that will never do you wrong.
XOXO