GLOSSYBOX Review September 2021
GLOSSYBOX is a beauty box from the US that delivers five deluxe or full-size products every month. September's Pure Relaxation edition is designed to help you wind down from the summer with some head-to-toe pampering before the hectic holiday season begins.*
*They kindly sent us this box for review.
GLOSSYBOX offers four subscription options (all prices in USD):
monthly ($21/month, billed monthly)
3 months ($58.50, paid upfront)
6 months ($111, paid upfront)
12 months ($210, paid upfront)
Each box is valued at $60+. Shipping in the US is free and shipping to Canada is $5/box + any duties and customs fees.
A product guide is included with every box, featuring pictures and brief descriptions of the contents, tips for using them and the retail price. Well-designed and printed on a quality card stock, it makes a great first impression.
Terre de Mars Reddition Body Cleanser (full size; 150ml)
"Clean and refresh your skin while nourishing, toning, and protecting it at the same time. This organic low-foaming aromatic cleansing gel, which is suitable for all skin types, is infused with bioactive ingredients such as coffee, rosemary extract, verbena oil, and aloe. ($23)"
Ahhh this smells so good! Like fresh citrus only more complex. And totally invigorating paired with the hammam mitt you'll see in a minute. Made with natural and organic ingredients and cruelty free.
This Works Stress Check Clean Hands (travel size: 50ml)
"Keep your hands clean anywhere you go! This hydrating hand gel with 70% purifying alcohol, hard-working hyaluronic acid, and a superblend of lavender, camomile and neroli will make your hands clean, safe, and moisturized whenever you can't get to some soap and water. ($6)"
Times being what they are, I'm very happy to see a hand sanitizer and from a long-loved brand too! (Highly recommend This Works Deep Sleep Pillow Spray). Unlike so many others I've tried, this one isn't sticky, stinky or runny but just right. And the notes of lavender are lovely.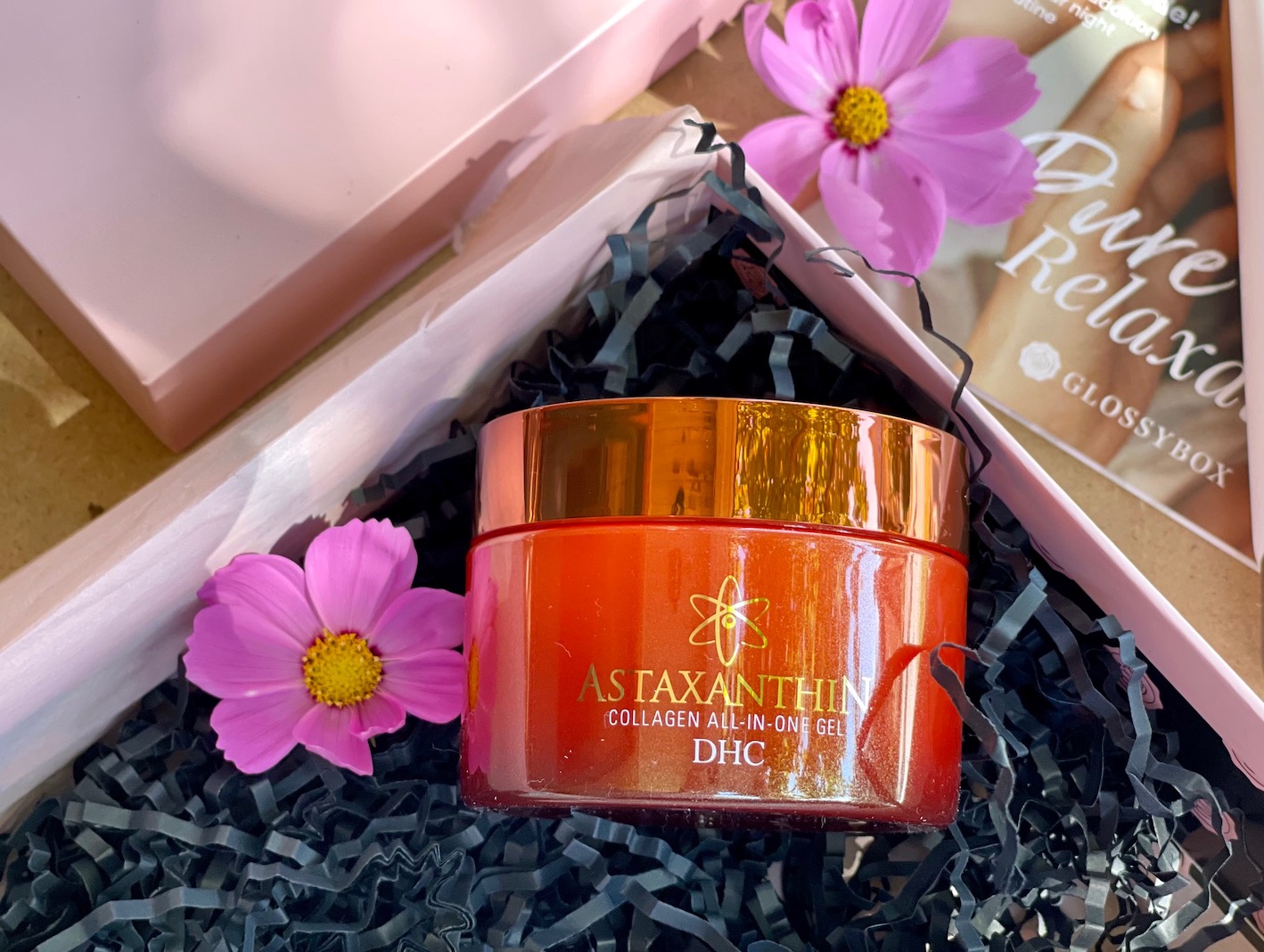 DHC Astaxanthin Collagen All-In-One-Gel (full size; 120 grams)
"This lightweight facial moisturizer tones, hydrates and brightens skin in one step. It's powered by astaxanthin, a natural antioxidant proven to be 6,000 times more effective than vitamin C and 550 times more powerful than vitamin e in eliminating free radicals that cause premature aging. ($49)"
Now this one is problematic for me on account of the funky, almost fishy scent (like some other collagen products I've tried) 'tho I find it only smells terrible in the jar. You don't notice it once applied. (The product has no added fragrance, only the natural scents of the ingredients.) I'll try it for a few weeks and see what kind of difference it makes.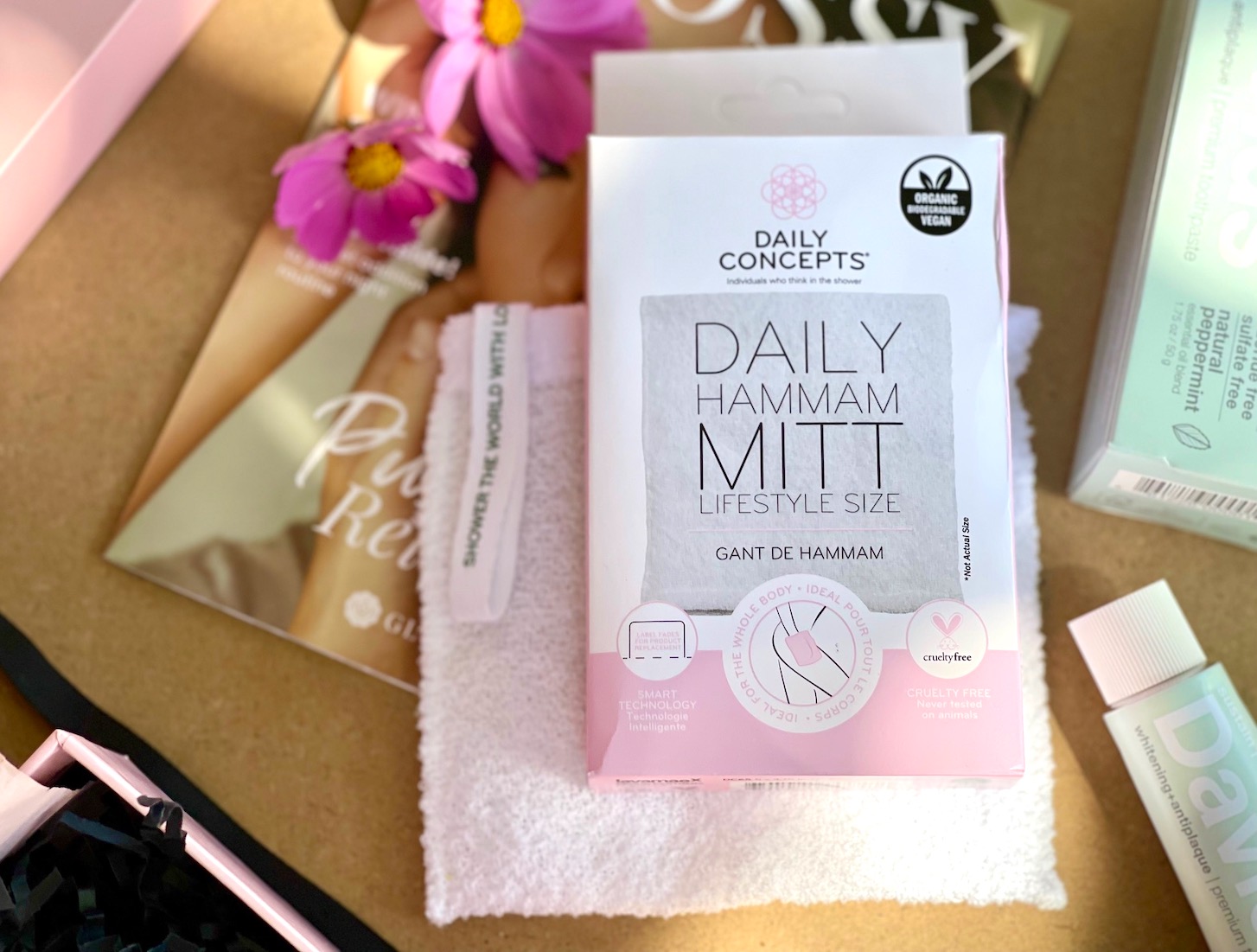 Daily Concepts Hammam Mitt (full size)
"Detox and refresh your skin for a youthful glow! Made for your body, this cloth cleanses and exfoliates at the same time it detoxifies, rehydrates, and nourishes without stripping and drying out your skin so you can look and feel your best. ($14)"
This mitt has a rough-but-not uncomfortable texture that's great for sloughing off dead skin — wonderful for the body (as intended) but definitely not the face. Rinse and hang to dry after each use.
Davids Natural Toothpaste (deluxe mini; 50g)
"Freshen your breath with this premium sustainable toothpaste. Designed to naturally whiten, remove plaque, and freshen breath, Davids is made with naturally sourced and naturally derived ingredients to elevate your health and oral care. Your teeth will be whiter in no time! ($4.95)"
This toothpaste feels a bit grittier than other brands but it's not off-putting, just different. I like the minty-fresh taste and it makes my teeth feel clean and sparkling. The only sticking point is the tube itself. Every time you unscrew the cap toothpaste oozes out without the slightest pressure so you have to be right there with the toothbrush to catch it and even then it's much more than needed. #firstworldproblems
Four Sigmatic Hot Cacao with Reishi (two packets)
"Treat yourself to a better bedtime with this vegan, gluten-free, dairy-free, organic cacao mix. Made with Reishi mushroom, you'll experience a relaxing evening and a better night's rest. ($4)"
An extra treat this month. I haven't tried it but a better night's sleep would be welcome.
On the whole I think GLOSSYBOX did a great job curating this Pure Relaxation edition, including some out-of-the-box thinking with the cacao for better bedtimes. The body cleanser, hammam mitt and hand sanitizer are my favourites this month and together worth more than double the price of the box alone. That in itself makes me relax — I couldn't recommend it to you if didn't think it was a good value for the money and month after month GLOSSYBOX delivers a solid return.
September's GLOSSYBOX is valued at $100.95.
What beauty products make you feel relaxed and pampered?
Try Small Things – https://trysmallthings.com