Goodfood Review: Butter Croissants and Artisanal Oat Bowls
Some foods are good for the body and some are just good for the soul. And I think you know which category those croissants ↑ are in. 😉 They're one of several ready-to-bake pastries available from Goodfood, a weekly Canadian grocery subscription service that delivers meal kits, read-to-cook meals, and grocery products to your door. Their breakfast menu also includes a variety of tasty and nutrient-dense options like the artisanal oat bowl a little further in this post. Which one would you pick to start your day? 🤔 Here's a closer look at both.
Goodfood's breakfast items are delivered frozen in an insulated box with the pastries packaged in four portions per bag. They're sold two bags per order and each bag of four is $7 (so $14 for 8 croissants).
We've also tried their strawberries & cheese danish pastries, chocolatines, and spanakopita hand pies. All delicious goodness!
Each bag is labelled with baking instructions and nutritional info (I peeled it off to show you here). You thaw the croissants before putting them in the oven — mine took about 30 minutes — and bake at 350 for 15 to 20 minutes.
Nutrition-wise, they're pretty much what I was expecting: 280 calories; 15 grams fat; 29 grams carbs; and 7 grams of protein per croissant. What they should say is 68 grams of deliciousness 'cause they are amazing!! So light and flaky. 😋😋
I love how high they puffed up! They remind me of ALF. 👃😂 (Remember that sitcom about the alien with the croissant-shaped nose?)
Goodfood also makes single-serve artisanal oat bowls. (And smoothies! I've talked about those in the past.) This one is the apple cinnamon crisp but they've also got a blueberry pecan crunch and a sweet cherry peanut. All are sold in packs of two for $9.99/pack. They arrive frozen in these individual cups and you keep them in the freezer until you're ready to use them.
So much delicious goodness in these babies! The apple cinnamon crisp is made with gluten-free oats, green apples, dates, organic cranberries, organic currants, pecans, organic coconut, almonds, cinnamon, organic coconut sugar and Himalayan pink salt.
Nutrition-wise, this is a heartier breakfast with 440 calories; 15 grams of fat, 74 grams of carbohydrates, 10 grams of protein and 12 grams of fibre.
You can make them three ways:
→ cover with milk, refrigerate overnight and enjoy in the a.m.
→ cover with milk and cook on the stovetop for 7 minutes
→ cover with milk and microwave for a couple of minutes
If you go the overnight oats route, they've left enough room in the top to cover with milk and enjoy right out of the container. I didn't try mine this way but I like this grab and go/dish-free option.
They don't look like much in the cup but they make it's a very generous serving.
I covered these with milk and microwaved them for about three minutes.
This photo doesn't do these oats justice! They are so delicious with all of the fruits and the crunchy nuts and the hint of cinnamon. A hearty breakfast for a cold winter's day, whether you're heading out to ski, skate, shovel or just staying home with a book — this breakfast will keep you going for hours. It's definitely more than I usually eat in the morning but it's sooo satisfying. 😋😋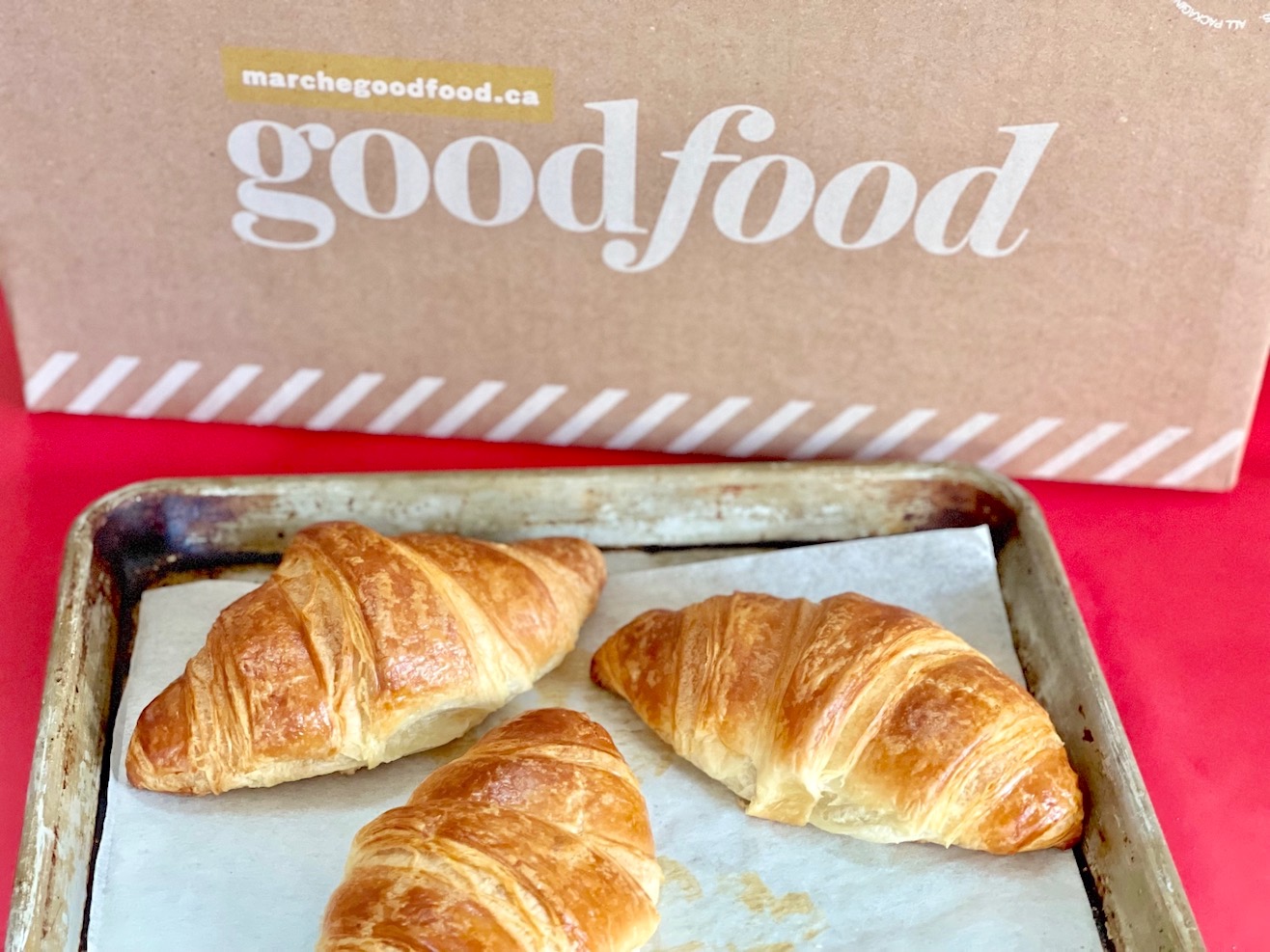 Goodfood's butter croissants and artisanal oat bowls are excellent breakfast options IMHO, super delicious and filling and dead-easy to prepare. I feel like I'm living my best life starting my day with one of these. Good for the body and the soul. 😀
Try Small Things – https://trysmallthings.com