Goodfood Smoothies Review April 2019
Goodfood is a weekly subscription that delivers all of the fresh ingredients you need in pre-measured amounts to make delicious meals at home. They recently introduced a breakfast option: 10 different smoothies that are packed with quality farm-frozen ingredients and ready in seconds. I've tried five flavours so far. Here's the skinny.
Coupon Code: Want to test out Goodfood for yourself? Use our link to get $40 off your first box – CLICK HERE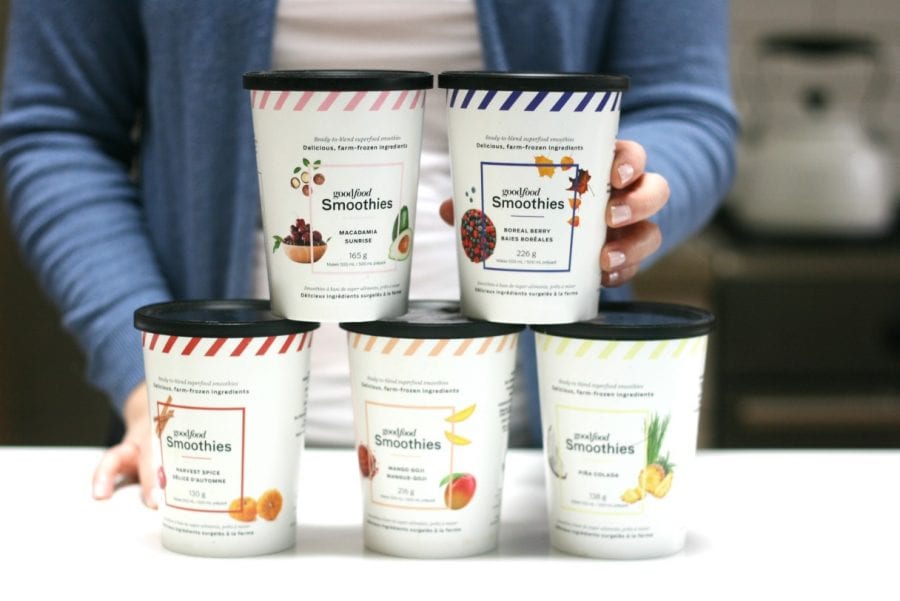 Goodfood smoothies are shipped in boxes of 12, and you can make your selections in advance. You can also choose your delivery frequency, whether that's weekly, bi-weekly, every three weeks or once a month.
Smoothies are $5.99 CAD each/$71.88 per box. Goodfood currently delivers to Quebec, Ontario, Manitoba, Saskatchewan, Alberta, British Columbia and the Maritimes. Delivery is free.
To make a smoothie, simply remove the top and fill the container with the liquid of your choice (I used water), pour the contents into a blender, whizz until smooth, then pour the contents back into your cup and enjoy. If you want to use the lid, there's a hole in the top for a straw (paper, glass or stainless steel recommended, obvs).
Here's a quick demonstration with Goodfood's delicious Mango Goji blend. Note: I filled my blender with water after pouring in the contents because I thought that might prevent spillage, but you could put the water directly into the cup if that's how you roll.
In the Mango Goji smoothie: mango, goji berries, pineapple, papaya, cashew butter, organic camu camu powder, lemon juice and Himalayan pink salt.
All delicious goodness, really.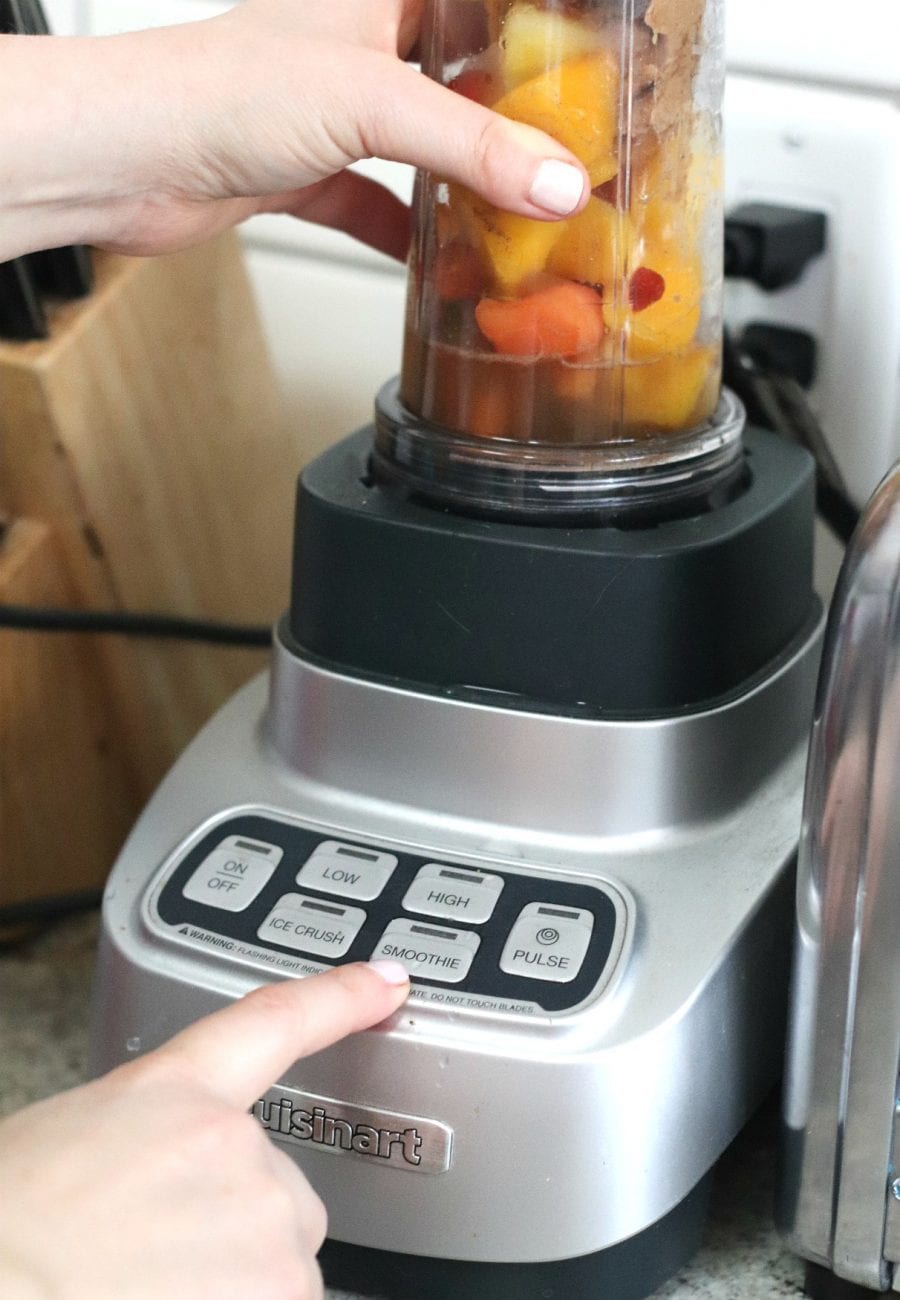 The blender was a Mother's Day gift a few years ago. It's kind of brilliant.
Now I could have enjoyed the smoothie in my blender cup, sure, but I poured it back into the paper cup for the full experience.
The straw goes in nice and snug.
And there you have it! A delicious, healthy start to the day (or afternoon boost or post-workout treat). The smoothies range from 160 to 311 calories. (Mango Goji has 210 calories, 8 grams of fat, 20 grams of carbohydrates, and 4 grams of protein.)
The four other flavours I've tried are:
Boreal Berry — A berry explosion inspired by our homeland. Reminds us of a berry muffin.
Blueberries, Raspberries, Strawberries, Banana, Kale, Sunflower Seeds, Maple Nuggets, Organic Chaga Powder.
Macadamia Sunrise — A sunny rush of rich coconut, nutty macadamias, and a hint of cherry. Reminds us of a coconut-cherry cream soda.
Red Cherry, Avocado, Banana, Macadamia, Flax Seed, Coconut Butter, Green Apple, Himalayan Pink Salt.
Acai Bellini — Bright and fruity, toned down by antioxidant-rich organic acai. Reminds us of a peach daiquiri.
Strawberry, Peach, Banana, Acai, Hemp Seeds, Gluten-Free Oats | Himalayan Pink Salt.
Piña Colada — This summer-inspired beverage is light and refreshing, with a slight touch of greens to balance the palate. Reminds us of a "skinny" piña colada.
Pineapple, Lime, Coconut Butter, Spinach, Wheatgrass.
I'll be trying the rest of the flavours in the coming months, so watch for more posts.
While the Goodfood smoothies are pitched as a breakfast option, I've been having them for lunch and an afternoon snack after a nutritionist I like recommended starting the day with a protein-rich meal and saving carbs for later in the day.
Each of the five flavours I've tried have been super tasty, with interesting combinations of fruits and superfoods that I wouldn't think to put together. And they're filling, which is what you want in a $6 smoothie. That said, you would easily pay more for the same amount at a juice bar, and here you get them delivered to your home at no extra charge. I've loved having a selection in the freezer to grab when I want something delicious and healthy.
Coupon Code: Want to test out Goodfood for yourself? Use our link to get $40 off your first box – CLICK HERE
What do you like in your smoothies? Which Goodfood flavours sound good to you?
Try Small Things – https://trysmallthings.com