Guitar Crate Review December 2018
Guitar Crate sends guitar strings to your doorstep every month, plus everything else you will need to upgrade your jam sessions! No more trying to find a music store open at 8 PM after work. No more forgetting to get a new pair and playing on that rusty set one more time. ​Think of it like a gym membership for your instrument! They kindly sent me this box for review.
Subscription Details
The Premium Subscription starts at $20/month. It includes one set of strings plus gear and accessories that will help you keep your guitar in good playing shape.
The Plus Subscription starts at $40/month. It includes two sets of strings and upgraded items.
Shipping within the USA is included in the price and international shipping is an additional $10/month.
This is a look at the December 2018 Guitar Crate Plus Box…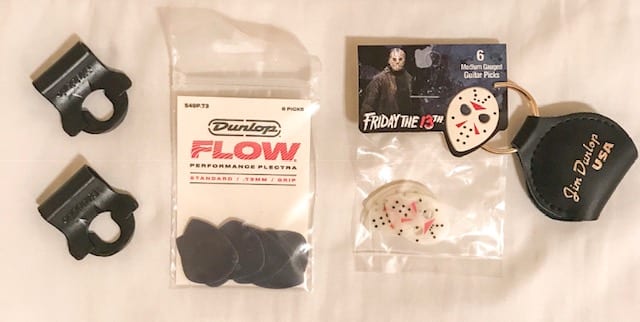 I find myself misplacing guitar picks left and right (sometimes resorting to using just my fingers). I was more than happy to see that Guitar Crate included brand new picks in my box! These will last me at least a couple of months. I love the Friday the 13th set and can't wait to use them!
I was thrilled to find a guitar triller in this month's box. This tool will allow me to experiment dozens of new sounds and techniques with my guitar!
I've been way overdue on restringing my guitar for months, so having these strings delivered right to my door is so convenient and saves me a trip to my music store. It's about time I say goodbye to my old rusty strings!
These guitar stickers are great for anyone looking to personalize and spice up their instrument.
Guitar Crate December 2018 Review Final Thoughts
As a guitarist, I love this subscription because Guitar Crate personalizes my box based on what instrument I play. They sent me exactly what I need to grow as a musician! Even if you're not a musician, this would be the perfect gift for your loved ones who are. I can't wait to jam with my new goodies!
Cynthia – www.instagram.com/cynthia_fu