HelloFresh Canada Review April 2018
HelloFresh Canada delivers fresh ingredients and healthy, chef-curated recipes based on seasonal farm fresh ingredients straight to your doorstep each week. Every week HelloFresh members choose three meals from a selection of award-winning, constantly-changing recipes (say goodbye to recipe boredom!). They kindly sent us this box for review. 
Coupon Code: Use Coupon Code YEAR3FP to receive 3 FREE plates on your first order at HelloFresh Canada – CLICK HERE
Today we are having a quick look at my April HelloFresh Canada delivery, I receive one delivery each month. I will be posting the recipes over the next week. Today I just want to show you what the box looks like when it arrives, and give you some details on your subscription options.
Subscription Details
HelloFresh Canada shipping locations include – Quebec, Ontario, Manitoba, Saskatchewan, Alberta, British Columbia, and the Maritimes. If you are thinking about giving this subscription a try, here are your options:
Choose Your Plan:

Pronto Plan ($11.67 per meal)

The Pronto Plan is quick, convenient, delicious and nutritious! Meals are simple to prepare, taking under 30 minutes to make, and full of exciting flavours to help break your mealtime routine.
3 Recipes per week for 2 or 4 people

Family Plan ($10.83 per meal)

Our Family Plan features easy-to-follow recipes with fresh, healthy ingredients. It's the best way to get the entire family (even picky eaters!) into the kitchen to cook and enjoy dinner together.
3 Recipes per week for 4 people

Veggie Plan ($12.33 per meal)

Our Veggie Plan involves an abundance of seasonal produce, hearty grains, and vegetarian friendly proteins.
3 Recipes per week for 2 people

Choose Your Delivery Day: Tuesday or Wednesday
Receive Your Weekly Delivery & Enjoy!
Note: Recipe selection is limited. The Pronto Plan and Family Plan only offer 4 recipe options per week and the Veggie Plan only provides 3 recipes which means with the Veggie Plan you do not get to choose your recipes.
I review the veggie plan each month. Here's a quick look at the recipes I received in this month's delivery….
Golden Halloumi and Ratatouille with Roasted Garlic Dressing and Ciabatta
With roasted veggies, seared halloumi and roasted garlic dressing, this vegetarian dinner is perfect for any spring night!
I rave about Halloumi all the time. Prior to reviewing HelloFresh I had never tried it before. It's not exactly vegan-friendly but I can't help but eat it when it arrives in one of my boxes. There's something very comforting about a bowl of fried Halloumi and vegetables.
Mushroom and Leek Linguine with Thyme, Garlic and Parmesan
All the elements in this dish are classics that are made for one another. Mushrooms, leeks and thyme have nothing but love for one another and couldn't pair better with a creamy sauce and pasta. Enjoy!
Mushrooms and creamy pasta…..another comfort meal. Luckily it has been cold and rainy all week and these are the kind of meals I want to curl up with on the couch.
Ecuadorian-Style Crispy Tofu with Charred Vegetables and Pickled Onion
We're all about learning new techniques to jazz up vegetables. Goodbye steamed veggies! Once you've tried these charred green beans and corn you'll be using this technique to add flavour to all your meals in the future!

Now we are talking!! I love a good tofu dish, and this one looks GOOD! Charred vegetables and crispy tofu is exactly what I am craving as of right now. This will probably end up being my favorite recipe of the three.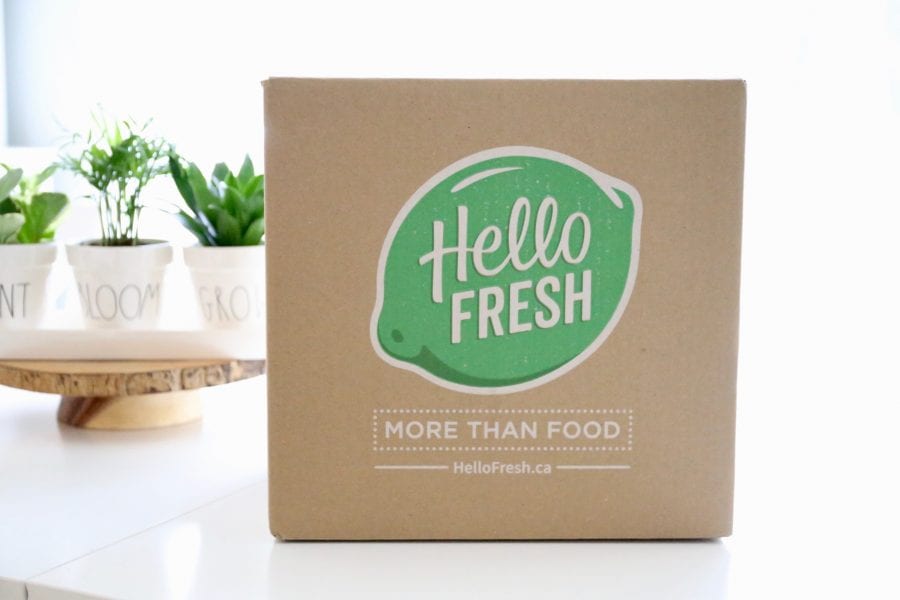 HelloFresh Canada Review April 2018 – Final Thoughts
I have to tell you……I have been LOVING my HelloFresh Canada deliveries the last little while. I feel like they have really improved since my first review. Not that I haven't always loved this box, it just seems to be getting better and better with every delivery. I'm really impressed with the quality and freshness of the veggies in this month's delivery, and all three recipes look amazing. Meal delivery services are a MUST for any busy household. They save you time, money and energy. Now……if HelloFresh would just come out with a breakfast, coffee and snack box option my life would be complete.
Stay tuned……I will post the individual recipes and my thoughts on each later this week!
XOXO