HelloFresh Canada Review: Baby Corn & Green Bean Curry
HelloFresh Canada delivers fresh ingredients and healthy, chef-curated recipes based on seasonal farm fresh ingredients straight to your doorstep each week. Every week HelloFresh members choose three meals from a selection of award-winning, constantly-changing recipes (say goodbye to recipe boredom!). 
I'm spending the week getting to know HelloFresh Canada and I've really been enjoying it so far. Today we are having a look at my second recipe from this week's delivery. So far I've found the recipes quick and easy to make. I also find them healthy and flavourful.
If you aren't familiar with HelloFresh Canada you can get all the details in THIS POST.
Let's have a look at today's recipe: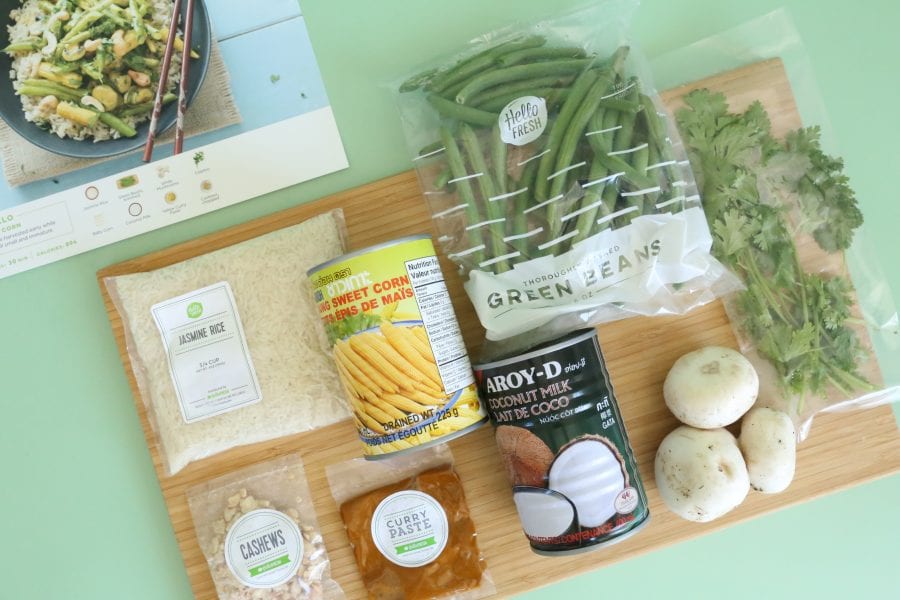 Baby Corn & Green Bean Curry with Toasted Cashews & Jasmine Rice
This delicious and beautifully fragrant dish is super easy and quick to prepare. We particularly love the baby corn. Fun fact: Baby corn is simply corn that been harvested while corn stalks are still young and immature!
Ingredients / serving 2 people:
170 g Jasmine Rice
170 g Green Beans
227 g White Mushrooms
10 g Cilantro
1 can Baby Corn
1 can Coconut Milk
2 tbsp Yellow Curry Paste
28 g Cashew Pieces
Olive or Canola Oil
Directions:
PREP – Wash and dry all produce. In a small pot, bring 1 1/3 cups salted water to a boil. Cut the green beans into 1-inch pieces. Cut the mushrooms in half (or into quarters if they are large). Drain and rinse the baby corn.
COOK RICE – Add the rice to the boiling water. Reduce the heat to medium-low. Cover with a lid, and cook until the rice is tender and the water has been absorbed, 12-14 min.
TOAST CASHEWS – Heat a large non-stick pan over medium-high heat. Add the cashews to the dry pan. Cook, stirring often, until golden-brown and toasted, 3-4 min. Set aside on a plate. (TIP: Keep your eye on them so they don't burn!)
COOK CURRY – Add a drizzle of oil to the same pan, then the mushrooms. Cook, stirring often, until golden-brown 7-8 min. Add the curry paste, coconut milk and 1/2 cup water. Cook, stirring occasionally, until the curry slightly thickens, 8-10 min.
COOK VEGGIES – Add the green beans and baby corn to the curry. Cook, stirring occasionally, until the veggies are tender, 4-5 min. Season with salt and pepper.
FINISH AND SERVE – Roughly chop the cilantro. Divide the rice between plates and top with the curry. Sprinkle with cashews and cilantro.
Notes: I love this simple curry recipe. It's vegan, has minimal ingredients, and was quite flavourful. I would definitely make this again but I would probably use peppers, broccoli and celery instead of the baby corn.
XOXO