HelloFresh Canada Review: BBQ Jackfruit Sandwich
HelloFresh Canada delivers fresh ingredients and healthy, chef-curated recipes based on seasonal farm fresh ingredients straight to your doorstep each week. Every week HelloFresh members choose three meals from a selection of award-winning, constantly-changing recipes (say goodbye to recipe boredom!).
We recently reviewed our August HelloFresh Canada delivery and now we are showing you the first of three recipes from our monthly delivery.
Let's have a look at today's recipe: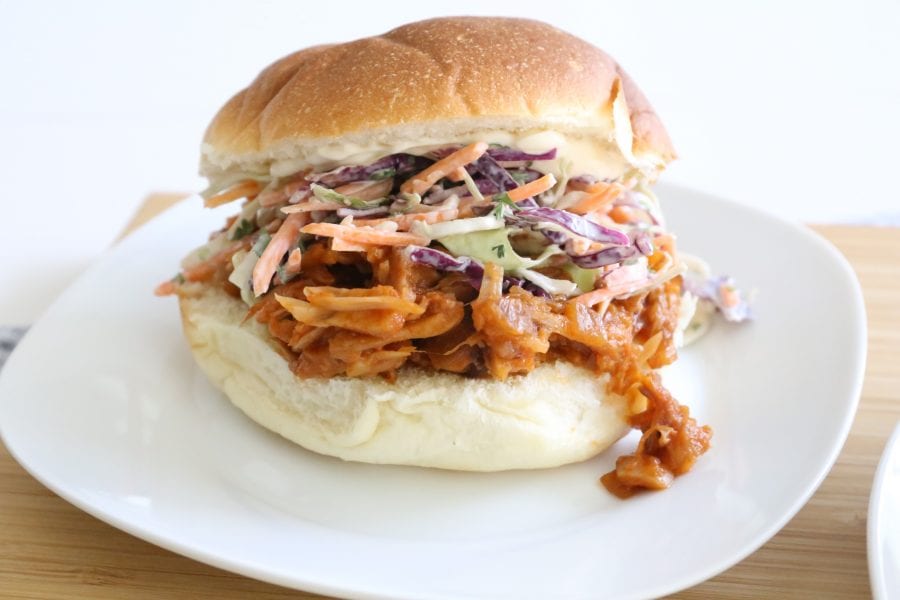 BBQ Jackfruit Sandwich with Cilantro Slaw
Jackfruit is firm and chewy in texture and is a great meat substitute. We mash and shred ours to create a mouth watering bbq sammie. Be sure to grab some extra napkins!
Ingredients:
227 g Jackfruit pieces
1 tsp BBQ Seasoning
2 tbsp BBQ Sauce
170 g Coleslaw Cabbage Mix
2 tbsp Mayonnaise
2 tbsp White Wine Vinegar
2 unit Burger Bun
10 g Cilantro
56 g Onion, chopped
Directions:
Preheat your broiler to high (to toast the buns).
Wash and dry all produce.* Drain and rinse the jackfruit. Pat the jackfruit dry with paper towels. In a medium bowl, add the jackfruit and BBQ seasoning. Using a potato masher, mash the jackfruit into smaller pieces.
Heat a medium non-stick pan over medium heat. When the pan is hot, add 1 tbsp oil, then the onions. Cook, stirring occasionally, until softened, 2-3 min. Add the jackfruit mixture. Cook, stirring occasionally, until the BBQ seasoning is fragrant, 3-4 min.
Add the BBQ sauce and 3/4 cup water to the same pan with the jackfruit. Stir to coat. Cook, stirring occasionally, until the sauce has reduced slightly and the jackfruit is tender, 10-12 min.
Meanwhile, roughly chop the cilantro. In a large bowl, whisk together the mayo, 1 tbsp vinegar and 1 tsp sugar. Season with salt and pepper. Add the cilantro and coleslaw. Toss together.
Cut the buns in half and arrange them on a baking sheet cut-side up. Toast in the middle of the oven until golden-brown, 3-4 min. (TIP: Keep your eye on them so they don't burn!)
Divide the BBQ jackfruit between the bottom buns. Top with the cilantro slaw and the top bun. Serve any extra slaw on the side.
Thoughts: Oh my goodness, talk about comfort food. For some strange reason I have been craving a pulled pork sandwich as of late, but vegans don't eat pork….right. So just imagine how excited I was when I saw this recipe in my August HelloFresh Canada delivery. I've been wanting to try Jackfruit and the fact that I get to re-create a pulled pork sandwich with it makes the experience that much better. The recipe was SUPER easy to make, all I had to do was fry the onions and jackfruit, mix the coleslaw and put my sandwich together – easy peezy! In addition to being quick and easy, the end result was flavourful and filling. I will definitely be making this again!
XOXO