HelloFresh Canada Review: Braised Chickpea Bowl
HelloFresh Canada delivers fresh ingredients and healthy, chef-curated recipes based on seasonal farm fresh ingredients straight to your doorstep each week. Every week HelloFresh members choose three meals from a selection of award-winning, constantly-changing recipes (say goodbye to recipe boredom!). They kindly sent us this box for review.
Have you jumped on the meal kit subscription trend yet? If not, you may be the minority. Meal delivery boxes are extremely popular right now, and for good reason. It's a convenient (and easy) way to keep your fridge stocked with ready-to-prepare meals. It saves you a trip to the grocery store. It cuts down on food waste, and for us personally, it saves us money. Long story short, if you haven't tried HelloFresh Canada yet…..you should!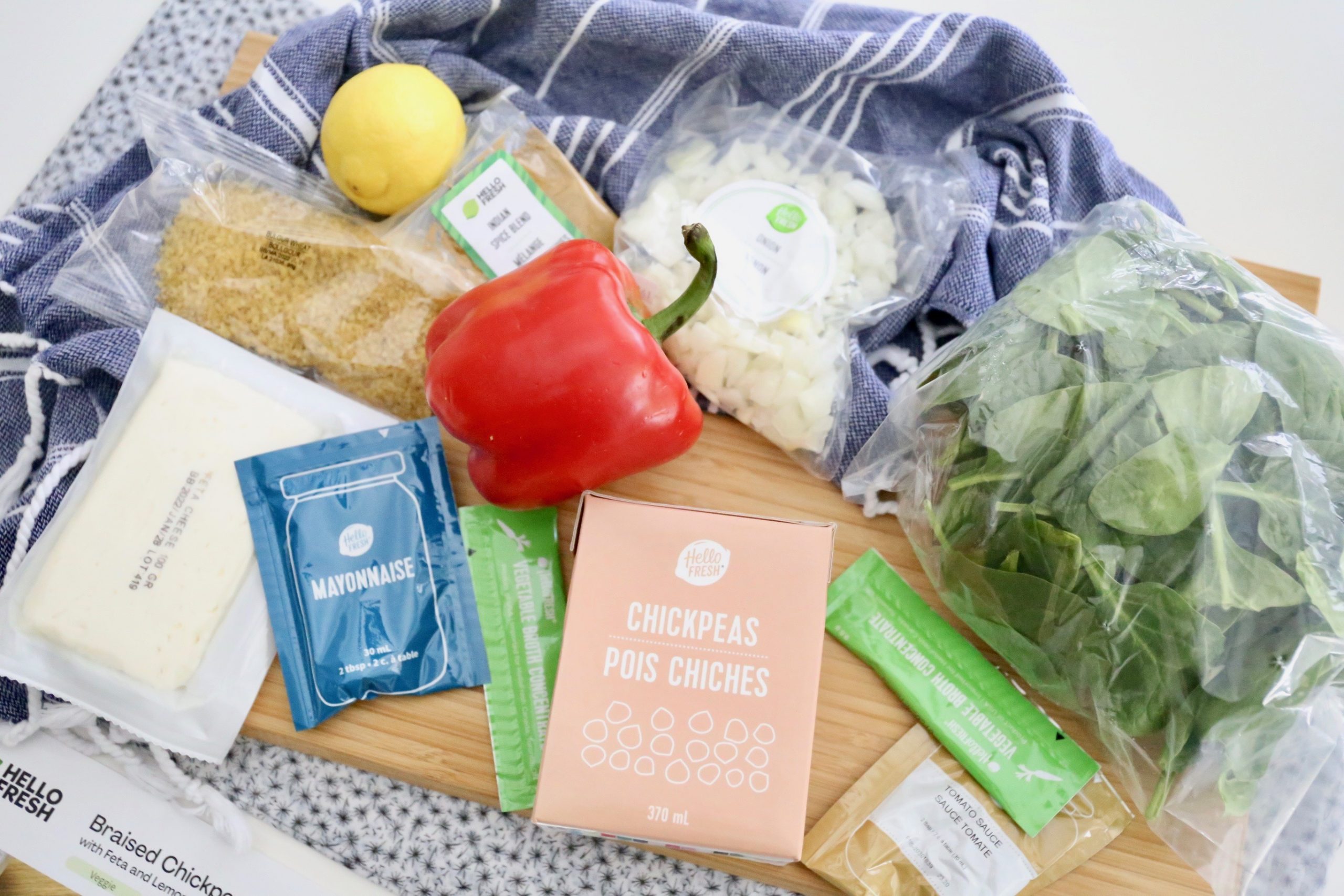 Subscription Details
HelloFresh Canada has three meal plans to choose from. Each week you can curate your personal menu and choose from 25 delicious recipes.
Pronto Plan – The widest variety of meat, fish, and produce. Recipes come together in 30 minutes or less! Starting at $11.66 per serving.
Family Plan – Picky-eater approved recipes with meat, fish, and seasonal produce. Includes 20 Minute Meal options. Starting at $9.99 per serving.
Veggie Plan – 100% vegetarian recipes with fresh, seasonal ingredients. Starting at $9.83 per serving.
Here's a closer look at one of the recipes from this week's HelloFresh Canada delivery…..
Braised Chickpea Bowl with Feta and Lemon-Garlic Toum
Protein-packed chickpeas get a flavour boost from warm Indian Spices in this hearty and fragrant stew. You'll want to scoop up every last bit of this veggie-filled wonder!
370 mL Chickpeas
¾ cup Freekeh
1 tbsp Indian Spice Blend
56 g Onion, chopped
6 g Garlic
160 g Sweet Bell Pepper
100 g Feta Cheese
2 unit Vegetable Broth Concentrate
2 tbsp Tomato Sauce
113 g Baby Spinach
1 unit Lemon
2 tbsp Mayonnaise
1: Before starting, wash and dry all produce. Garlic Guide for Step 4 (dbl for 4 ppl): 1/4 tsp mild, 1/2 tsp medium and 1 tsp extra! Combine freekeh, 1 broth concentrate (2 for 4 ppl) and 1 1/4 cups water (dbl for 4 ppl) in a medium pot. Cover and bring to a boil over high heat, then reduce heat to low. Simmer, still covered, until freekeh is tender and liquid is absorbed, 22-25 min.
2: While the freekeh cooks, cut the pepper into 1/2-inch cubes. Roughly chop the spinach. Zest, then juice half the lemon (whole lemon for 4 ppl). Peel, then mince or grate the garlic. Drain and rinse the chickpeas.
3: Heat a large non-stick pan over medium heat. When hot, add 1 tbsp oil (dbl for 4 ppl), then the onions and peppers. Cook, until veggies soften, 3-4 min. Add the chickpeas, Indian Spice Mix, remaining broth concentrate, tomato sauce, 1 cup water (dbl for 4 ppl) and half the garlic. Simmer, until slightly reduced, 6-7 min. Remove from heat. Season with salt and pepper.
4: While the chickpeas braise, mix the mayo, lemon zest, 1 tbsp lemon juice (dbl for 4 ppl) and 1/4 tsp garlic together in a small bowl. (NOTE: Reference Garlic Guide.) Season with salt and pepper. Set aside.
5: Stir the spinach into the chickpea braise, until wilted, 1-2 min. Season the freekeh with salt. Divide the freekeh between bowls and top with the chickpea braise. Crumble over the feta. Drizzle the lemon-garlic toum over top.
Braised Chickpea Bowl – Final Thoughts
We've really lucked out with our HelloFresh Canada deliveries the last few months and have loved all the recipes we have received. Today's recipe, however, wasn't my favorite. That's not to say it was bad, because it wasn't. And, my husband did in fact like it. My personal preferences aside, it was easy to make, full of healthy ingredients and the portion sizes were perfect. Overall, I am still very happy with our HelloFresh Canada deliveries and can't stress enough just how much easier they make my life.
-AYOB Sarah
Explore.
Save.
Enjoy!
Sign up for a free account on A Year of Boxes to receive exclusive offers, be added to our monthly mailing list, and much more! We are always adding features to improve the experience for our users, from their valuable feedback!
Join Today!