HelloFresh Canada Review: Cannellini Bean Veggie Burger
HelloFresh Canada delivers fresh ingredients and healthy, chef-curated recipes based on seasonal farm fresh ingredients straight to your doorstep each week. Every week HelloFresh members choose three meals from a selection of award-winning, constantly-changing recipes (say goodbye to recipe boredom!). 
We recently reviewed our October HelloFresh Canada delivery and now we are showing you the last of three recipes from our monthly delivery. Oh, and if you aren't familiar with HelloFresh Canada you can get all the details in THIS POST.
Coupon Code: Use Coupon Code YEAR3FP to receive 3 FREE plates on your first order at HelloFresh.ca! – CLICK HERE
Let's have a look at today's recipe: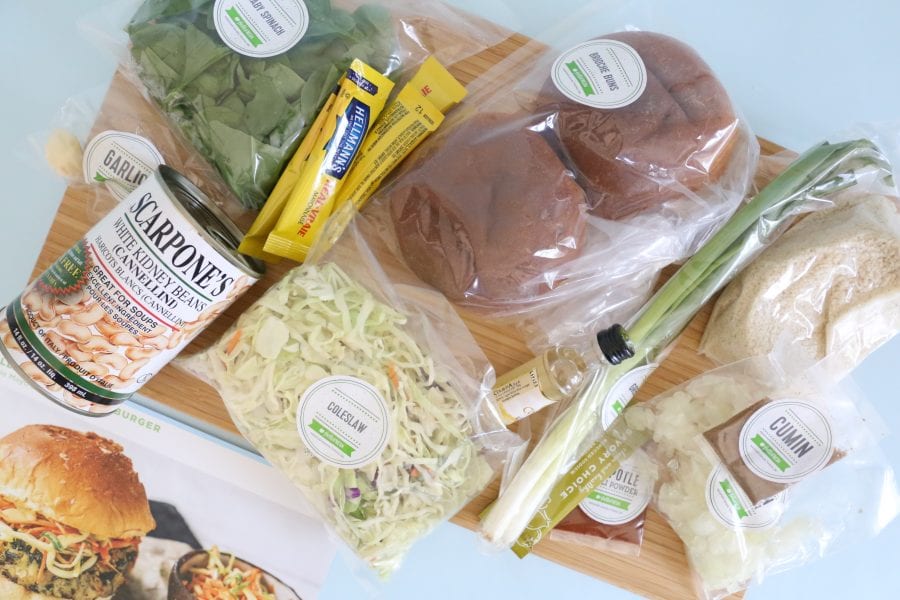 Cannellini Bean Veggie Burger with Chipotle Mayo and Coleslaw
These filling burgers are a delicious way to enjoy a vegetarian meal. Finishing with a tangy, smoky mayo and buttery brioche bun turns this burger up a notch!
Ingredients:
10 g Garlic
2 Green Onions
8 tsp Mayonnaise
1 tbsp White Wine Vinegar
113 g Coleslaw Cabbage Mix
56 g Onion
56 g Baby Spinach
1 tsp Cumin
1 unit Vegetable Broth Concentrate
1 can Cannellini Beans
1 tsp Chipotle Powder
1 cup Panko
2 Brioche Bun
Directions:
Wash and dry all produce.* Mince or grate the garlic. Thinly slice the green onions. Drain and rinse the beans.
MAKE SLAW: In a medium bowl, whisk together half the mayonnaise and 1/2 bottle vinegar. Stir in the coleslaw, 1 tsp sugar and green onions. Season with salt and pepper. Set aside.
COOK SPINACH: Heat a large non-stick pan over medium heat. Add a drizzle of oil, then the onions. Cook, stirring occasionally, until softened, 4-5 min. Add the spinach and 1 tbsp water. Cook, stirring, until wilted, 1-2 min. Transfer the spinach to a cutting board. Finely chop the spinach.
COOK BURGERS: In a medium bowl, mash half the beans using a fork or potato masher. Add in the spinach, panko, garlic, cumin, broth concentrate and remaining beans. Season with salt and pepper. Form the mixture into two 4-inch wide patties. Heat the same pan over medium-high heat. Add a drizzle of oil, then the burgers. Cook until golden-brown, 3-4 min per side.
TOAST BUNS: Meanwhile, split the buns in half and arrange them on a baking sheet cut-side up. Toast in the centre of the oven until golden-brown, 30 sec to 1 min. (TIP: Keep your eye on the buns so they don't burn!)
FINISH AND SERVE: In a small bowl, stir together the remaining mayo with as much chipotle powder as you like. Spread the buns with the chipotle mayo. Arrange the burgers between the buns. Top with some coleslaw, if desired. Serve the remaining coleslaw to the side.
Notes: I love testing out new veggie burger recipes. I've tried a few in my day, but have never made one with cannellini beans until now. I ended up switching out the spinach for celery (the only green veggie I had in my fridge) as I can be quite picky with my spinach and will only really use it if it's straight from the garden. Overall the burgers had really nice flavour. They were a little dry, as is the case with most veggie burgers unless you add egg (which I never do). I enjoyed making these.
XOXO