HelloFresh Canada Review: Harira-Style Lentil Veggie Stew
HelloFresh Canada delivers fresh ingredients and healthy, chef-curated recipes based on seasonal farm fresh ingredients straight to your doorstep each week. Every week HelloFresh members choose three meals from a selection of award-winning, constantly-changing recipes (say goodbye to recipe boredom!). They kindly sent us this box for review.
Our Canadian Facebook Group has been very active the last few weeks as everyone is looking for gift recommendations. And just the other day someone asked what I would recommend for new parents. HelloFresh Canada was one of the first boxes that came to mind because it has been such a lifesaver, for me personally, since becoming a Mom. I would be lost without it:)
Subscription Details
HelloFresh Canada has three meal plans to choose from. Each week you can curate your personal menu and choose from 25 delicious recipes.
Pronto Plan – The widest variety of meat, fish, and produce. Recipes come together in 30 minutes or less! Starting at $11.66 per serving.
Family Plan – Picky-eater approved recipes with meat, fish, and seasonal produce. Includes 20 Minute Meal options. Starting at $9.99 per serving.
Veggie Plan – 100% vegetarian recipes with fresh, seasonal ingredients. Starting at $9.83 per serving.
Here's a closer look at one of the recipes from this week's HelloFresh Canada delivery…..
Harira-Style Lentil Veggie Stew
Tonight's meal is inspired by the traditional Moroccan soup, Harira! Lentils, Morrocan spices, sweet zucchini and savoury crushed tomatoes come together for a comforting bowl of goodness. Make sure you wipe the bowl clean with the spiced pita wedges!
Ingredients:
113 g Red Lentils
2 unit Pita Bread
200 g Zucchini
50 g Shallot
1 tbsp Moroccan Spice Blend
1 unit Vegetable Broth Concentrate
398 mL Diced Tomatoes
1 tbsp Harissa Paste
¼ cup Feta Cheese, crumbled
7 g Cilantro
Directions:
1: Before starting, preheat the oven to 450°F.Wash and dry all produce. Cut zucchini into quarters lengthwise, then into 1/2-inch thick quarter-moons. Peel, then finely chop shallot. Roughly chop cilantro. Using a strainer, rinse lentils. Cut each pita into quarters, then each quarter in half to make 8 wedges in total (16 wedges for 4ppl).
2: Heat a large non-stick pan over medium-high heat. When hot, add 1⁄2 tbsp oil (dbl for 4 ppl), then zucchini. Cook, stirring often, until tender-crisp, 3-4 min. Remove pan from the heat, then transfer zucchini to a plate.
3: Heat the same pan over medium heat. When hot, add 1 tbsp oil (dbl for 4ppl), then shallots. Season with salt. Cook, stirring occasionally, until softened, 3-4 min. Add harissa paste and 2 tsp Moroccan Spice Blend (dbl for 4ppl) and stir until fragrant, 1 min.
4: Add lentils, tomatoes, broth concentrate and 1 1/2 cups water (dbl for 4ppl) to the same pan. Bring to a boil over high heat. Once boiling, reduce heat to medium. Cook, stirring often, until lentils soften, 12-15 min. Add zucchini and cook, stirring often, until heated through, 1-2 min. Season with salt and pepper.
5: While stew simmers, arrange pita wedges on a parchment-lined baking sheet. Drizzle the pita wedges with 1 tbsp oil (dbl for 4ppl), then sprinkle with remaining Moroccan Spice Blend. Toss to coat. Season with salt and pepper. Bake in the middle of the oven until golden-brown and crispy, 4-5 min.
6: Divide stew between bowls and sprinkle with feta and cilantro. Serve spiced pita wedges on the side for dunking.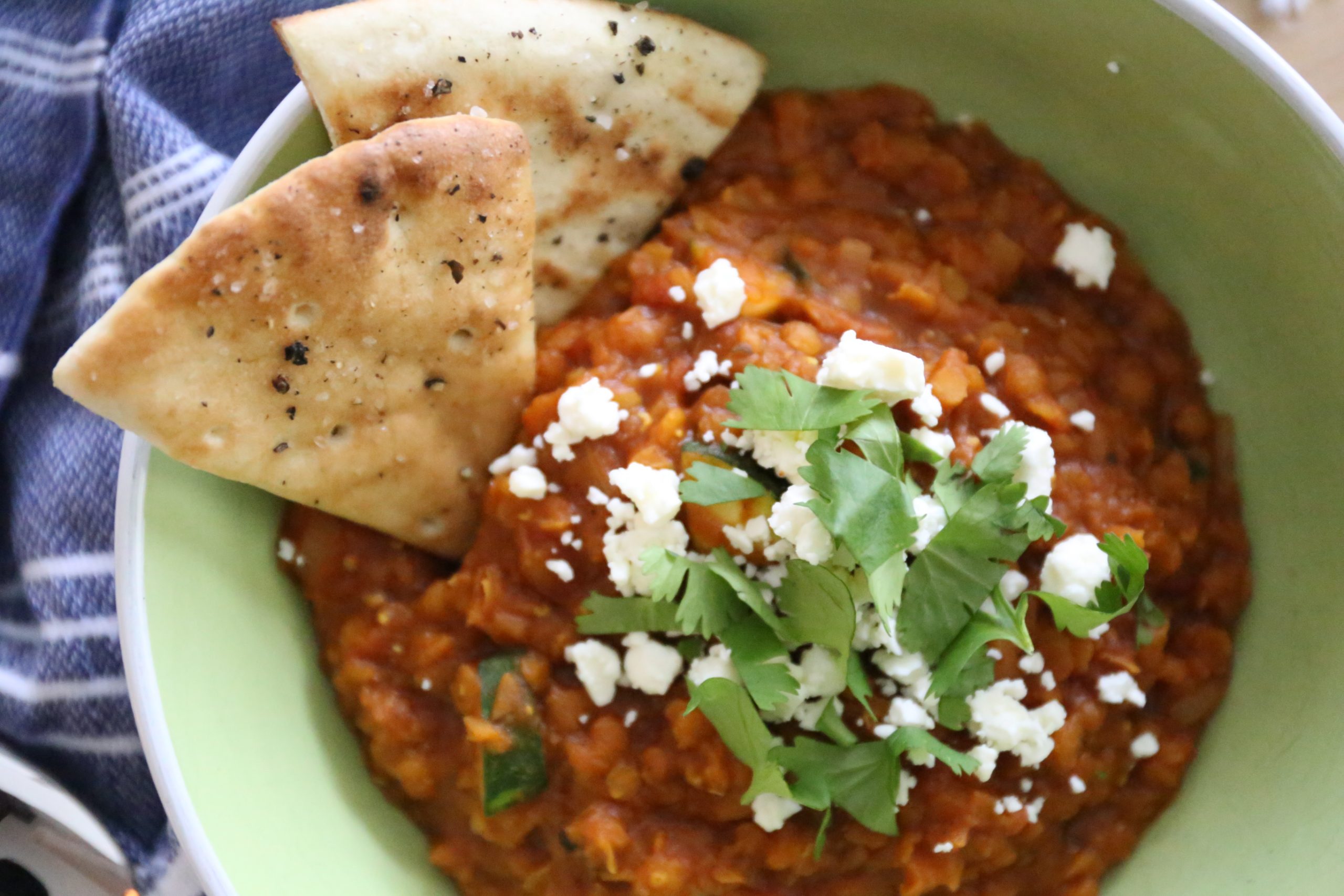 Harira-Style Lentil Veggie Stew – Final Thoughts
Harrisa is spice I haven't quite fallen in love with as of yet, so I thought I might not like this recipe as much as some of my other HelloFresh Canada meals. But…..it turned out better than expected. I actually really love the flavour. It has the perfect amount of spice, and the zucchini is a nice addition. The pita pairs perfectly with the stew and the feta adds a nice little zip. It was very easy to make, not too many steps, and probably took me just over 30 minutes. The portion sizes were perfect for me but maybe a little small for my husband. Overall, I really like this stew and would probably order it again.
-AYOB Sarah