HelloFresh Canada Review: Harissa Halloumi Rainbow Bowl
HelloFresh Canada delivers fresh ingredients and healthy, chef-curated recipes based on seasonal farm fresh ingredients straight to your doorstep each week. Every week HelloFresh members choose three meals from a selection of award-winning, constantly-changing recipes (say goodbye to recipe boredom!). They kindly sent us this box for review.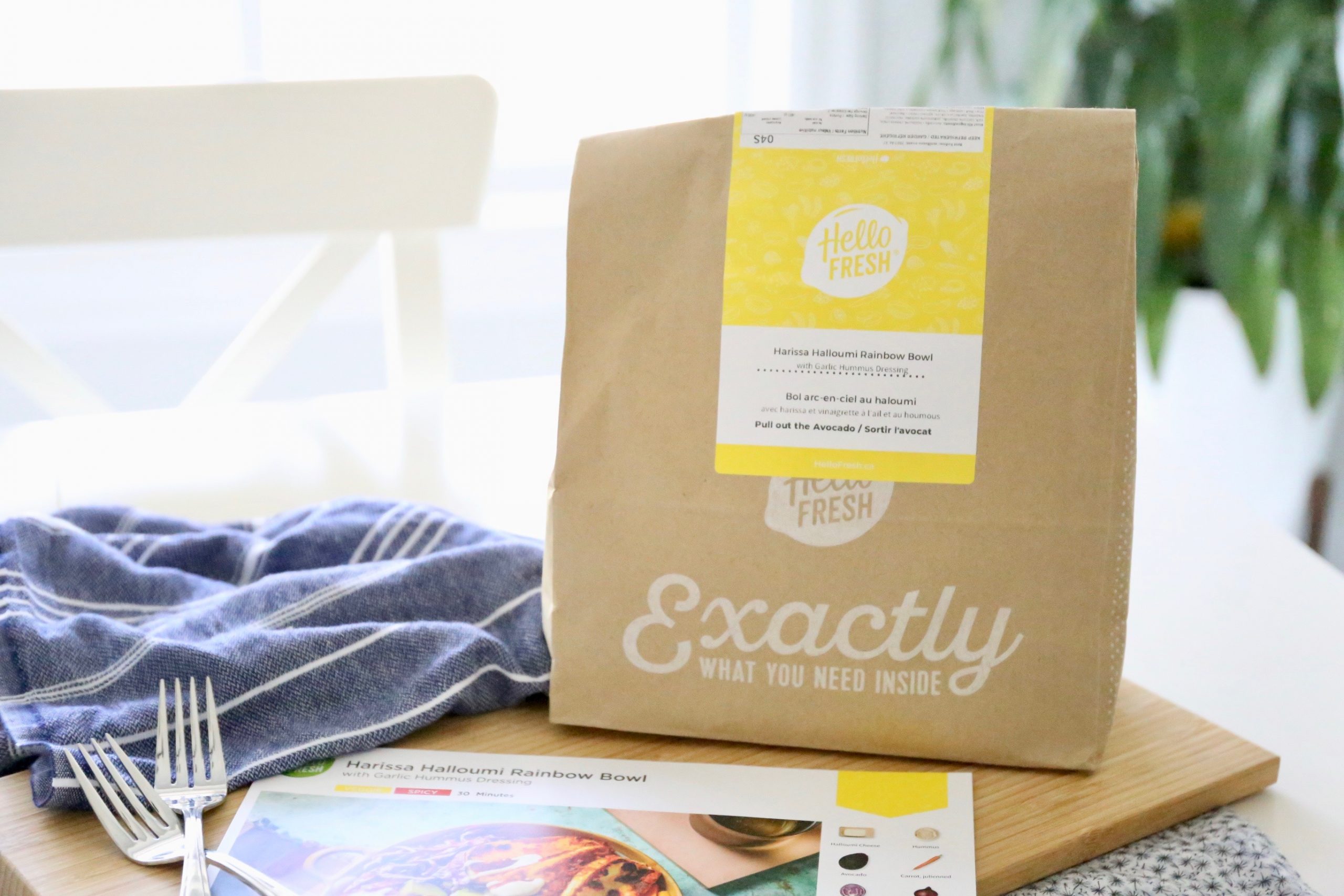 Being a new mom has completely changed my outlook on things. It has also changed the way I live my life. Time is limited, priorities have changed and I am now depending on my subscription boxes more than ever. HelloFresh Canada being one of those subscriptions. I can't express in words how wonderful it is to receive three new recipes, and all the ingredients, in the mail each week. It really is a game-changer.
Subscription Details
HelloFresh Canada has three meal plans to choose from. Each week you can curate your personal menu and choose from 25 delicious recipes.
Pronto Plan – The widest variety of meat, fish, and produce. Recipes come together in 30 minutes or less! Starting at $11.66 per serving.
Family Plan – Picky-eater approved recipes with meat, fish, and seasonal produce. Includes 20 Minute Meal options. Starting at $9.99 per serving.
Veggie Plan – 100% vegetarian recipes with fresh, seasonal ingredients. Starting at $9.83 per serving.
Here's a closer look at one of the recipes from this week's HelloFresh Canada delivery…..
Harissa Halloumi Rainbow Bowl with Garlic Hummus Dressing
Coating delicious halloumi slices in harissa is how we're changing the game of quick and simple summer salads! Basmati rice is topped with a flurry of colourful veggies that are tossed in a homemade garlic hummus dressing. Each bite of this salad is unique and satisfying!
Ingredients:
200 g Halloumi Cheese
57 g Hummus
1 unit Avocado
56 g Carrot, julienned
113 g Red Cabbage, shredded
113 g Red Onion, sliced
2 tbsp Red Wine Vinegar
2 tbsp Mayonnaise
3 g Garlic
¾ cup Basmati Rice
1 tbsp Harissa Past
Directions:
1: Before starting, wash and dry all produce. Don't have a garlic press? Lay the garlic cloves on a chopping board, then place a chef's knife on top and press down firmly to crush. Finely chop the garlic. Add 1 1/4 cups water (dbl for 4 ppl) to a medium pot. Cover and bring to a boil over high heat. Meanwhile, cut halloumi into 1/4-inch thick slices. Rinse halloumi slices, then pat dry with paper towels. Peel, pit, then cut avocado into bite-sized pieces. Peel, then mince or grate garlic.
2: Add rice to the pot of boiling water. Reduce heat to low. Cook, still covered, until rice is tender and liquid is absorbed, 12-14 min.
3: While rice cooks, heat a small pot over medium heat. When hot, add onions, half the vinegar, 1/4 cup water and 1 tsp sugar (dbl both for 4 ppl). Season with 1/2 tsp salt (dbl for 4 ppl). Cook, stirring occasionally, until tender-crisp, 3-4 min. Transfer pickled onions along with liquid, to a small bowl and set aside.
4: Heat a large non-stick pan over medium heat. When hot, add halloumi to the dry pan. Pan-fry, until golden-brown, 2-3 min per side. Remove the pan from heat and add harissa paste. Toss to coat.
5: While halloumi cooks, whisk together hummus, mayo, remaining vinegar and 1/4 tsp garlic (dbl for 4 ppl) in another small bowl. Season with salt and pepper. Fluff rice with a fork, then season with salt.
6: Toss cabbage and 1 tbsp hummus dressing (dbl for 4 ppl) in a medium bowl. Divide rice between bowls, then top with carrots, avocado, cabbage, pickled onion and harissa halloumi. Drizzle over remaining hummus dressing.
Final Thoughts
Love, love, love this recipe from our HelloFresh Canada delivery! Just look at the beautiful colors and the fresh ingredients! This Rainbow Bowl was easy to make, full of vegetables and had just the right amount of spice/flavor. I could easily make it vegan friendly by swapping the halloumi for tofu and omitting the mayo. I was able to make 3 smaller bowls (rather than two like the recipe suggests) and even though I made the portions smaller it was still very filling. I LOVE that the onions, cabbage and carrots were pre-cut as this saved me a ton of prep time – something that sets them apart from other meal delivery subscriptions.
I would definitely order this recipe again, which is usually the case with my HelloFresh Canada deliveries.
-AYOB Sarah