HelloFresh Canada Review June 2018
HelloFresh Canada delivers fresh ingredients and healthy, chef-curated recipes based on seasonal farm fresh ingredients straight to your doorstep each week. Every week HelloFresh members choose three meals from a selection of award-winning, constantly-changing recipes (say goodbye to recipe boredom!). They kindly sent us this box for review.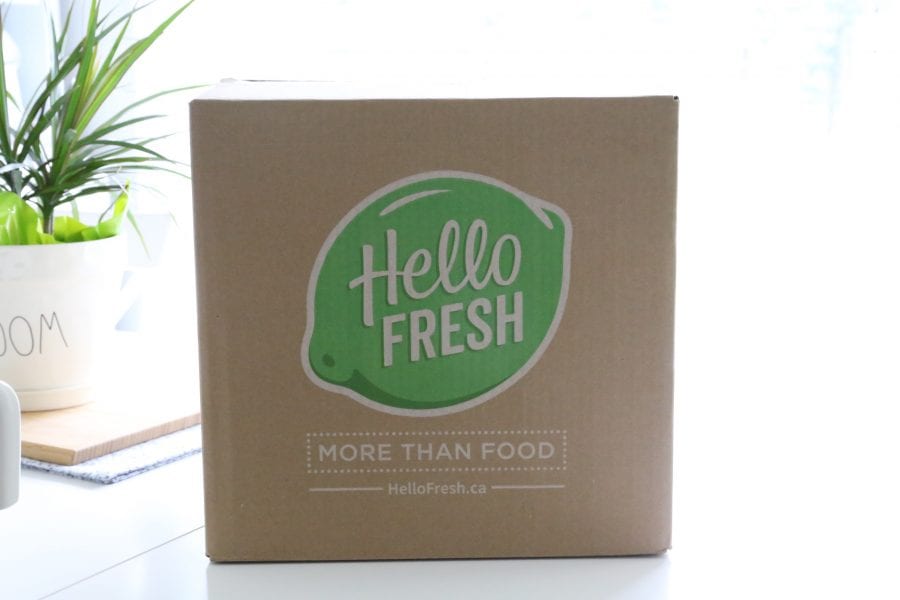 Today we are having a quick look at my June HelloFresh Canada delivery, I receive one delivery each month and have been for a little while now. It has become a staple in our house. I absolutely LOVE having quick and easy recipes on hand complete with pre-measured ingredients and easy to follow recipe cards.
Subscription Details
HelloFresh Canada has a few different meal plans to choose from……
Choose Your Plan:

Pronto Plan ($11.67 per meal)

The Pronto Plan is quick, convenient, delicious and nutritious! Meals are simple to prepare, taking under 30 minutes to make, and full of exciting flavours to help break your mealtime routine.
3 Recipes per week for 2 or 4 people

Family Plan ($10.83 per meal)

Our Family Plan features easy-to-follow recipes with fresh, healthy ingredients. It's the best way to get the entire family (even picky eaters!) into the kitchen to cook and enjoy dinner together.
3 Recipes per week for 4 people

Veggie Plan ($12.33 per meal)

Our Veggie Plan involves an abundance of seasonal produce, hearty grains, and vegetarian friendly proteins.
3 Recipes per week for 2 people

Choose Your Delivery Day: Tuesday or Wednesday
Receive Your Weekly Delivery & Enjoy!
Note: Recipe selection is limited. The Pronto Plan and Family Plan only offer 4 recipe options per week and the Veggie Plan only provides 3 recipes which means with the Veggie Plan you do not get to choose your recipes.
I review the veggie plan each month. Here's a quick look at the recipes I received in this month's delivery….
Burrata Margherita Pizzettes with Charred Corn and Shallots
Margherita pizza is transformed with this sweet corn twist. Its the perfect pairing for the creamy burrata, tomato sauce and basil. This pizza is a total game changer!
Tuscan-Style Cannellini Beans with Zucchini and Tomato Spring Greens
Mediterranean spices elevate the flavour of these simple beans. Paired perfectly with roasted potatoes and a fresh spring salad for a hearty veggie dish!
Spinach and Paneer with Fragrant Cilantro Basmati
We're keeping it traditional tonight… well, almost. This tasty spinach dhal is classic South Asian fare, but it's the ingenious spiced chapati chips that really send our hearts aflutter.
HelloFresh Canada Review June 2018 – Final Thoughts
This week's HelloFresh Canada delivery has some really great options. I received an easy-to-make pizza recipe, a healthy vegan recipe complete with roasted potatoes and salad, and a wonderful spinach dahl with paneer. I have an ethnic dish, comfort food and a healthy veggie-packed meal. Each recipe appears to be quick and easy and I love that the onions are pre-cut……no watery eyes for this girl! Stay tuned as we will be posting the final version of each recipe later this week.
XOXO