HelloFresh Canada Review: Mediterranean Black Bean Flatbread
HelloFresh Canada delivers fresh ingredients and healthy, chef-curated recipes based on seasonal farm fresh ingredients straight to your doorstep each week. Every week HelloFresh members choose three meals from a selection of award-winning, constantly-changing recipes (say goodbye to recipe boredom!). They kindly sent us this box for review.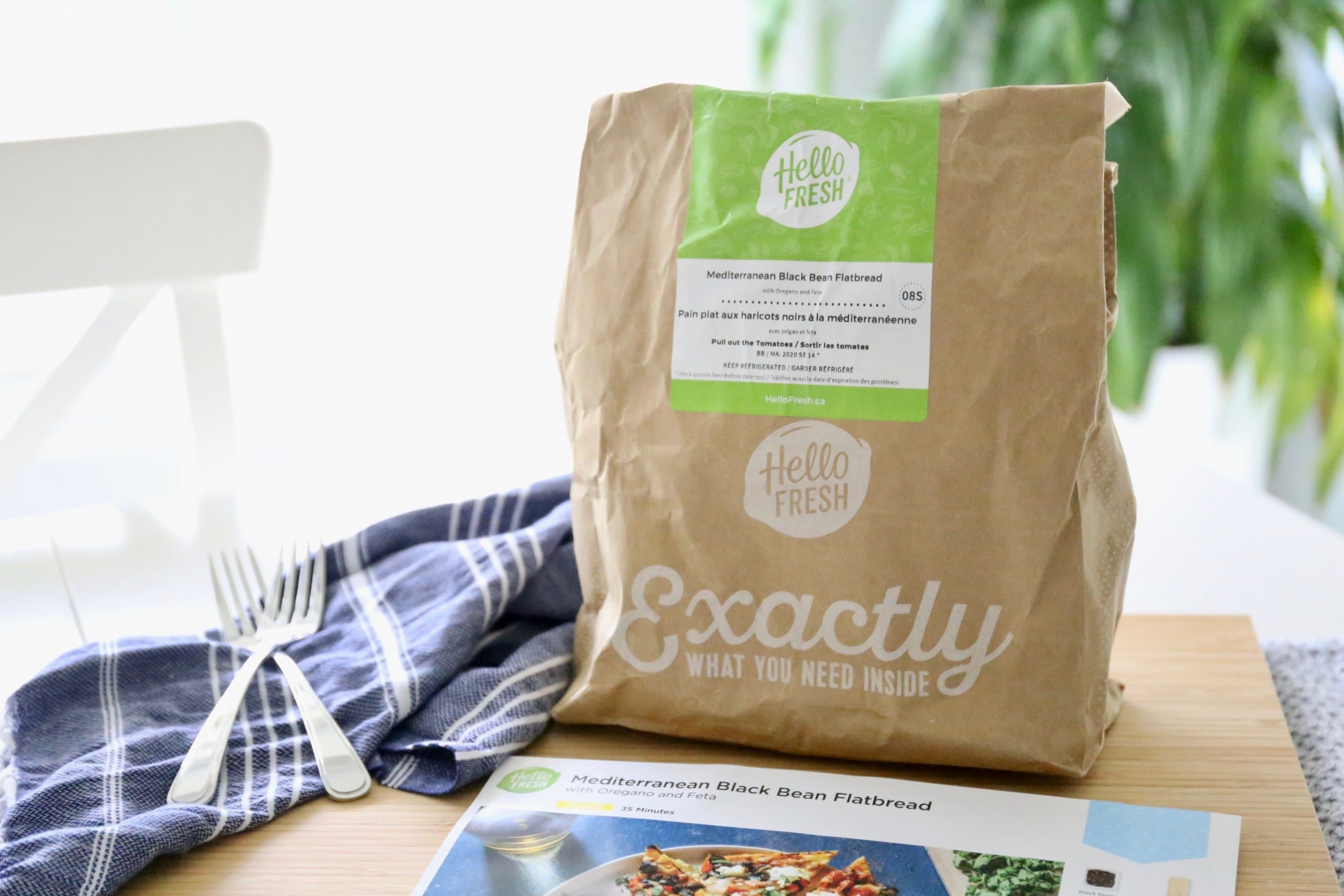 If you read my last HelloFresh Canada review/recipe you will know that the hubby is away this week and the little guy and I are on our own. Therefore, I am running a business, looking after the house and "momming" all at the same time. This leaves little to no time for cooking dinner but I refuse to eat packaged dinners or order takeout every night and that's where my HelloFresh Canada deliveries come in to play. All their recipes are quick and easy to make, and so far I have been able to cook and entertain baby at the same time.
Subscription Details
HelloFresh Canada has three meal plans to choose from. Each week you can curate your personal menu and choose from 25 delicious recipes.
Pronto Plan – The widest variety of meat, fish, and produce. Recipes come together in 30 minutes or less! Starting at $11.66 per serving.
Family Plan – Picky-eater approved recipes with meat, fish, and seasonal produce. Includes 20 Minute Meal options. Starting at $9.99 per serving.
Veggie Plan – 100% vegetarian recipes with fresh, seasonal ingredients. Starting at $9.83 per serving.
Here's a closer look at one of the recipes from this week's HelloFresh Canada delivery…..
Mediterranean Black Bean Flatbread with Oregano and Feta
Crispy, flakey, and oh-so-good! Our signature flatbread is topped to perfection with Mediterranean-spiced tomatoes, salty feta, herbaceous oregano and roasted red peppers. We're checking off all the boxes here, OPA!
370 mL Black Beans
2 unit Flatbread
¼ cup Feta Cheese
7 g Oregano
113 g Cherry Tomatoes
66 g Mini Cucumber
1 tbsp Red Wine Vinegar
1 tbsp Mediterranean Spice Blend
56 g Baby Spinach
½ cup Marinara Sauce
½ cup Mozzarella Cheese, shredded
170 mL Roasted Red Peppers
1: Before starting, preheat your broiler to high. Wash and dry all produce. Toss tomatoes with the Mediterranean Spice Blend and 1/2 tbsp oil (dbl for 4ppl) on a foil-lined baking sheet. Season with salt and pepper. Broil, in the middle of the oven until slightly charred, 4-5 min.
2: While the tomatoes broil, drain then rinse the black beans. Slice the cucumber into 1/4-inch rounds. Strip the oregano leaves from the stem, then roughly chop. Drain the liquid from the roasted red peppers, then roughly chop.
3: Arrange flatbreads on another baking sheet, top side-down. Broil in the middle of the oven until golden-brown, 1-2 min per side. Spread marinara onto toasted flatbreads, then top with beans, roasted red peppers, charred tomatoes, mozzarella and feta. (NOTE: For 4 ppl, use 2 baking sheets, with 2 flatbreads per sheet. Broil in the middle of the oven, one baking sheet at a time)
4: Broil assembled flatbreads in the middle of the oven, until cheese melts and toppings are heated through, 3-4 min.**
5: While flatbreads broil, whisk together vinegar, 2 tbsp oil and 1/2 tsp sugar (dbl both for 4ppl) in a large bowl. Add spinach and cucumber, then toss to combine. Season with salt and pepper.
6: Cut the flatbreads into quarters. Sprinkle over the oregano. Serve with salad on the side.
Mediterranean Black Bean Flatbread – Final Thoughts
Another HelloFresh Canada favorite! I order the flatbread recipes every chance I get because they are SO good and SO easy to make, but this just might be a new favourite. It's the first flatbread recipe I've received that includes beans as a topping. This is absolutely genius! How have I never thought of doing this before?! Not only will I order this one again but it's also a recipe I will keep on hand and make on my own. I always have beans in the pantry and veggies in the fridge, now I just need to find out where to buy these amazing flatbreads and I will keep those on hand as well. It's the perfect recipe for a Friday evening, the end of the week, when you are tired and need something quick to make. Love, love, love!
PS – Since hubby is away this week I decided to substitute the regular cheese for some vegan cheese I had in the fridge. I do this about 50% of the time with my HelloFresh Canada recipes. I always have dairy alternatives on hand and the HelloFresh Canada veggie recipes usually only require one or two swaps in order to make them vegan.
-AYOB Sarah