HelloFresh Canada Review: Mexican Black Bean Bowl
HelloFresh Canada delivers fresh ingredients and healthy, chef-curated recipes based on seasonal farm fresh ingredients straight to your doorstep each week. Every week HelloFresh members choose three meals from a selection of award-winning, constantly-changing recipes (say goodbye to recipe boredom!). They kindly sent us this box for review.
I have always loved my meal delivery boxes but I love them even more now that I'm a new Mom. I had no clue what life would look like when Baby Steven arrived. I was worried that I wouldn't have time to cook meals and that we would be ordering take-out on a regular basis. But….that hasn't been the case at all. Boxes like HelloFresh Canada have been my go-to for dinner and they fit perfectly into our crazy new life – baby and all.
Subscription Details
HelloFresh Canada has three meal plans to choose from. Each week you can curate your personal menu and choose from 25 delicious recipes.
Pronto Plan – The widest variety of meat, fish, and produce. Recipes come together in 30 minutes or less! Starting at $11.66 per serving.
Family Plan – Picky-eater approved recipes with meat, fish, and seasonal produce. Includes 20 Minute Meal options. Starting at $9.99 per serving.
Veggie Plan – 100% vegetarian recipes with fresh, seasonal ingredients. Starting at $9.83 per serving.
Here's a closer look at one of the recipes from this week's HelloFresh Canada delivery…..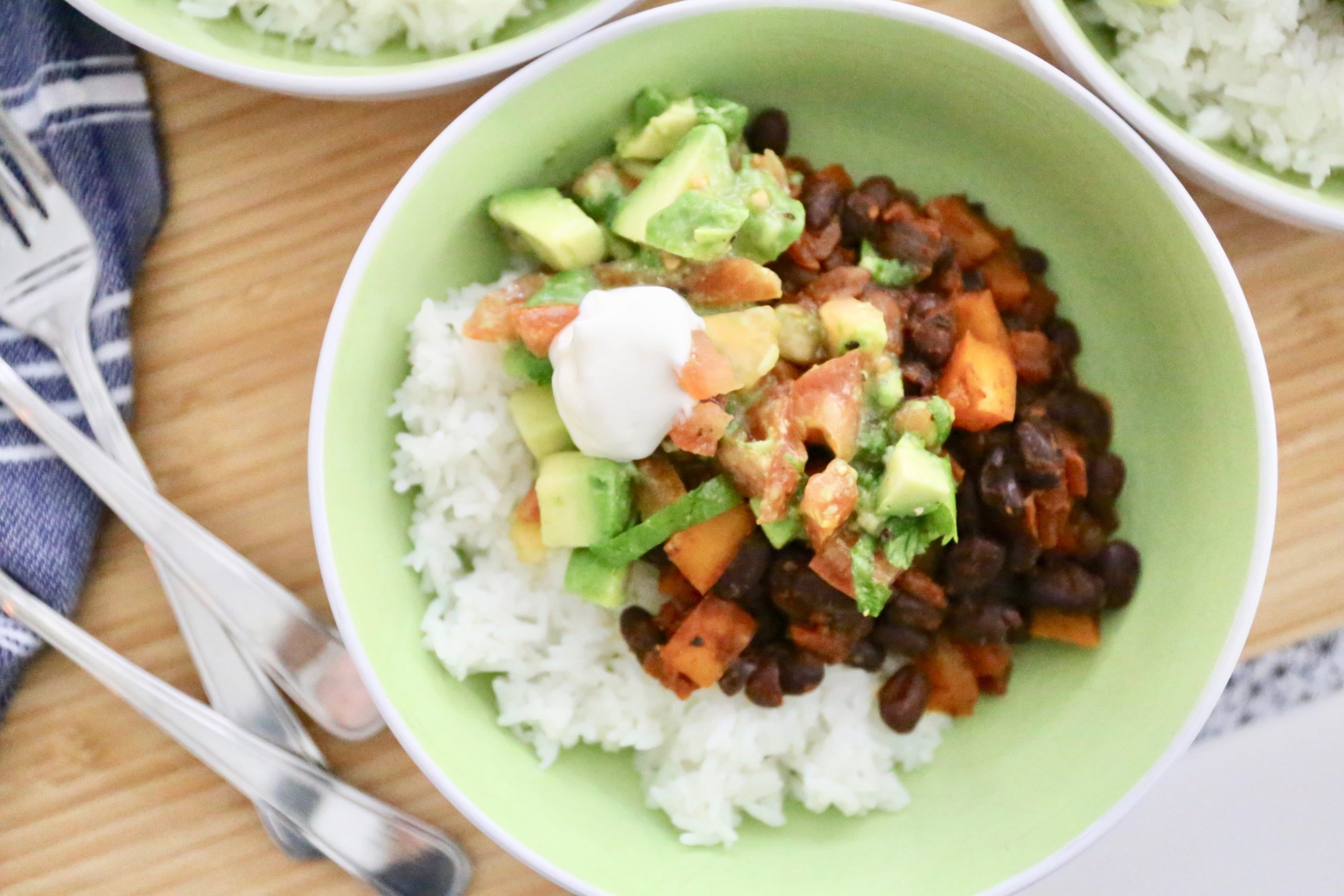 Mexican Black Bean Bowl with DIY Tangy Guacamole
You may not look at black beans the same way again after you've tasted this aromatic and zesty version of a Mexican classic! We've sourced the best ingredients and show you all the tricks to maximizing their flavour – from using both the zest and juice of fresh lime, to our handy Mexican seasoning. Even the rice gets a helping hand with fresh cilantro. Our fuss-free tangy guacamole is the perfect topping.
Ingredients:
56 g Red Onion, chopped
370 mL Black Beans
6 g Garlic
160 g Sweet Bell Pepper
3 tbsp Sour Cream
160 g Roma Tomato
2 tbsp Mexican Seasoning
1 unit Vegetable Broth Concentrate
1 unit Avocado
7 g Cilantro
1 unit Lime
¾ cup Jasmine Rice
Directions:
1: Before starting, wash and dry all produce.Don't have a garlic press? Lay the garlic cloves on a chopping board, then place a chef's knife on top and press down firmly to crush. Finely chop the garlic. Bring 1 1/3 cups water (dbl for 4 ppl) to a boil in a small pot. While the water boils, core, then cut pepper into 1/2-inch pieces. Cut tomatoes into 1/2-inch pieces. Peel, pit then cut avocado(s) into bite-sized pieces. Drain and rinse beans. Zest, then juice lime(s). Peel, then mince or grate garlic.
2: Add rice to the boiling water and reduce heat to medium-low. Cover and cook, until liquid is absorbed, 12-14 min.
3: While the rice cooks, heat a large non-stick pan over medium-high heat. When the pan is hot, add 1 tbsp oil (dbl for 4 ppl), then onions and peppers. Cook, stirring often, until tender-crisp, 2-3 min. Add garlic and Mexican seasoning. Cook, stirring often, until fragrant, 1 min.
4: Add beans, broth concentrate(s), half the tomatoes, half the lime zest and 3/4 cups water (dbl for 4 ppl) to veggies. Cook, stirring occasionally, until beans and tomatoes soften, 4-5 min. Season with pepper.
5: While the beans cook, roughly chop cilantro. Using a fork, mash together avocado, remaining lime zest and 1 tbsp lime juice (dbl for 4 ppl) in a small bowl. Stir in half the cilantro and remaining tomatoes. Season with salt and pepper.
6: Fluff rice with a fork, then stir in remaining cilantro and season with salt. Divide rice and black bean mixture between bowls. Dollop with tangy guacamole and sour cream.
Mexican Black Bean Bowl – Final Thoughts
Today's recipe is a great example of an "easy" recipe from HelloFresh Canada. This is the kind of recipe I appreciate now that my time is extremely limited. I was able to split the recipe in to 3 steps and complete each one in between feedings, playtime, diaper changes, etc. I threw the rice in the rice cooker, made the guacamole while baby played on his mat by himself for a few minutes, and made the bean mixture during nap time. I love recipes like this as there are few steps, minimal prep, and nothing too complicated or time consuming. Maybe HelloFresh Canada should create a forth plan options for New Parents……. #bestideaever
Note: this recipe was supposed to make 2 servings but we split it into 3.
-AYOB Sarah