HelloFresh Canada Review: Mixed Bean and Veggie Panzanella Salad
HelloFresh Canada delivers fresh ingredients and healthy, chef-curated recipes based on seasonal farm fresh ingredients straight to your doorstep each week. Every week HelloFresh members choose three meals from a selection of award-winning, constantly-changing recipes (say goodbye to recipe boredom!).
We recently reviewed our July HelloFresh Canada delivery and now we are showing you the last of three recipes from our monthly delivery.
Let's have a look at today's recipe: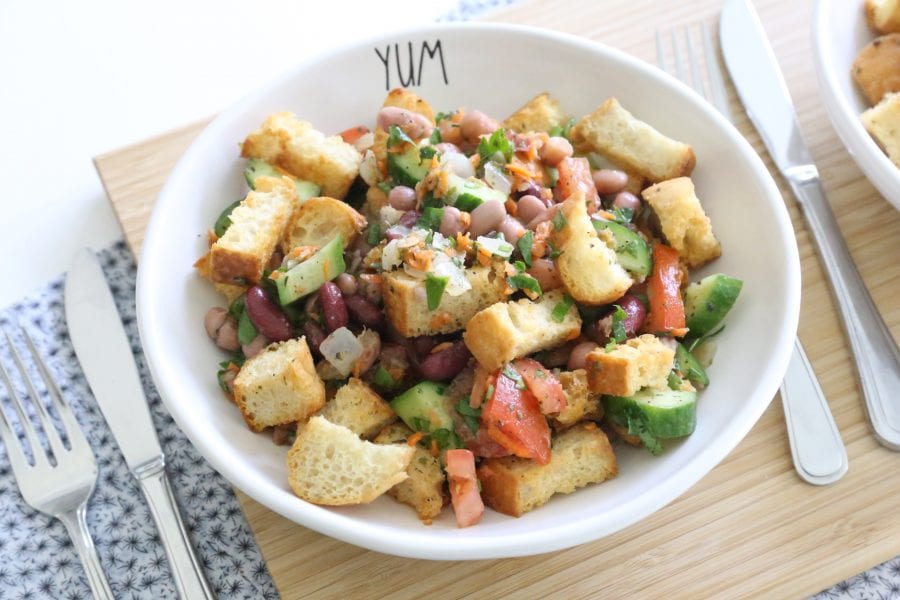 Mixed Bean and Veggie Panzanella Salad with a Lemon Vinaigrette
Crusty ciabatta is tossed with italian seasoning , shredded carrots, and a rich and meaty mixed beans. It's our light summery take on a hearty italian bean salad!
Ingredients:
1 can Mixed Beans
2 unit Ciabatta Bun
56 g Onion, chopped
10 g Garlic
1 tsp Italian Seasoning
20 g Parsley
132 g Mini Cucumber
170 g Carrot
80 g Roma Tomato
1 unit Lemon
Directions:
Preheat the oven to 425°F (to toast the ciabatta cubes). Start prepping when the oven comes up to temperature!
Wash and dry all produce.* Cut the tomato into 1/2-inch cubes. Cut the cucumbers into 1/2-inch cubes. Grate the carrot. Roughly chop the parsley. Reserve 1/4 cup bean liquid, then drain and rinse the beans. Zest, then juice half the lemon, then cut the remaining lemon into wedges.
Cut ciabatta into 1-inch cubes. Mince or grate garlic. In a large bowl, whisk together garlic and 2 tbsp oil. Season with salt and pepper. Add ciabatta and stir to coat. On a baking sheet, arrange cubes. Toast in the centre of the oven, stirring halfway through cooking, until lightly golden, 10-12 min. (TIP: Keep an eye on them so they don't burn!)
Meanwhile, heat a medium non-stick pan over medium-high heat. Add 1 tbsp oil, then the onions and Italian seasoning. Cook, stirring together, until the onions soften, 2-3 min.
In a small bowl, whisk together the lemon zest, reserved bean liquid, 2 tbsp lemon juice and 2 tbsp oil. Season with salt and pepper. In the same large bowl, toss together the toasted ciabatta, onion mixture, veggies, beans and parsley. Drizzle over the dressing from the small bowl and toss together.
Divide the mixed bean and veggie panzanella salad between bowls.
Thoughts: I think the thing I liked most about today's HelloFresh Canada recipe was how quick and easy it was to make. Most of the veggies in the salad are fresh so all I had to do was chop them and add them to the bowl. The only things I had to cook were the onions (which were pre-cut) and the buns. This was a really nice salad, perfect for summer, with just the right amount of comfort thanks to the warm, crunchy bread cubes. The parsley added really nice flavour and there was no need for a heavy dressing. A really nice recipe that I would definitely make again if/when I am looking for something quick and easy.
XOXO