HelloFresh Canada Review November 2018
HelloFresh Canada delivers fresh ingredients and healthy, chef-curated recipes based on seasonal farm fresh ingredients straight to your doorstep each week. Every week HelloFresh members choose three meals from a selection of award-winning, constantly-changing recipes (say goodbye to recipe boredom!). They kindly sent us this box for review. 
My life is slowly starting to head in a different direction and in order for me to handle the changes I am going to need to focus on convenience and simplicity. I already do to some extent but it's going to be even more important during the next phase of my life. It's for this reason I LOVE my HelloFresh Canada deliveries so much. This is convenience at it's best. It's one less trip to the grocery store, it's less food waste, and it's less time spent prepping for dinner. It really is a no-brainer.
Subscription Details
HelloFresh Canada has a few different meal plans to choose from……
Choose Your Plan:

Pronto Plan ($11.67 per meal)

The Pronto Plan is quick, convenient, delicious and nutritious! Meals are simple to prepare, taking under 30 minutes to make, and full of exciting flavours to help break your mealtime routine.
3 Recipes per week for 2 or 4 people

Family Plan ($10.83 per meal)

Our Family Plan features easy-to-follow recipes with fresh, healthy ingredients. It's the best way to get the entire family (even picky eaters!) into the kitchen to cook and enjoy dinner together.
3 Recipes per week for 4 people

Veggie Plan ($12.33 per meal)

Our Veggie Plan involves an abundance of seasonal produce, hearty grains, and vegetarian friendly proteins.
3 Recipes per week for 2 people

Choose Your Delivery Day: Tuesday or Wednesday
Receive Your Weekly Delivery & Enjoy!
I review the veggie plan each month. Here's a quick look at the recipes I received in this month's delivery….
Creamy Sun-Dried Tomato and Spinach Penne with Marinated Mozzarella
If it ain't broke, don't fix it. That's what we have to say about the tried-and-true combination of spinach and sun-dried tomatoes. Folded into a creamy sauce with stringy and cheesey mozzerella, this is a bowl of pasta to curl up with.
Tempeh Teriyaki Bowl with Zucchini and Coconut Rice
A stir-fry is the perfect, speedy weeknight dinner to whip up after a long day. This one is jam-packed with vegetables that will nourish and satisfy any hungry crowd!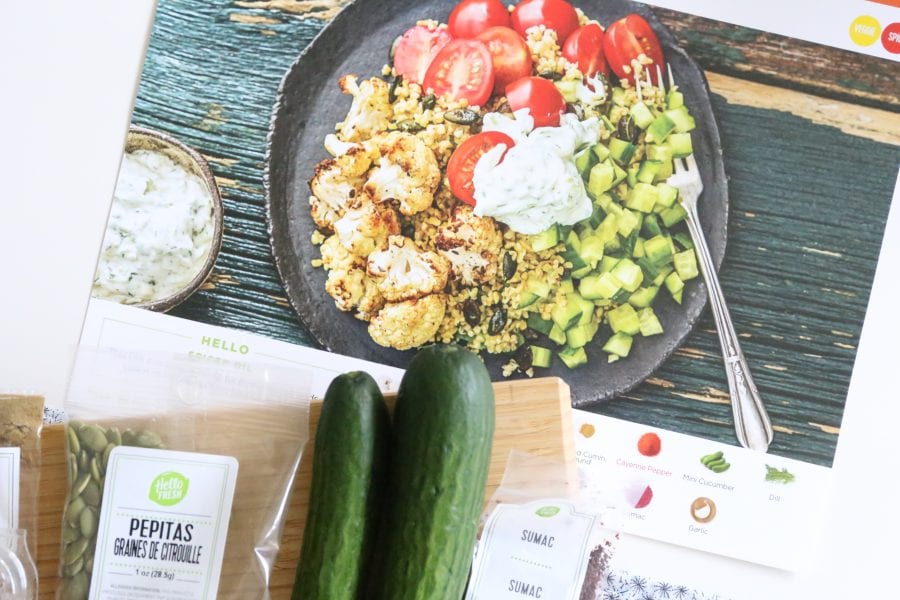 Roasted Cauliflower and Bulgur Pilaf with Tzatziki and Spiced Oil
Roasting cauliflower in thick slices transforms it into a hearty main dish! Tzatziki – everyone's favorite Greek condiment – is a tangy, protein-packed topping for these cauliflower. Serves on a bed of whole grain bulgur, it's both healthy and filling.
HelloFresh Canada Review November 2018 – Final Thoughts
Wow! What a great selection of veggie recipes this week! I am so impressed with my HelloFresh Canada delivery for November. I love that they included a dish made with tempeh as it is one of my favourite vegan-friendly ingredients and we don't see it often enough in recipe delivery boxes. I'm also very excited about the roasted cauliflower dish. It's packed full of veggies and so healthy. The pasta dish isn't necessarily vegan-friendly but I have been craving pasta now that the weather is cool. There's nothing better than a big ol' bowl of pasta while you are curled up in front of the fireplace catching up on episodes of Riverdale. But I have mentioned that before:)
PS – I'm making the pasta dish as we speak. Stay tuned for the recipe review……
XOXO