HelloFresh Canada Review: Spinach and Paneer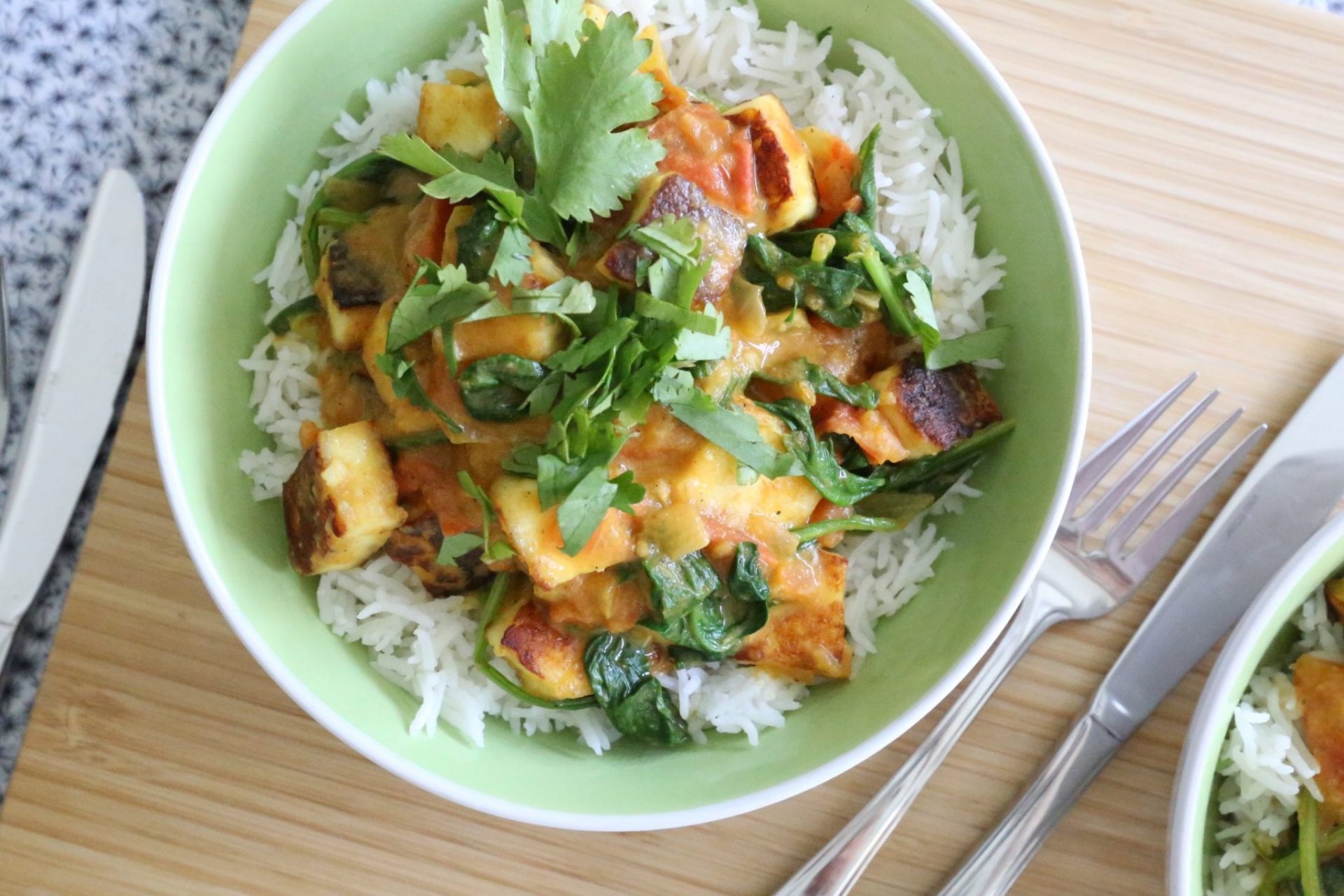 HelloFresh Canada delivers fresh ingredients and healthy, chef-curated recipes based on seasonal farm fresh ingredients straight to your doorstep each week. Every week HelloFresh members choose three meals from a selection of award-winning, constantly-changing recipes (say goodbye to recipe boredom!).
We recently reviewed our June HelloFresh Canada delivery and now we are showing you the first of three recipes from our monthly delivery.
Let's have a look at today's recipe:



Spinach and Paneer with Fragrant Cilantro Basmati
We're keeping it traditional tonight… well, almost. This tasty spinach dhal is classic South Asian fare, but it's the ingenious spiced chapati chips that really send our hearts aflutter.
Ingredients:
56 g Onion, chopped
10 g Garlic
10 g Cilantro
1 tbsp Dal Spice Blend
¾ cup Basmati Rice
240 g Roma Tomato
30 g Ginger
113 g Baby Spinach
3 tbsp Sour Cream
1 unit Lemon
340 g Paneer Cheese
Directions:
If you don't have a garlic press, lay the garlic clove on a chopping board. Place a chef's knife flat on top of the garlic clove and press down firmly to crush. Finely chop the garlic.
Wash and dry all produce.* Mince or grate the garlic. Peel, then mince or grate 1 tbsp ginger. Cut the tomatoes into 1/2-inch pieces. Roughly chop the cilantro leaves and stems, keeping them separate. Zest, then cut the lemon into wedges. Cut the paneer into 1/2-inch cubes.
Heat a medium pot over medium heat. Add a drizzle of oil, then the cilantro stems, half the garlic and half the ginger. Cook until fragrant, 1 min. Add the rice and toast, 2-3 min. Add 1 1/2 cups water and bring to a boil over high heat. Reduce the heat to low. Cover and cook until the rice is tender and the water has been absorbed, 12-14 min.
Meanwhile, heat a large non-stick pan over medium-high heat. Add 1 tbsp butter and swirl the pan to melt. Add the paneer. Pan-fry, turning the cubes occasionally, until crispy and golden-brown all over, 6-7 min. Transfer to a plate and set aside.
Reduce heat to medium. Add another 1 tbsp butter to the same pan. Swirl the pan to melt. Add the onions and tomatoes. Cook, stirring occasionally, until the tomatoes soften, 4-5 min. Add the dal spice, remaining garlic and remaining ginger. Season with salt. Cook, stirring often, until fragrant, 1-2 min.
Add the spinach to the pan. Cook, stirring often, until the spinach wilts and the mixture comes together, 2-3 min. Remove the pan from the heat and stir in the sour cream. Season with salt. Fluff the rice with a fork and stir in the lemon zest. Season with salt.
Add the crispy paneer to the pan and stir to coat. Divide the rice between plates and top with the palak paneer. Squeeze over the lemon wedge and sprinkle with the cilantro leaves.
Thoughts: Paneer is an ingredient that isn't necessarily part of my diet but I've had it before and it is so darn good. I would consider it a comfort food, something I will eat when I feel like cheating on my diet. Today's recipe was quick and easy, as per usual, and the onions were pre-cut which is always appreciated. I substituted coconut milk for the sour cream as I had some in the fridge that needed to be used. I probably could have added a little more salt, but other than that it was really tasty.
XOXO