HelloFresh Canada Review: Za'atar and Feta Flatbread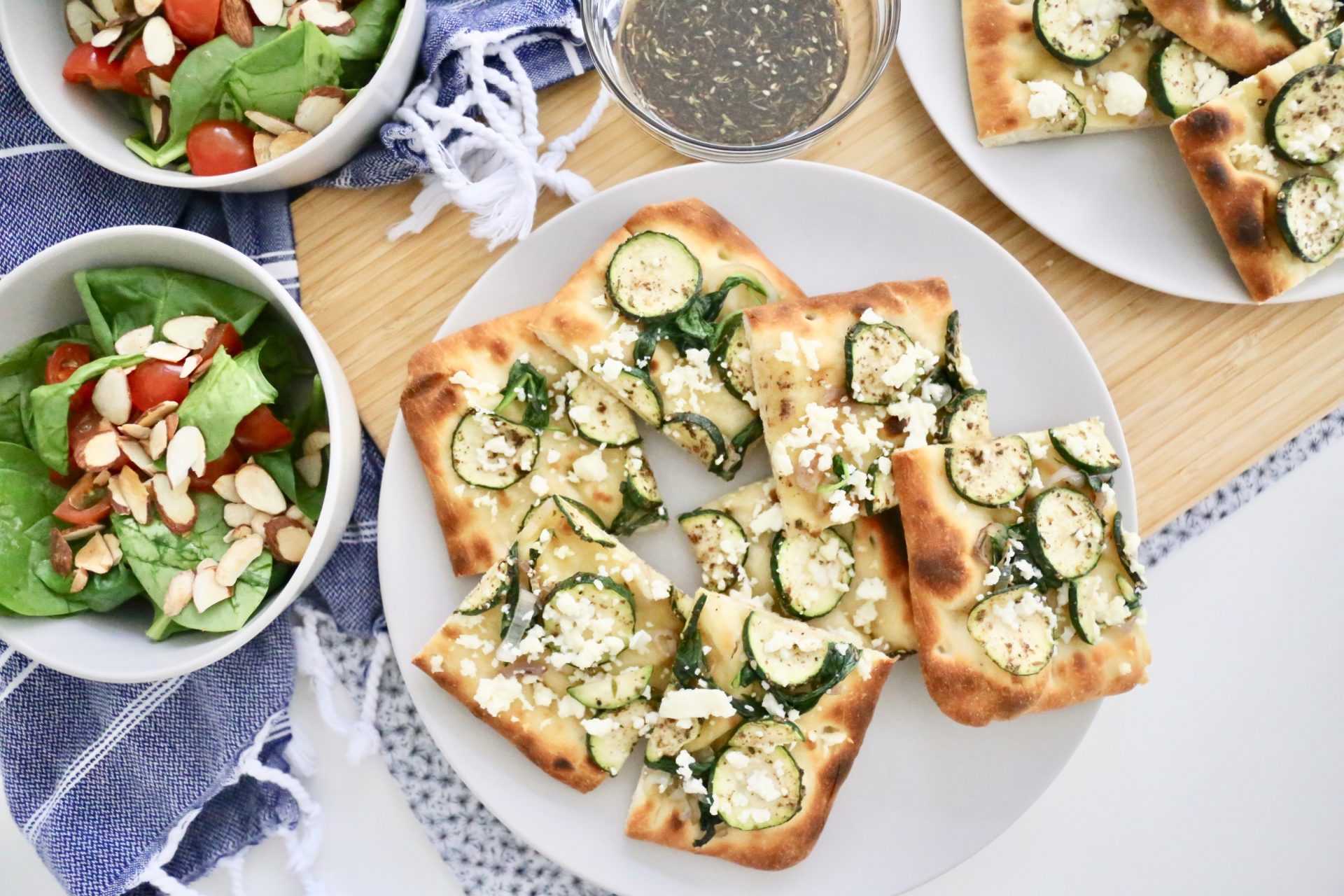 HelloFresh Canada delivers fresh ingredients and healthy, chef-curated recipes based on seasonal farm fresh ingredients straight to your doorstep each week. Every week HelloFresh members choose three meals from a selection of award-winning, constantly-changing recipes (say goodbye to recipe boredom!). They kindly sent us this box for review.
We receive one HelloFresh Canada delivery each month and it is quickly becoming a fave. I posted the recipe for BBQ Ranch Burgers a few days ago and it taught me a few things about HelloFresh Canada that I wasn't aware of until now…..
they are one of the only meal delivery boxes in Canada to feature Beyond Meat recipes
each recipe has a "best before" date so you know what order to cook your meals
they have 5 veggie recipes to choose from each week (most others only offer 3)
Subscription Details
HelloFresh Canada has three meal plans to choose from. Each week you can curate your personal menu and choose from 25 delicious recipes.
Pronto Plan – The widest variety of meat, fish, and produce. Recipes come together in 30 minutes or less! Starting at $11.66 per serving.
Family Plan – Picky-eater approved recipes with meat, fish, and seasonal produce. Includes 20 Minute Meal options. Starting at $9.99 per serving.
Veggie Plan – 100% vegetarian recipes with fresh, seasonal ingredients. Starting at $9.83 per serving.
Here's a closer look at one of the recipes from this week's HelloFresh Canada delivery…..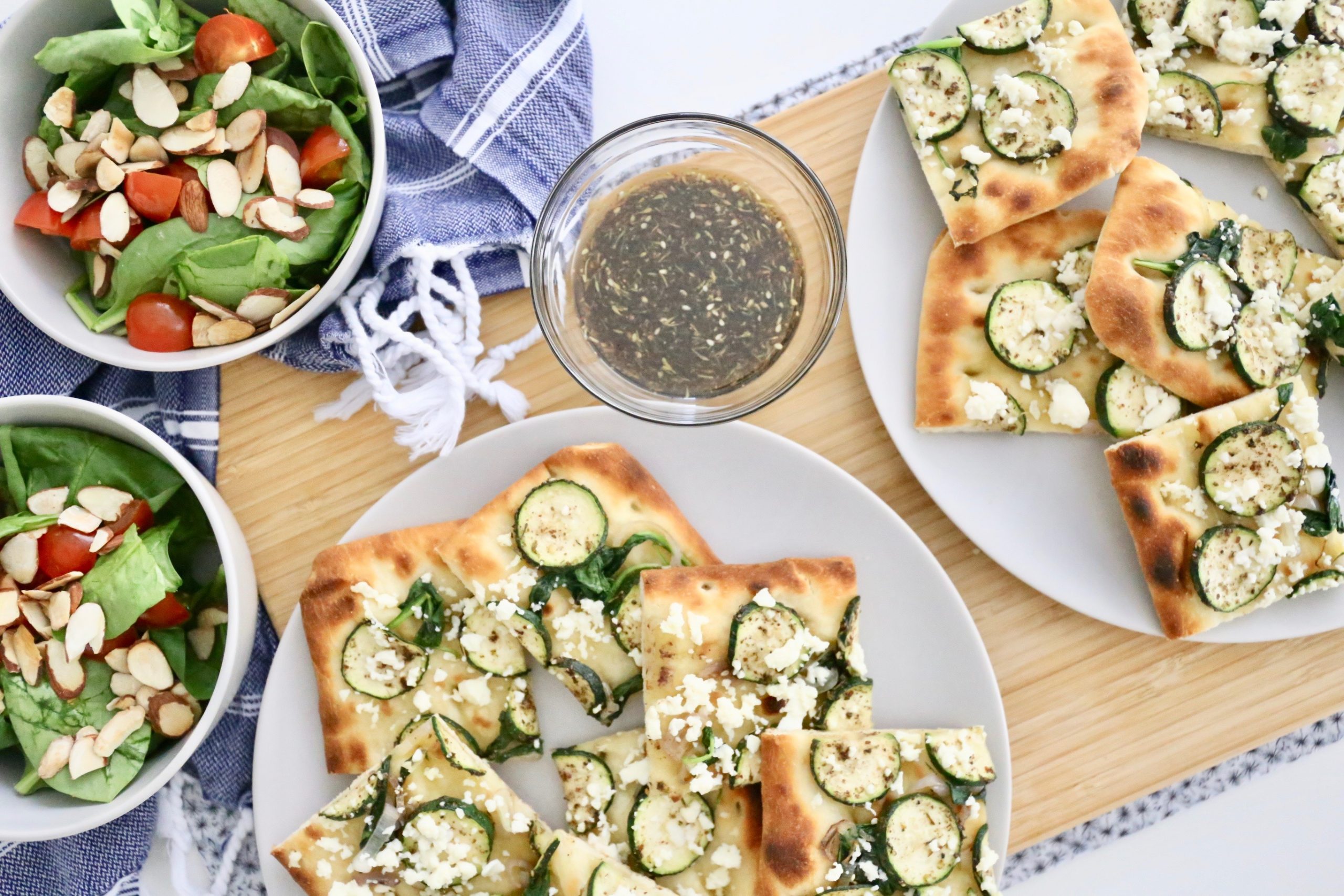 Za'atar and Feta Flatbread
There's nothing like a free-form flatbread to make you feel a bit fancy at dinnertime. This colourful beauty is all about the tender zucchini, the sweetness of cooked shallots and the salty finish of feta. It's unbeatable!
Ingredients:
200 g Zucchini
50 g Shallot
1 tbsp Za'atar Spice
2 unit Flatbread
½ cup Feta Cheese
113 g Baby Spinach
113 g Cherry Tomatoes
28 g Almonds, sliced
1 tbsp Balsamic Vinegar
1.5 tsp Dijon Mustard
1.5 tbsp Honey
Directions:
1: Before starting, preheat your broiler to high.Wash and dry all produce. Arrange flatbreads on a baking sheet, top side-down. Broil in the middle of the oven until golden-brown, 1-2 min per side. (TIP: Keep an eye on flatbreads so that they don't burn!) Flip flatbreads, then set aside. Cut zucchini into 1/8-inch rounds. Halve tomatoes. Peel, then cut shallot into 1/4-inch slices.
2: Heat a large non-stick pan over medium-high heat. When hot, add 1/2 tbsp oil (dbl for 4 ppl) then shallots and half the spinach. Cook, stirring often, until shallots soften, 2-3 min. Toss zucchini, half the za'atar and 1/2 tbsp oil (dbl for 4 ppl) in a medium bowl. Season with salt and pepper.
3: Top flatbread with spinach-shallot mixture. Layer zucchini rounds on top. Crumble over feta. Broil in the middle of the oven, until zucchini is soft and flatbread is golden-brown, 8-10 min.
4: While flatbread broils, wipe the same pan clean, then heat over medium. When hot, add almonds to the dry pan. Toast, stirring often, until golden-brown, 4-5 min. Remove pan from heat and set aside.
5: Whisk together mustard, vinegar, honey, remaining za'atar and 2 tbsp oil (dbl for 4 ppl) in the same medium bowl used in step 2. Season with salt and pepper. Reserve 2 tbsp dressing (dbl for 4 ppl) in a small bowl. Set aside. Add tomatoes and remaining spinach to the dressing in the medium bowl. Toss together.
6: Cut flatbread into squares, then divide between plates. Serve with spinach-tomato salad. Sprinkle almonds over salad and drizzle reserved dressing over flatbread.
Za'atar and Feta Flatbread – Final Thoughts
I have to admit, both the hubby and I were pleasantly surprised with this recipe. It's beyond simple and has minimal ingredients. I'm used to flatbread being topped with twice the amount of veggies and other ingredients. This one was beyond simple with just a small amount of shallots, spinach and feta, and the main topping being the zucchini. I'm not even really a fan of zucchini so this recipe had a lot of things going against it. But….it was absolutely delicious! The simplicity is what made it so good. No one ingredient was over powering and the za'atar dressing brought everything together. This is one of our favorite HelloFresh Canada recipes to date!
-AYOB Sarah