HER-MINE Review January 2022
HER-MINE is a curation of beautiful and thoughtfully composed lifestyle products delivered monthly. They are cultivating and nurturing a sisterhood that cares about supporting women-owned businesses. Each limited-edition box features carefully selected items that deliver value and pursue a common purpose: to foster the growth of women-owned businesses through partnership while empowering people to shop female.
*They kindly sent us this box for review.*
HER-MINE is all about girl power and supporting women, and women-owned businesses. I have discovered some of my absolute favourite brands thanks to this amazing subscription box!
Here's a closer look at the January 2022 HER-MINE box….
January Theme: Fresh Start
"Ring in the New Year with a fresh start! Sometimes our habits need a refresh. Do you have any habits you want to evaluate?"
I appreciate this theme as it is imperative to take a look at your habits once in a while to see where there is room for growth.
Makeup Remover Sheet – Pretty Simple
"Each time we clean our face it feels like a fresh start. These Makeup Remover Cloths are a great way to remove your make-up from the day without using disposable wipes, harsh chemicals or soaps. Simply wet the cloth with water and remove your make-up from the day. No cleansers are needed. So soft, yet powerful enough to clean the make-up away. Mascara, eyeliner, lipstick… ALL of it! Rinse, and hang to dry."
This makeup remover cloth is awesome! I have had and used other washcloths – but this one is the bees-knees! It effectively removes my waterproof mascara and copious amounts of eyeliner, and it is a stunning color!
2 in 1 Light Everyday Facial Lotion – Aloe Unique
"2 in 1 Light Everyday Facial Lotion – An exceptional non-stop, hydrating lotion for all-day skin perfection that can be used under makeup! This 2 in 1 Light Everyday Facial Lotion is ideal for time-pressed women, looking for a pared-down approach to skincare. This Lotion works 24/7 providing unparalleled levels of hydration, rejuvenation, and protection. Light and non-greasy, this lotion quenches thirsty skin by locking in vital moisture and skin nutrients. This day and night lotion has been formulated with a moisture-retaining blend of Aloe Ferox and Vitamins A, B, C, and E."
I have been using this lotion daily before applying my makeup, and my skin has been soft and happy as a result. I love that this is a clean beauty product formulated without parabens and that it is effective! I cannot wait to discover Aloe Unique's other products.
Bergamot Hand Sanitizer – Owl in a Towel
"It seems we can never have too many bottles of hand sanitizer, especially now. The fresh start here is that this one does not have any synthetic additives and it still kills 99.9% of Bacteria and Germs. It is free of artificial fragrances, colors, thickeners, silicones, benzalkonium chloride, petroleum byproducts, and parabens. It contains bergaptene-free bergamot essential oil, soothing aloe, and non-GMO, natural Vitamin E, sanitizing your hands worry-free and conveniently."
This sanitizer smells wonderful and I love that it contains ethyl-alcohol which is food-grade alcohol. My skin feels clean and soft after use so there is no need to use lotion.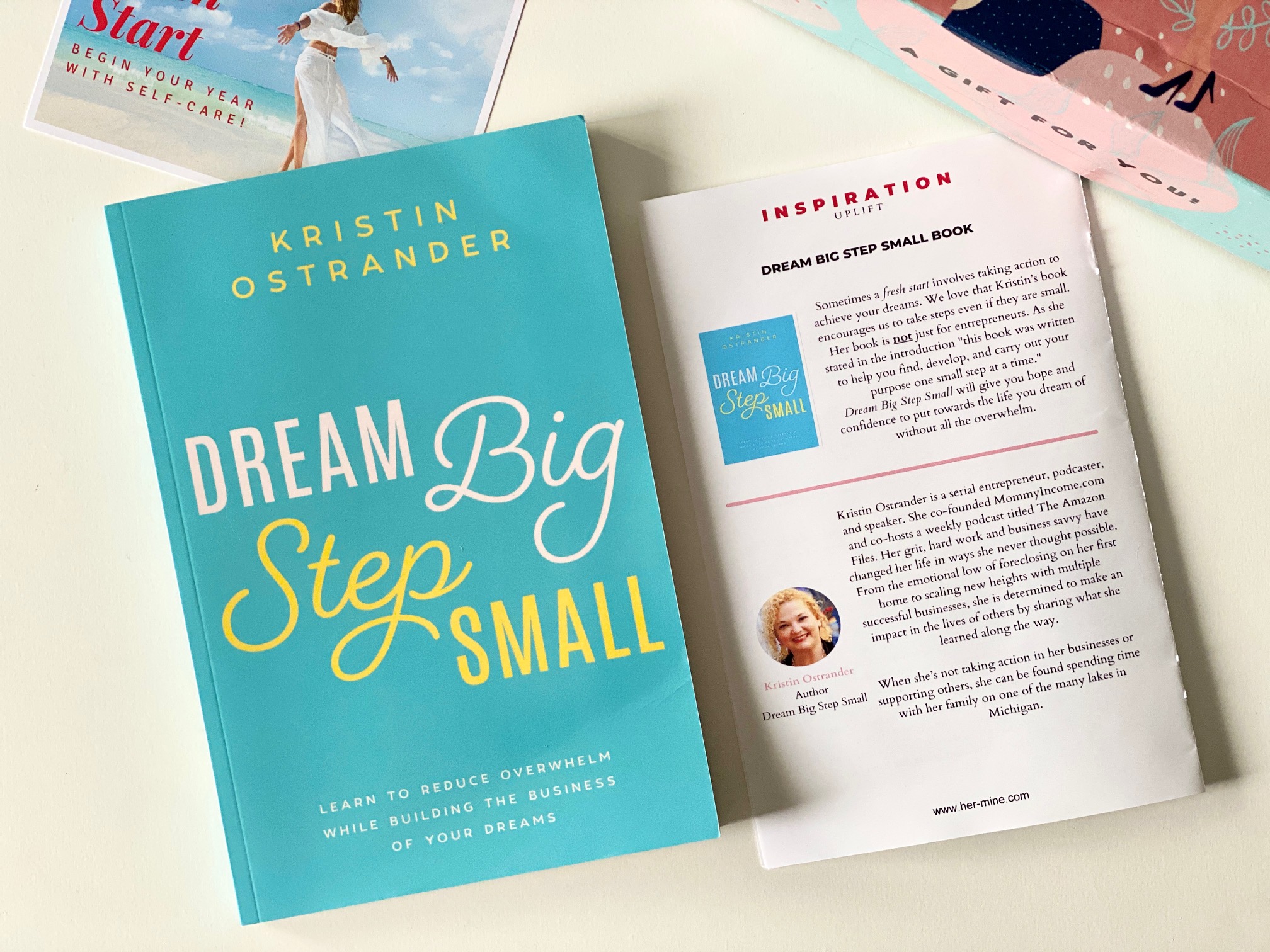 Dream Big Step Small Book – Kristin Ostrander
"Sometimes a fresh start involves taking action to achieve your dreams. We love that Kristin's book encourages us to take steps even if they are small. Her book is not just for entrepreneurs. As she stated in the introduction "this book was written to help you find, develop, and carry out your purpose one small step at a time." Dream Big Step Small will give you hope and confidence to put towards the life you dream of without all "the overwhelm."
I have recently gotten back into reading and funny enough, this book was on my list! I am only about thirty pages in but I am enjoying it a lot so far! It also has fantastic reviews on Goodreads. I would highly recommend you check it out as it definitely will help calm you if you are feeling unmotivated and overwhelmed.
Fresh Linen Reed Diffuser – Soothing Remedies
"This Fresh Linen reed diffuser is an aromatic blend of citrus, summer flowers, and crisp linen with woody notes and violet to give you a sense of a fresh start to your day. These hand-poured reed diffusers are a low-maintenance, flame-free way to give your home an inviting scent."
This fresh linen scent is intoxicating! I love the idea of using this diffuser over a candle as it is a lot safer to have around with my pup! The 'fresh' scent really does add an element of 'fresh-start' to our home.
Resistance Bands
"We want to help you start the year with additional tools for self-care even on the go. This set of 5 resistance bands has 5 different resistance levels perfect for a wide range of workouts from bicep, glute, and hip activation to strength and rehabilitation workouts. You can use them while you travel or even at work. Let's get stronger together!"
I have always wanted resistance bands and now I have them! They included a page with some exercises to get you started. I am obsessed with the shades of pink and red and cannot wait to use them!
HER-MINE Review January 2022 – Final Thoughts
HER-MINE did a fantastic job with their January "Fresh Start" box! I will use every item that came in it and all of these items are lovely, high-quality and practical. I love the Dream Big Step Small Book and the bergamot hand sanitizer, but I still love all of the items! This is the perfect subscription for any person who appreciates quality items and shows support for other women and women-owned businesses. Here's to a Fresh Start!
Hayley Savanna – https://www.instagram.com/hayleysavanna/